Maybe the title needs some workshopping, but the sequel to our Summer Blockbuster, Codex Space Wolves: Overview is here, and it's full of Relics, Stratagems, Warlord Traits, and Lightning.
Space Wolves are an army of heroes–they have units and need them, but their army special rules also help their characters stand out. Stratagems to turn a lone hero into a character, warlord traits that turn into auras when you do things with your characters…they get a lot of milage out of the named wolfbois they have. Let's take a look at how:
The Space Wolves get a whole bunch of stuff to make them into a full Codex Army, but what gives them that Space Wolf flavor are the synergies built into the book. We talked about how they try and make their heroes shine–you get a few stratagems that add to the effects characters already get. Rune Priests can cloak an army in lightning, making nearby units hard to hit.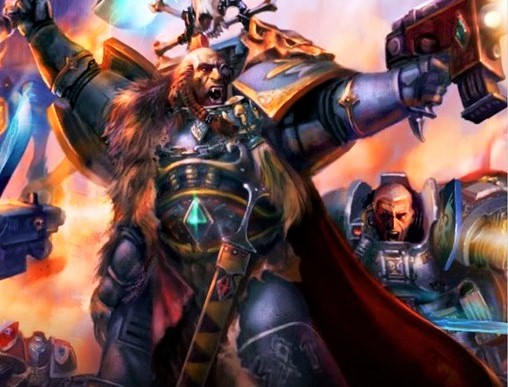 Speaking of Lightning the Tempestas Discipline adds a lot to an army. Their spells are geared towards combat support–give your Runepriests extra attacks, give them heroic might, or just shoot lightning at your enemies. Combo this with some of the impressive relics you'll find and you've got the makings of a army that's ready to hit hard.
This army feels comparable to Blood Angels, all in all. Now this is just from a reading, actual play will probably bear  out more differences, but as a first impression though, that seems like a good starting point.
What's a Space Wolf's favorite holiday? Howl-O-Ween. What's a Space Wolf's disposition after a long day of killing heretics and xenos? Dog tired. Why do Space Wolves really like trees? Because every son of Russ can appreciate a good bark.
I'll see myself out.