Because Dungeons and Dragons is a game of the imaaaaaagination, and the secret ingredient is your creativity. Fitting then that one of my favorite new D&D books this year is a coloring book.
Adventures Outlined is a fancy new coloring book brought to you by Todd James, who is what we in the business call a "Legit Artman," and D&D story and adventure designer Adam Lee, who writes many a fine adventure and used to work on Magic the Gathering. In Adventures Outlined, you'll find a bevy of beasts from Beholders to Yuan-Ti, including more than one D&Deep Cut. I was not expecting to find Hook Horrors, let alone Perytons within the pages. But lo and behold, Hook Horrors–blending old school classics with new school flavor, in the picture you can see the Hook Horror going up against a Tiefling and her adventuring party, all done in Todd James' inimitable style.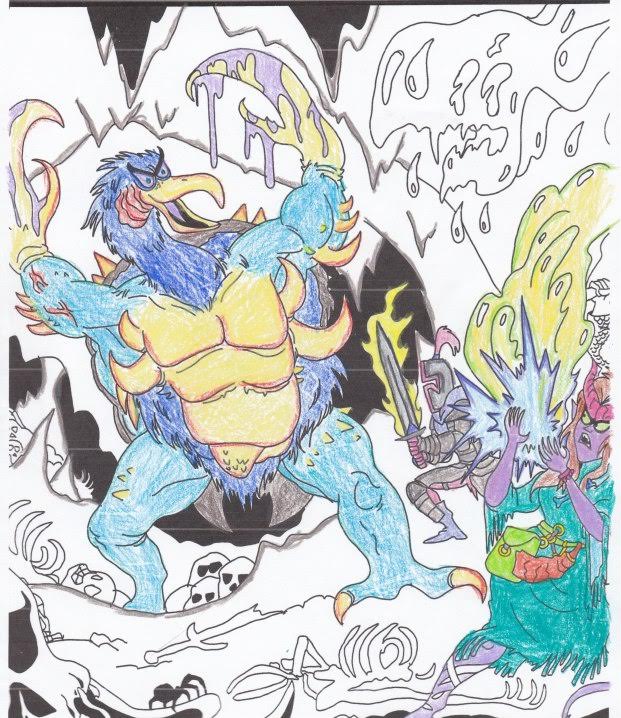 Each of James' illustrations is accompanied by some fanciful poetry or prose by Lee, which adds a fable-esque feel to the book. You're not just getting pictures, you're getting some inspiration. Sometimes, a story even unfolds. In the beginning we see a Beholder become a Beholder Zombie. There's a gaggle of Goblins who get their own two-page spread. The Dracolich is utterly gorgeous.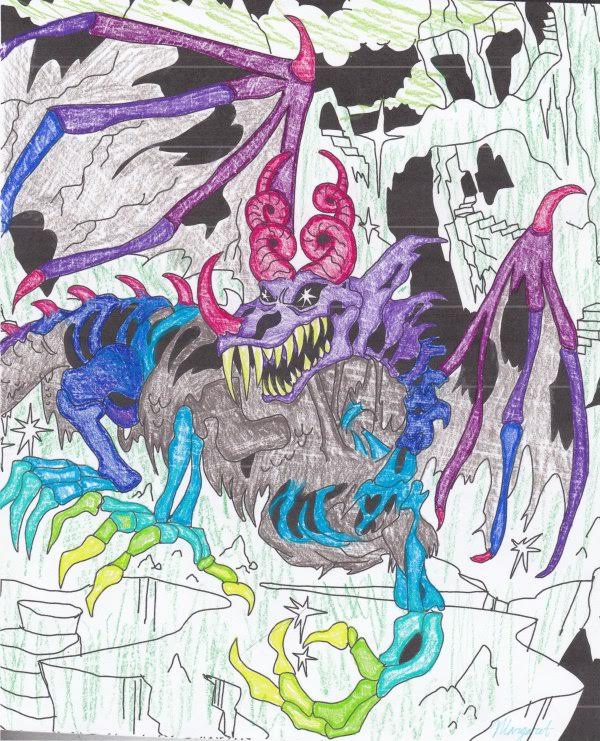 But the best piece of them all has GOT to be the Mimic. We've mentioned the Mimic here on BoLS before. Whether the standard variety or the larger Elder Mimic, there's a lot to love about these monsters. And usually you'll see them waiting, or about to pounce…but here, we see a Mimic doing what a Mimic does best: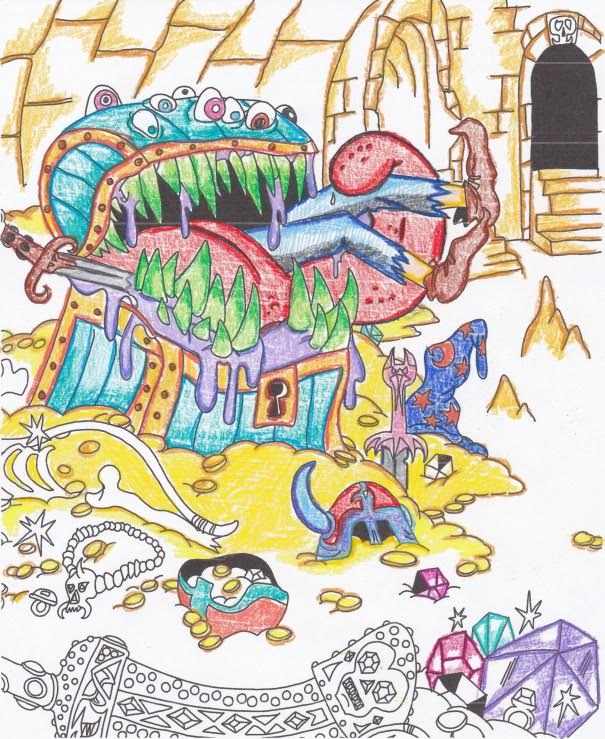 That Adventurer looks like a delicious light snack. If you and your friends love Dungeons and Dragons this is a great way to spend an evening. Coloring these pages was so much fun–I got a few friends together (you can see their handiwork on the images in this post) and we just colored these for a while. It was a little difficult to get into at first–these pages are densely packed, and if (like us) you aren't used to coloring, it can seem daunting, but once you get into the groove, it's delightful. The evening flew by, but it was a ton of fun, especially with good friends.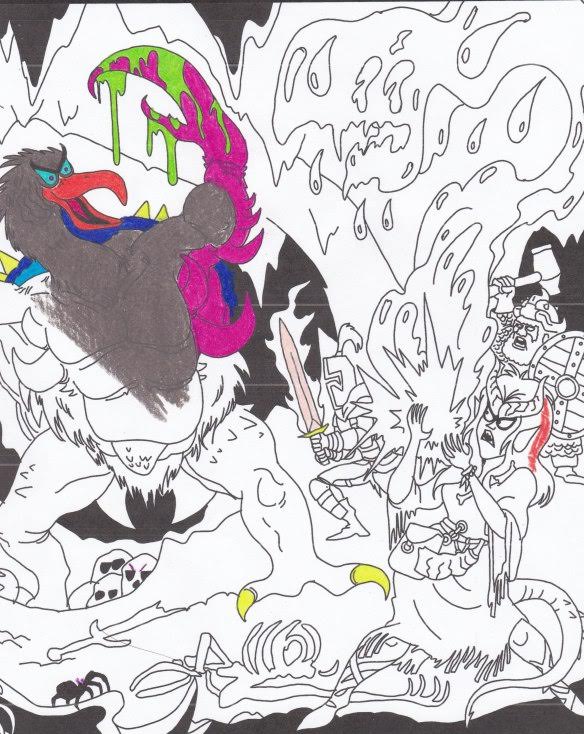 Afterwards, I wanted to pick up my dice and play some D&D. That's what any good RPG book should do, make you appreciate the game you enjoy so much. There's something about just exploring the world and immersing yourself in the little stories and poems that accompany these pictures that opens up the world. Gets you thinking, and makes you inspired to play.

I'm off to go plan an encounter with a Mimic, a Grell, and a Death Knight now. But here's a list of all the monsters who have their own entry in the book. How many Unlisted monsters can you find? You'll have to pick up Adventures Outlined to find out. But, if you're looking for a great way to spend time between your games, or for a fantastic gift for your players or your hapless DM, this is a great way to spark some magic at your gaming table.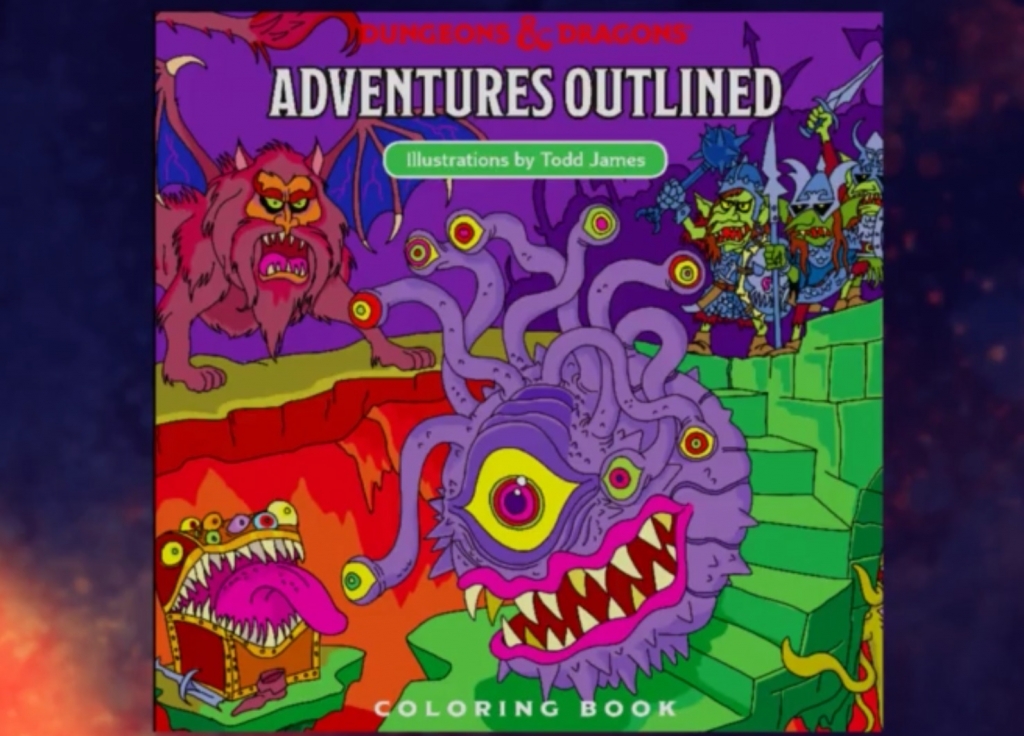 The Dungeons & Dragons Adventures Outlined coloring book features fantastical designs and shows off classic monsters from the game as seen through the eyes of world renowned artist, Todd James. Color your way through each adventure with these delightful illustrations. This coloring book features unique designs including beholders, trolls, goblins, dragons, and more. Provides hours of creativity, fun, and relaxation.
For best results, gather 2-4 extra friends, a pack of colored pencils, and the snack of your choice.