Though Wizards of the Coast weren't didn't have an official presence at Gen Con, there were still two pretty big D&D reveals during Gen Con 2018. Come take a look at the new Beadle And Grimm mystery box.
That's right. One of the big reveals this weekend was a look inside one of the big luxury collector's items coming up with the new module, Waterdeep: Dragon Heist, the Platinum Edition box from Beadle And Grimms. If you're wondering what this box is–it's a collector's edition box that's full of maps, minis, art, bonus content, and metallic tokens, coins, and then some. Basically, if it's in the module, odds are good you'll find a physical representation of it in the box.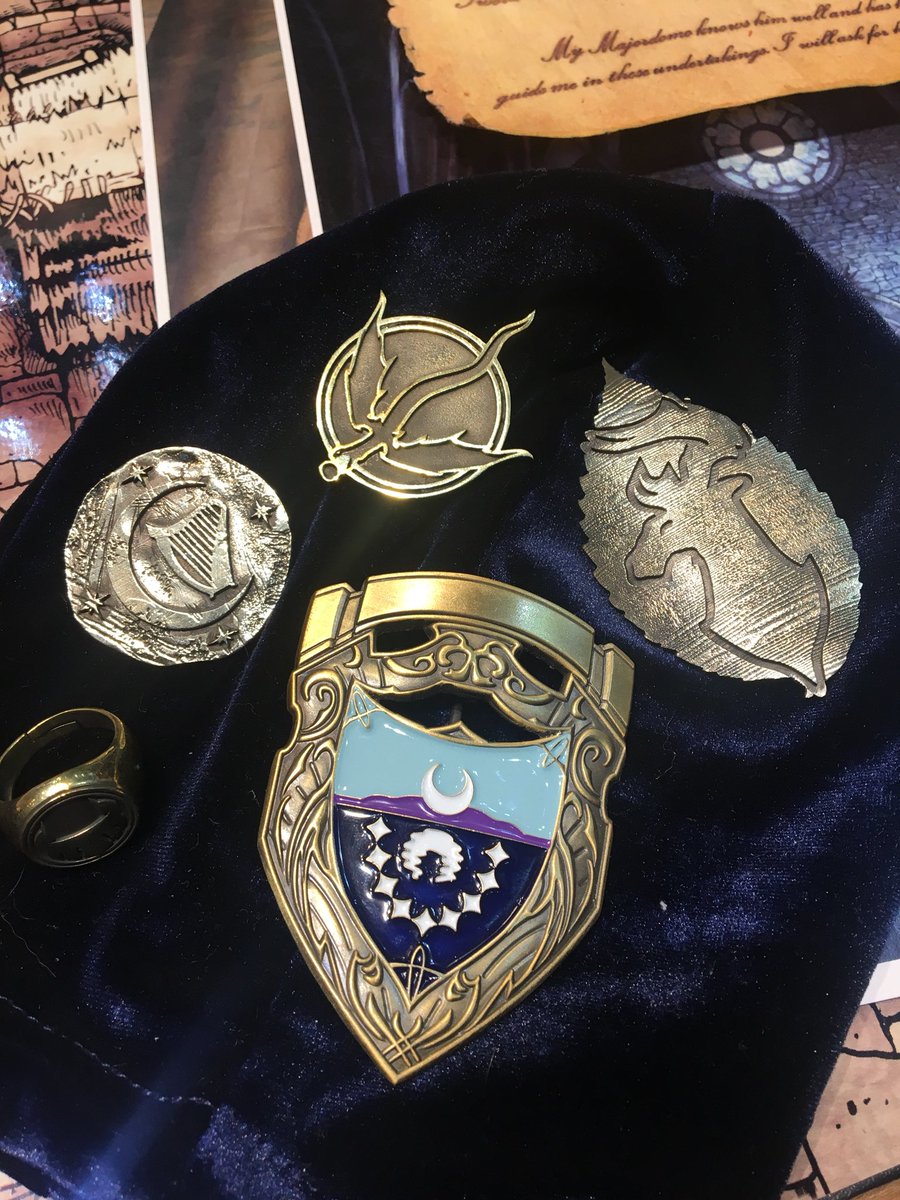 And it's not just display items–the folks behind the box have taken a few of the puzzles and other "interaction" moments and translated them into more active components for your players. Without going into too much detail, it's the difference between describing to someone hidden details in the environment, and actually laying it out there for your players to discover. Suppose you need them to find a secret inscription–they'll have the actual secret inscription to find.
The box we saw on display at Gen Con wasn't the complete final version–there's still some secrecy as to what else will be inside it–but we did get to see there are some hefty pieces to this kit. The Waterdeep Gold Dragons, the coins at the very heart of the Heist, are beautifully rendered in metal, as are the various faction pins you'll find out there, including one for the Lords of Waterdeep.
Day Two of #gencon ! Stop by to say hi and see all of the great stuff that we're including in our Beadle & Grimm's Platinum Edition! pic.twitter.com/nCUKg7eDeN

— Beadle & Grimm's Booth 2605A @Gen_Con (@BeadleAndGrimm) August 3, 2018
You can see they're tucked into the Wyrmwood booth, and that's appropriate. This is one of the priciest collector's editions you'll find out there. The Platinum Edition box comes with a $499 price tag–so about the price of building a decently sized army in 40K. Only instead of getting an army, you get the tools you need to render Waterdeep: Dragon Heist in 3-d for your players. But at this price, the question is: is this worth it?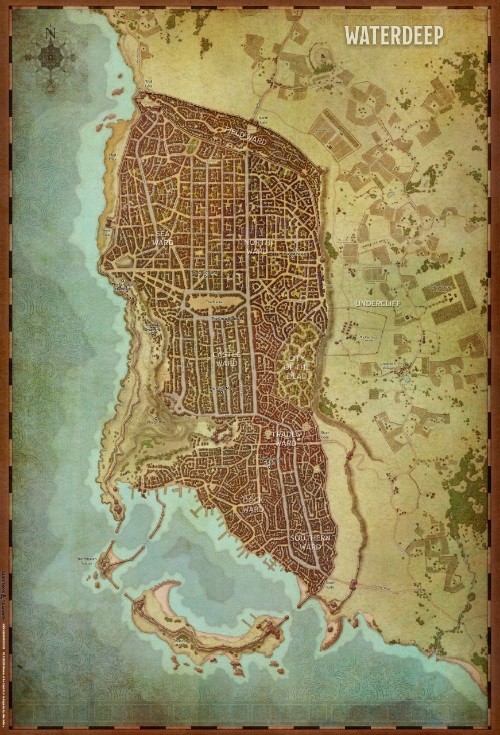 The material they're putting into it is quite well crafted. The display version we saw had a life-sized replica of a white dragon scale, and the maps and artwork alone are very impressive if you're into collecting that sort of thing. They're big–that's the hard thing to convey in these pictures alone. There's a lot of physical wow factor to this. Plus you'll get miniatures and so on–but I think it ultimately comes down to how things work at your table. If you're more of a theatre of the mind kind of table, something like this might not be as effective. If you can paint a pretty word picture, you've got what you need already.
It might be a little easier if it's something your group goes in on together. If everyone at your table chips in, you could launch your foray into the seedy underbelly of Waterdeep with a bang. After all, you do get the module on D&D Beyond, and you get some exclusive encounters and extra content which you won't find anywhere else. But. $500 is a steep barrier to entry if you're not used to rolling out battalions of Lemans Russ. And for what you get, you'll still have to find someone who can make use of the materials. Nothing will make you feel like you tossed your money into an open-mouthed face that hides a Sphere of Annihilation than a DM who doesn't really know how to make use of these kinds of handouts, or a group that falls apart a month and a half in.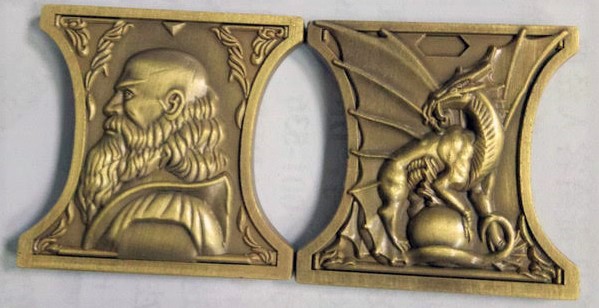 Not to knock what's in the box, but, the nature of the product means you'll want someone who will make the most of it. But if you have confidence in your DM/groups ability to have fun with some extraodinarily cool items, then yeah, you might get a real kick out of this. We were wowed by the handouts we got to actually put our hands on at their booth. The coins have weight, the pins feel official, it's stuff you wouldn't expect to see in a standard adventure handout, and it's made really well. And, they do have a Gold, Silver, and Copper edition planned with a lower price point, so we'l see what differentiates those.
Anyway, here's what the official announcement has to say.
via Beadle and Grimms

Waterdeep: Dragon Heist is a city-based adventure, and that means tons of NPCs for a DM to keep track of. The exclusive Platinum Edition DM screen will be packed with quick reference guides to help you keep track of who's who, who's aligned with whom, and where they're likely to be found. On the player side, we feature some of our favorite artwork from the module.
The Platinum Edition contains 22 Nolzur's Marvelous Minis: 2 of the larger (50mm base) figures and 20 of the smaller (25mm base) figures. The minis were selected with a preference towards the things you can fight – we want you to be able to use them with the amazing battle maps we're including (more on those below). We can't give away much more here, but we have been given permission to reveal one of our favorites.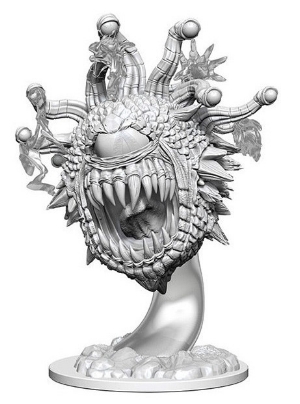 The Platinum Edition contains a bunch of original artwork to hand out to your players, all created by veteran D&D artists. Some of these reflect the bonus encounters we've created to supplement the original adventure, like this one…

… while others depict key points in Waterdeep: Dragon Heist that we're making more interactive. There are several moments where astute players can locate secret levers, buttons, inscriptions… why just roll a perception check when they can try and find it for themselves, hidden in the beautifully rendered artwork?
The kit is available later this year, and doubtless once we get closer to the actual official release, you'll have full details on everything in the box. It's secret for now, but then so was the Tyranid codex until about a few weeks or so before it launched.
What do you think? Is this box worth it? What kind of items would you want to see to make an adventure pop?