D&D evengalist Joe Manganiello sits down with a talk show host – Stephen Colbert – that gets it much more than the interview his wife did last year with Seth Myers. They talk characters, editions, monsters, building game rooms, and they even roll some saving dice.

Manganiello was on to promote his new clothing line that's heavily inspired by Dungeons & Dragons and the art of heavy metal bands. The line premiered at SDCC, and the actor was on hand to sell shirts at GenCon this year (one of our crew met him). Unlike Myers, Colbert is one of us. Take a look…
I'd be up for Colbert playing a one off with Manganiello, Matt Mercer and the CelebD&D crew. Their
latest session with Terry Crews
was a blast. While you're waiting for that to happen, and 
Dragonlance movie
 that was being talked about last year, you can all pick up some kick ass shirts from
Death Saves
to show off your fandom…
Death Knight T-Shirt – $35.00
Saint Kargoth The Betrayer aka "The King of the Death Knights". Presenting our homage to one of the most diabolical villains ever created featuring incredible artwork by the legendary Mark Riddick.
Death Saves Rules – $35.00
Whenever you start your turn with 0 hit points, you must make a special saving throw, called a death saving throw, to determine whether you creep closer to death or hang onto life. Unlike other saving throws, this one isn't tied to any ability score. You are in the hands of fate now, aided only by spells and features that improve your chances of succeeding on a saving throw. Get educated when you are caught in the struggle between life and DEATH!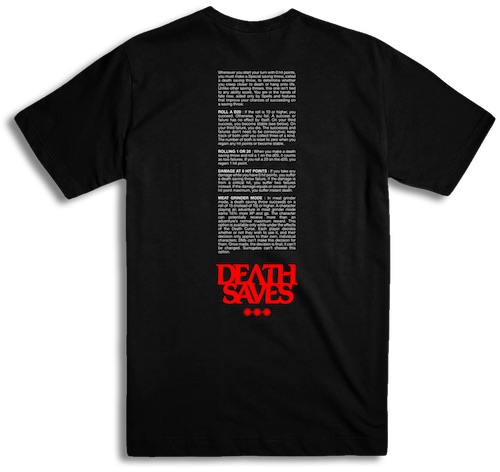 Beholder – $35.00
One of the most iconic monsters in the D&D universe. We decided to take things in a fresh direction with unexpected collegiate-style text, our veritable "VISION OF DOOM" slogan and a wicked illustration by illustrator Ryan Burgdorfer. Here's to the infamous Beholder in all of its ten eye-stalked glory!