Munchkin 40K (or if you prefer, 40K Munchkin) is coming soon, and today we have a look inside a design diary and a preview of some of the upcoming cards. So tune in and check out what happens when Munchkin meets the Grimdark.
That's right folks, in one of the greatest crossovers since the Jetsons met the Flintstones, the grim darkness of the 41st Millennium is coming to none other than Munchkin, a light, satirical card game about looting monsters and leveling up. This is basically a match made in heaven. Or, you know, maybe just on a paradise world, where they have the luxury of having five minutes to sit back and appreciate a card game.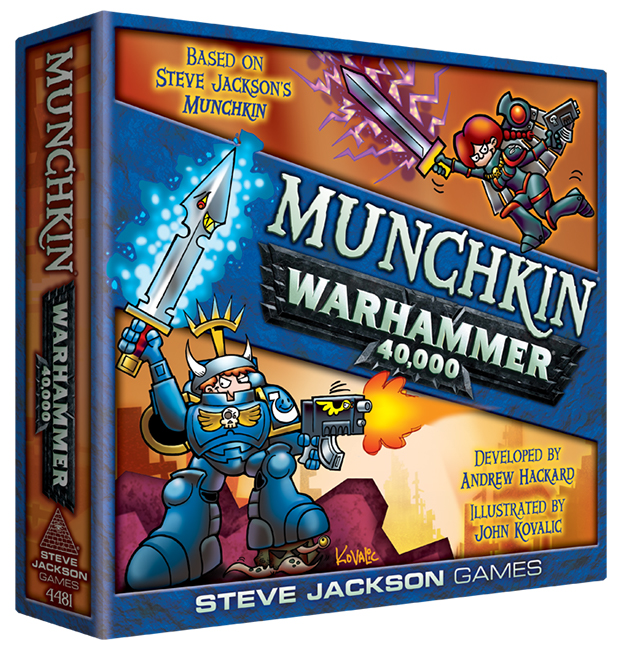 And with all things Munchkin, this is equal parts making fun of its target, and also a love letter to 40K. It captures all the foibles of the game, while still being very true to the experience. Check it out!
Without a doubt, one of the richest settings in the game industry is the millennia-long history of the Warhammer 40,000 universe, which has spawned multiple editions of the classic miniatures combat game plus roleplaying and fiction lines. When Games Workshop agreed to let us produce a Munchkin Warhammer 40,000 game, I knew this was going to be one of the easiest and hardest jobs I'd ever taken on.

The thing about creating any licensed Munchkin game is that you have to get it right. Fortunately, I had the help of several able Warhammer 40,000 fans to make sure I didn't make too big an arse of myself. Possibly most important was the Games Workshop team themselves; their suggestions have proved invaluable in improving the game and making sure it has enough of their game's feel to satisfy their long-time fans. My second line of defense was bolstered by our own Ben Williams, a regular Warhammer 40,000 player and nationally recognized miniatures painter, and John Kovalic himself. (You didn't think all those Warhamster jokes in Dork Tower were a coincidence, did you?)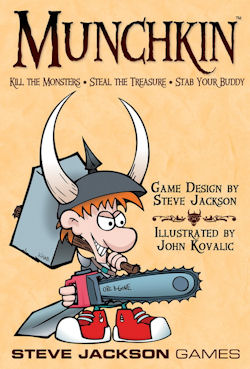 The first step in writing this game was figuring out the right way to approach the setting. My first thought was a pretty traditional class-and-race approach, but after being assured that non-Human Ultramarines were as impossible as Necron psykers or Ork pacifists, we rethought this approach. Further discussion led to the idea of using Armies instead, which is both unique to Munchkin Warhammer 40,000 and very appropriate for the source game.

At that point, the question became how many and which Armies to include. I knew we wanted some of the non-Human Armies, such as the Aeldari, Orks, and Tyranids. I knew we wanted Space Marines, and ultimately picked the Ultramarines for the set. Once you have Imperial forces, you need Chaos forces, so the Death Guards entered the game. For the last Army, I chose the Necrons because they're just delightfully weird.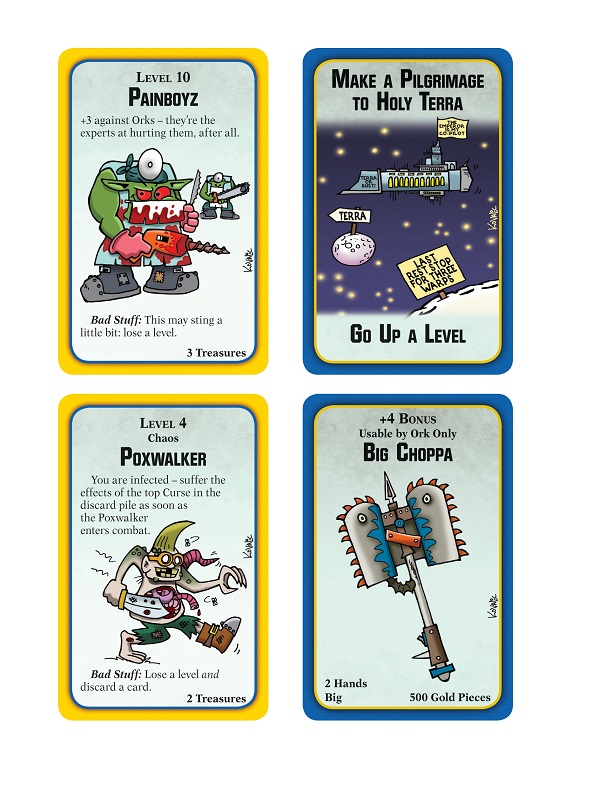 But it's not enough to see the cards–here's a look at how some of the armies will make the jump over to Munchkin form:
Aeldari
The Aeldari are an alien race with a very long history of warring with the legions of Chaos. That said, they can't be said to be allies of humanity, either, and in fact have betrayed Imperial forces repeatedly in the past. These traits informed their Army abilities:

Ancient Doom: An Aeldari gets a +3 bonus when fighting at least one Chaos monster.
Perfidious Eldar: When an Aeldari is helping in combat, they can give the main player two cards to back out of the fight. The main player may ask the remaining players for help.

Ork
We already had Orcs as a race in classic Munchkin, and the temptation was to transplant them right into Munchkin Warhammer 40,000 unchanged (other than the spelling). However, in Warhammer 40,000, Orks' strength comes from their overwhelming numbers, so I replaced their Curse-defying power with one that makes them stronger the more Orks are in the game. (Note to self: make sure to add more Ork cards if we publish expansions.) Thanks to Michael Knight at Games Workshop for the "Kunning" spelling.
Brutal: An Ork has a combat bonus equal to twice the number of Orks in the game.

Kunning: An Ork that wins a combat by 10 or more points goes up an extra level, which can be the winning level.
And there you have it folks, a look ahead at what kinds of things to expect from Munchkin 40K! Enjoy, and stay tuned for more news as it drops!