Take a look at the miniatures of the upcoming Kingmaker set from Wizkids. Taken from the classic adventure path, Kingmaker, these miniatures reflect the heroes and villains of the campaign, bringing them to life on your tabletop.
Kingmaker is one of the most iconic modules Paizo has ever put out. It takes players and sends them into the untamed valley of the Stolen Lands, going from fighting Barbarian Raiders and wandering monsters to being lords of the Realm with their own lands to call their own. The campaign introduced rules for running your own kingdom and handling diplomacy and counsel–giving players an in-depth look at kingship. Now Pathfinder Battles is taking a look back at the module, and bringing the monsters and NPCs of the module–AND the upcoming PC game by Owlcat studios–to your tabletop. Full gallery below.
via Paizo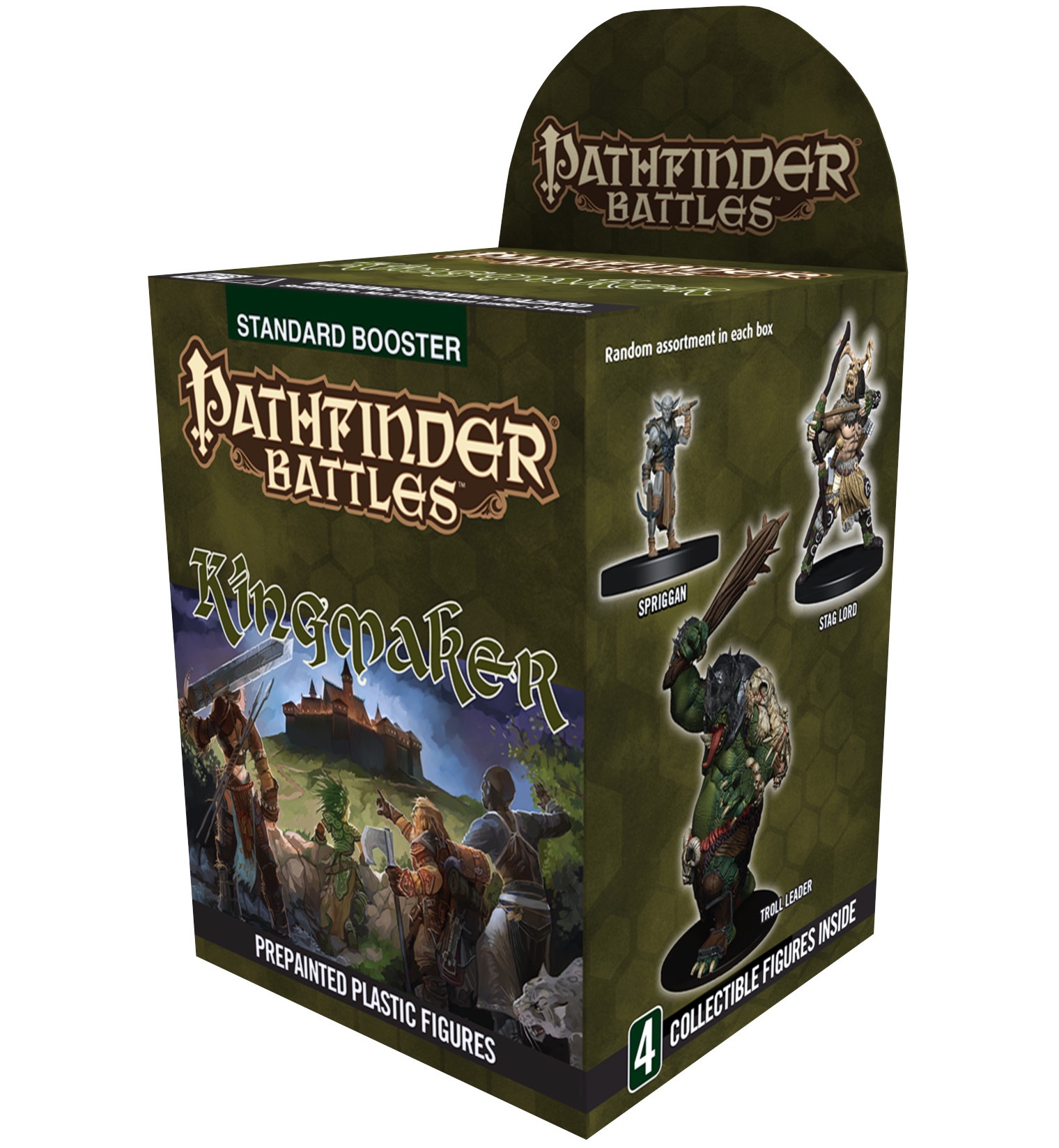 Kingmaker is the latest 44-figure set release in the award-winning Pathfinder Battles line of miniatures from Paizo Inc. and WizKids!

Pathfinder Battles: Kingmaker miniatures come in two product configurations, the Standard Booster and the Standard 8 Ct. Booster Brick.

Kingmaker follows the lead of popular Pathfinder Battles sets like Jungle of Despair to provide a legion of high-utility monsters and heroes suitable for any fantasy role-playing campaign. From the disciplined Oni Mage to the deadly Soul Gorger and a special visit from Jaethal an Elf Inquisitor with a dark reputation. Make sure to keep an eye out for the rare "dungeon dressing" inserts that add realism and fun to your fantasy gaming, Kingmaker is packed with the adversaries your game is looking for!

Four figure boosters! Pathfinder Battles: Kingmaker Standard Boosters contain 1 Large figure and 3 Medium or Small figures
Pathfinder Battles: Kingmaker Standard Bricks contain 8 Standard Boosters (32 figures per brick)
Pathfinder Battles: Kingmaker Standard Cases contain 4 Standard Bricks (32 Standard Boosters, 128 figures per case)

Purchasers should get no to very few duplicate figures in a brick. Buyers who purchase factory-sealed cases should get a nearly complete set of figures. (As with any randomized product, collation is not guaranteed.)
Scroll on for a full preview of the new miniatures.
Happy Adventuring!