Travel to the furthest corners of Golarion in the newest Player Companion to be released for Pathfinder. With a focus on non-human races, and places outside of the Inner Sea area of Golarion, this book fills out the map a little more for the world, even as doom befalls it in the playtest.
Take a walk to the fringes of Golarion in Heroes From the Fringe. This one is a little more primal, a little (Oscar) wilder. It deals a lot with non-human races, and particularly those from beyond the Inner Sea region. So as someone who nerds out over exploration and lore, I'm excited for this book. It takes the focus away from the Inner Sea region, which is well hashed out, and instead gives players archetypes that tie them to non-human races from the distant reaches of the world. It's new territory, which, especially in a game like Pathfinder that's been exploring not just one world, but one particular part of the world for the last ten years, is pretty exciting.
via Paizo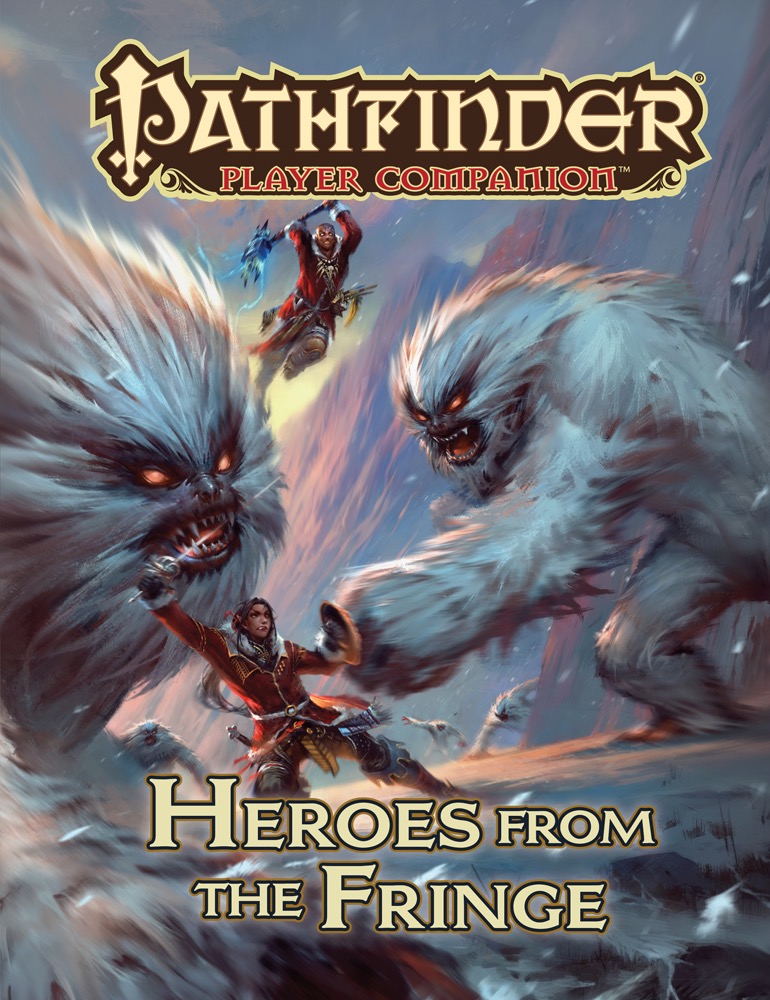 Fringe Benefits!

Delve into the many non-human societies found outside of the Inner Sea region! From elves to gnomes to halflings to dwarves, Pathfinder Player Companion: Heroes from the Fringe offers new options to expand upon non-human characters who come from lesser-known civilizations and backgrounds. Find the right archetype, feats, alternate racial traits, and equipment to reflect your character's heritage, whether she's a graceful elven samurai from Jinin or one of the festive gnomes and halflings of Segada!

Inside this book you'll find:

Character options for unique cultural groups of major non-human peoples of Golarion, including Osirion's Pahmet dwarves, the Ekujae elves of the Mwangi Expanse, and gnomes who never left the First World!
Feats for half-orcs and half-elves who hail from different parts of the world, from unyielding half-drow who escaped their murderous kin to vivacious sandkin half-orcs who view themselves as Sarenrae's chosen people!
New occult choices spawned from unusual backgrounds, such as whimsical phantoms formed from the lost wonder of gnomes who fell to the Bleaching and a terrifying psychic archetype for gloomkin half-orcs!
Happy Adventuring!