The sleepy village of Roderic's Cove is a town like any other in a fantasy RPG, which means that out in otherwise humble origins, the hand of fate stirs, and powers that will shake the foundation of the world begin to stir…
The Runelords are seven of the most powerful wizards ever to walk the face of Golarion. They survived the destruction of two of the most powerful empires, only to be locked away during the Age of Darkness. But now, these wizards who have survived on stolen magic and hidden themselves from the world, from the passage of time, from the turning wheel of fate–now these wizards rise from their seclusion to once more be the hand that steers the world.
When one of these Runelords returned, nations trembled. Now, they all are awakening. Thassilonia has risen out of Golarion's past to claim its future.
via Paizo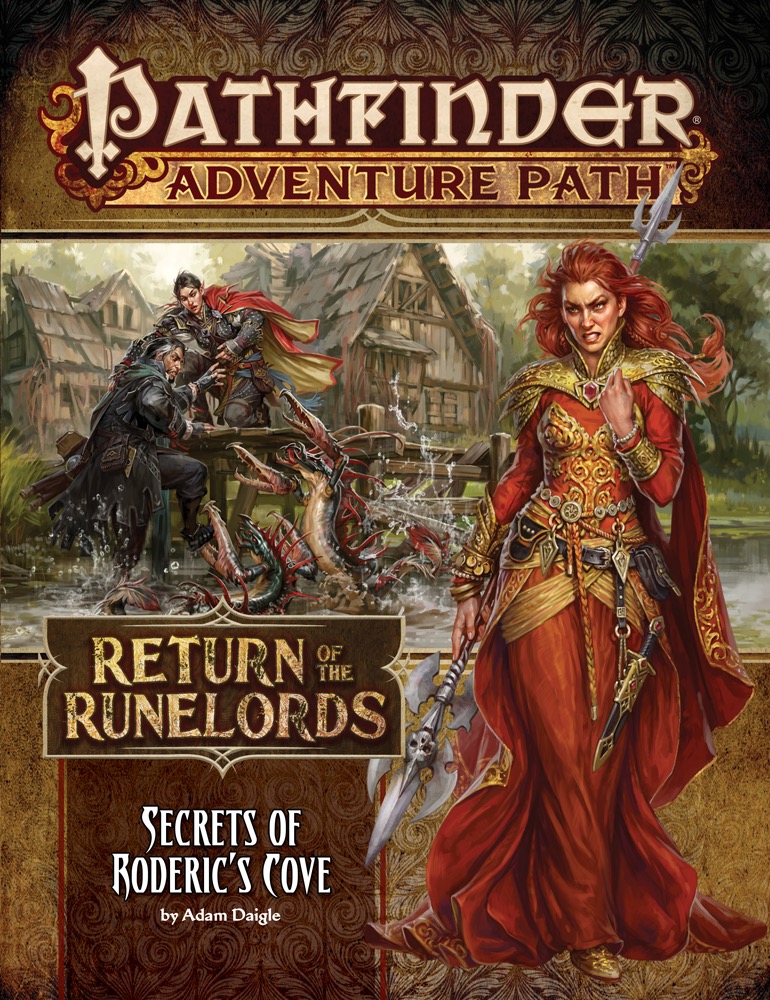 Wrath Shall Reign!

When one runelord rose from his slumber, the frontier nation of Varisia shook with his power, and it took a band of heroes to save the world. Yet there remained six other runelords, and now the most wrathful of them all has woken! As the runelords waken one after another, the dangers and perils faced by past heroes pale in comparison. When a mysterious and fearful ghost manifests on the streets of Roderic's Cove at the same time the town's gangs use the runes and legacies of ancient Thassilonian tyrants for their own ends, a new band of heroes must rise to save Varisia, and perhaps the world, from the return of the runelords!

This volume of Pathfinder Adventure Path begins the Return of the Runelords Adventure Path and includes:

"Secrets of Roderic's Cove," a Pathfinder adventure for 1st-level characters, by Adam Daigle.
An exploration and gazetteer of the town of Roderic's Cove and its inhabitants, by Adam Daigle.
An extensive timeline of the history of Thassilon, revelations about the methods used by each runelord to avoid destruction during the apocalypse of Earthfall, and notes for Game Masters on the roles each runelord plays in this Adventure Path, by James Jacobs.
A bestiary of monsters lurking around Varisia, including the child-stealing nochlean and the innocuous-looking warpglass ooze, by Mikko Kallio, Luis Loza, Jacob W. Michaels, and Conor J. Owens.
Happy Adventuring!