We get our grubby mitts on the Age of Sigmar Champions Founders box and open it up to show you what's inside. We may or may not make it rain booster packs within.
Warhammer Age of Sigmar Champions is a swanky new card game of battling champions and rotating cards. It's full of Champions, artifacts, units–everything you've come to expect from the Age of Sigmar, only in Card form. So get ready to banish your opponent to the Shadow Realm, because IT'S TIME TO D-D-D-D-D-DUEL.
There's a lot to the game, as you can see. The basic layout is pretty simple, each player is in control of 4 heroes battling it out in lanes, and the way they accomplish that is by playing cards from their decks into their lanes to support their hero, fight their enemies and in general work towards gaining the special power of a unique blessing given to each hero at the start of the game.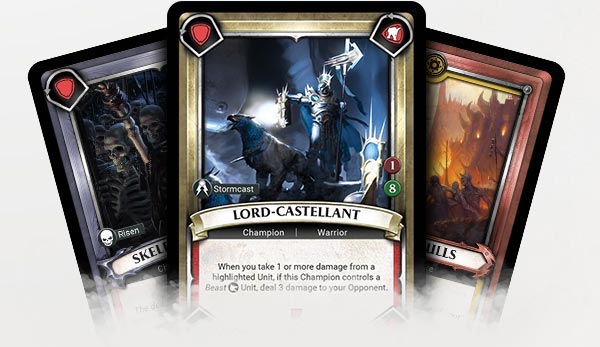 But there's an interesting wrinkle in this format. Cards, once played, begin to rotate. They turn corner to corner each time, eventually rotating off of the board entirely. It adds a curious timer to each card, and indeed each lane. There's enough to dig into before you add in the spells and abilities that each hero can wield.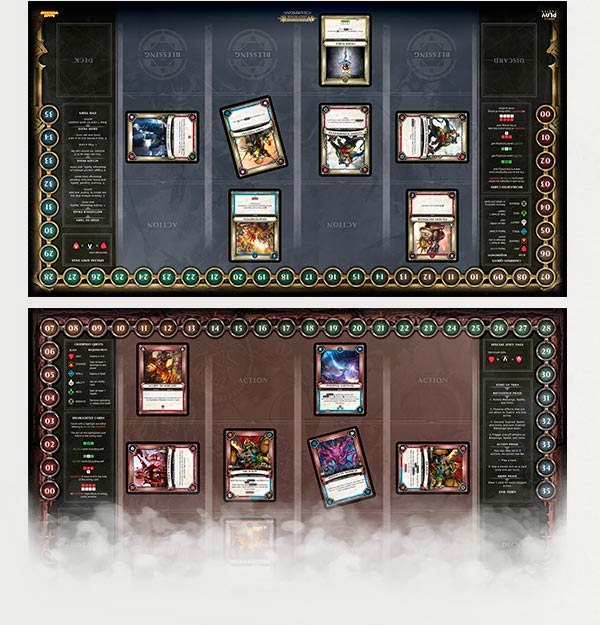 All of this combines to make a collectible card game with some meat to it. There's a deck for every grand alliance, the Founder's Pack holds all 4, but you can grab the grand alliance of your choice individually. Each deck has what you need to play the game, and from then on out it's a matter of getting the booster packs you need/want and tearing into them to find the perfect card.
For a deck that you don't have. Yet. For added fun, you also can play this game digitally, and each deck/booster has a card you can scan to register your cards in the digiverse.
So grab a deck, or your phone, and call upon the Heart of the Cards.