Goatboy's 40K List Review – The Nova Open aka Nerf Dis Next!


Goatboy here again. Let's study the two Nova Open winning lists to see what we can learn.
A ton of friends go there every year and due to life etc (Kids, Wife, Anniversary) the Goat hasn't had a chance to go.  I am hoping in a year or two I should be able to make the trek up there as I hear it is a pretty dang well run event.  Kudos to Mr. Brandt for continuing to make an awesome event.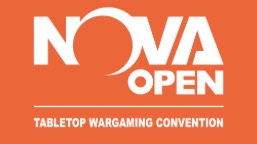 Lucky for me the Warhammer TV was running along with my pals Frankie and Geoff "NControl of my Pants" running the show.  The commentary was very good especially when you think about how they talked for 39 hours over 4 days.  Think about that.  
I know we all love this game but how hard it must have been to keep talking about the same Castellan/AM/Blood Angels list you saw over and over again.  Thankfully the ever lovable Geoff/Frankie Hybrid of positivity kept trucking along as I tried to sneak away breaks from work to squint at tiny models on the table top.  Good job guys – I am hoping at some point to help with some commentary on stuff as I am a current Has Been that pays a ton of attention to the game still.
Anyway enough of that bit of verbal meandering – lets talk about some lists.  The winner of the Open itself is someone known as a good 40k player – Andrew Gonyo.  He has captained the ETC team for a few years and was part of the winning ETC team this last year.  He has won Nova as well last year if I remember correctly.  I think he actually won both the Open and Invitational.  This year he brought the pain with probably the best single player list in 40k right now.  Bar some missions and event changes this list just wrecks face.  Gonyo has some changes compared to others – but utilizing a Astra Militarum Brigade – you have a lot of fiddle room to mess with.
 
Gonyo version of the Neapolitan of 40k Lists – AM/BA/IK
Super Heavy Auxiliary – Household That's so Dang Raven
LoW: Castellan – Basic B Load out
Astra Militarum Brigade – Catachan
HQ: Primaris Psyker
HQ: Straken
HQ: Company Commander  – Warlord – Grand Strategist – Relic – Kurov's Aquila (Look for this to get nerfed I tell ya what)
Elite: Priest
Elite: Ogryn Bodyguard: Slab Shield, Maul
Elite: 10 X Crusaders (Power Sword/SS)
Elite: 8 X Crusaders (Power Sword/SS)
Troops: Infantry Squad, Chainsword
Troops: Infantry Squad, Chainsword
Troops: Infantry Squad, Chainsword
Troops: Infantry Squad, Chainsword
Troops: Infantry Squad, Chainsword
Troops: Infantry Squad, Chainsword
FA: Scout Sentinel, Heavy Flamer
FA: Scout Sentinel, Multilaser
FA: Scout Sentinel, Multilaser
Heavy: Heavy Weapon Team – 3 X Mortars
Heavy: Heavy Weapon Team – 3 X Mortars
Heavy: Heavy Weapon Team – 3 X Mortars
Blood Angels Battalion
HQ: Captain with Jump Pack, Thunder Hammer
HQ: Captain with Jump Pack, Thunder Hammer
Troops: Scouts X 5, Boltgun X 5
Troops: Scouts X 5, Boltgun X 5
Troops: Scouts X 5, Boltgun X 5
I have written about this list a few times already – Gonyo had the different set up of Crusaders and their Storm Shields as well as Scout Sentinels.  I still prefer Hellhounds but that is just me.  I like auto-hitting tanks.  The Infantry squads can hit like a ton of bricks with all their Strength 4 and rerolling to hits with the Priest.  Mix that in the Straken and you got a serious brutal counter assault to protect your Knight.  I mean beyond the Crusaders this is the same list you saw show up on the table top a lot on the Stream.  I saw Gonyo twice – killing Morty and Magnus twice in fact.  I think this list and the Imperium in general show how GW really needs to look at CP and how they are utilized by Detachment/Units that didn't generate them.  Maybe lock them into Keywords like how the army is made up within a detachment.

Chaos Bash Brothers by Justin Curtis
Next up will go with the number 2 list piloted by Justin Curtis.  This is the same list I think that he took to the ATC championship if I remember correctly.  I know he did pretty well there before his team left.  This guy seems destined to play the Ultimate bad guys in any format he shows up too.  He is a true agent of Chaos and he brought a Bash Bros list and got all the way to the top – even beating Mr. Nick Nanavati on his way to getting beat up by the Castellan and friends.
Super Heavy Auxillary – Death Guard
LoW: Mortarion
Subscribe to our newsletter!
Get Tabletop, RPG & Pop Culture news delivered directly to your inbox.
Super Heavy Auxillary – Thousand Sons
LoW: Magnus
Battalion Detachment – Thousand Sons
HQ: Ahriman on Disc of Tzeentch
HQ: Daemon Prince of Tzeentch, Wings, Warp Bolter, Malefic Talon X 2 – Warlord – Relic – Helm of the Third Eye
HQ: Sorcerer, Inferno Pistol, Force Sword
Troops: Chaos Cultists X 11
Troops: Tzaangors X 25, Brayhorn
Troops: Tzaangors X 25, Brayhorn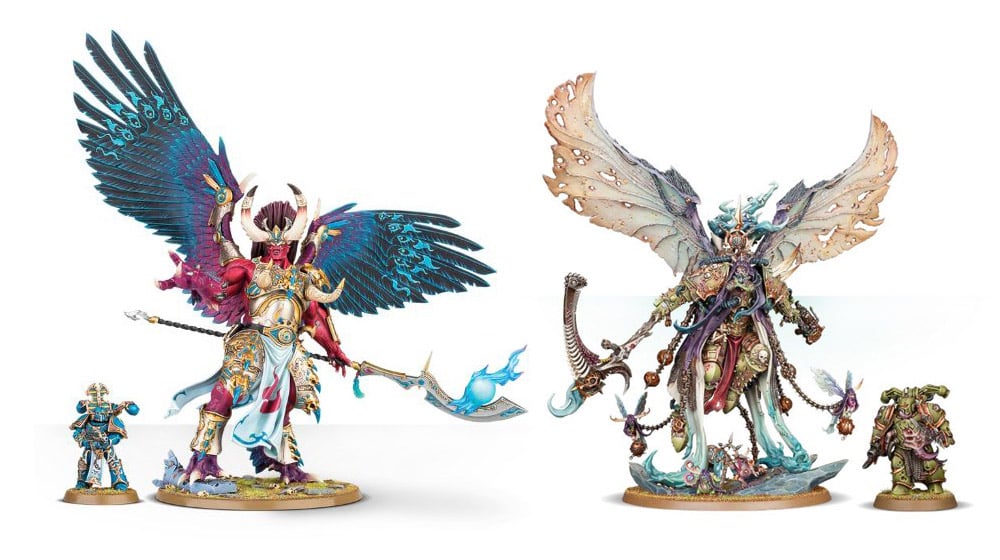 Justin had about 218 pts left over for Summoning things as needed.  I think the Sorcerer stayed behind and dropped off some friends.  The Warp Bolter is due to the Index options as well as the regular Sorcerer.  As you can tell – this is a Bash Bros list all based on can the two Primarchs survive the firepower, get mixed in and cause as much havoc as they can.  The Tzaangors are amazing as you can throw one unit in right away with the Dark Matter Crystal as well as have another Deep Strike in. Their plan is to get mixed in, get involved, and maybe take some heat away from a Primarch or two.  In the game versus Andrew – Andrew blocked out Justin's Tzaangor strike with Scouts.  That meant his Castellan had more then enough time to murder both Primarchs.  I think Justin has some pretty awful dice luck as well but when you rely on two big monsters to go above and beyond their average die rolls – expect them to just eat it as some point.  Plus I bet both guys were tired from the weekend of flying around, doing some damage, and being a pain in the butt.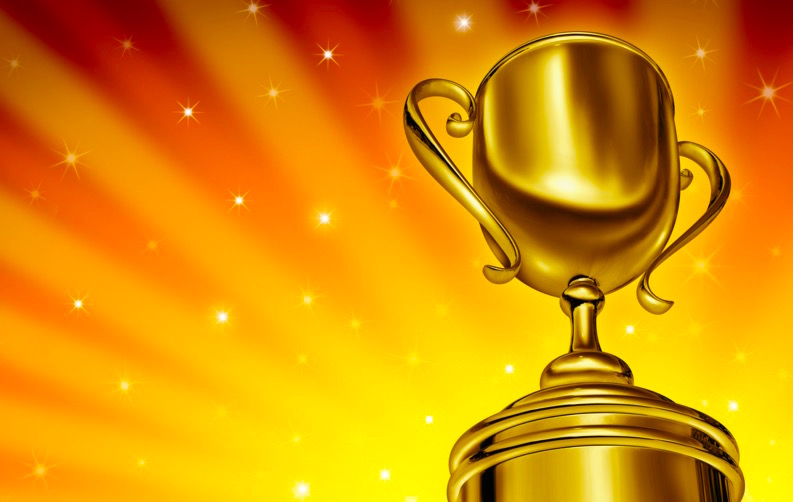 Congrats to both of these guys for playing a crap ton of 40k and doing well.  I expect the Command point Battery to get looked at after this event as well as the Castellan itself.  I wonder if locking Command points to just being used on the Keywords they are generated from – we would see less of an issue.  Sure you can regrow them on the Guard side – but if only the guard can use them then it is less of an issue.  Seeing the Blood Angels utilize half of the Command Points in an army on the first 2 turns when they only generated 5 at most is annoying.  I could just imagine this army if they had access to more first turn deep strike charges if the Beta changes were not in effect.