Mantic just announced that the latest wave is up for pre-order – including a time and cost saving bundle that has everything you need to run a new campaign that will pit your Survivors against other humans the harsh world of The Walking Dead.

The new wave comes with new rules and maps that you can use to run a campaign with interlinked missions. Each new location will pr0vide needed supplies that will help you on your journey in a Walker filled world. Veteran Skill Cards are another new component included in the new wave. These cards have special rules that can be purchased for your Survivors; they are used like equipment cards, but they don't use a slot and they always remain in effect. These cards can be used on your existing characters, so feel free to bulk up before you set off on a new campaign.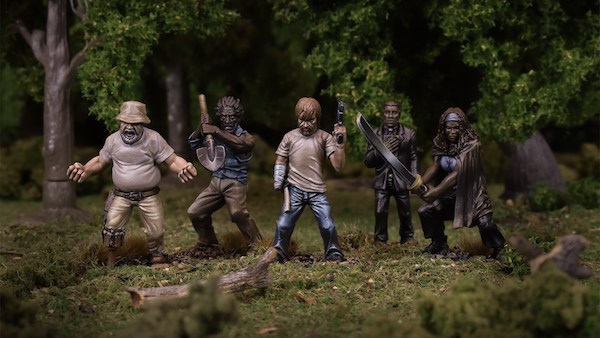 This wave has less in the way of Walker booster packs, which it makes up for in extra Veteran Cards and an advance in the story. The most dangerous threat is no longer the Walkers – it's other survivors like the Hunters that are featured in the new campaign. Rick has settled into Alexandria at this point, and has started stock piling. He's prepared to take on the undead, but can he take on his fellow humans?
Pick up the new wave and play out the story to find out…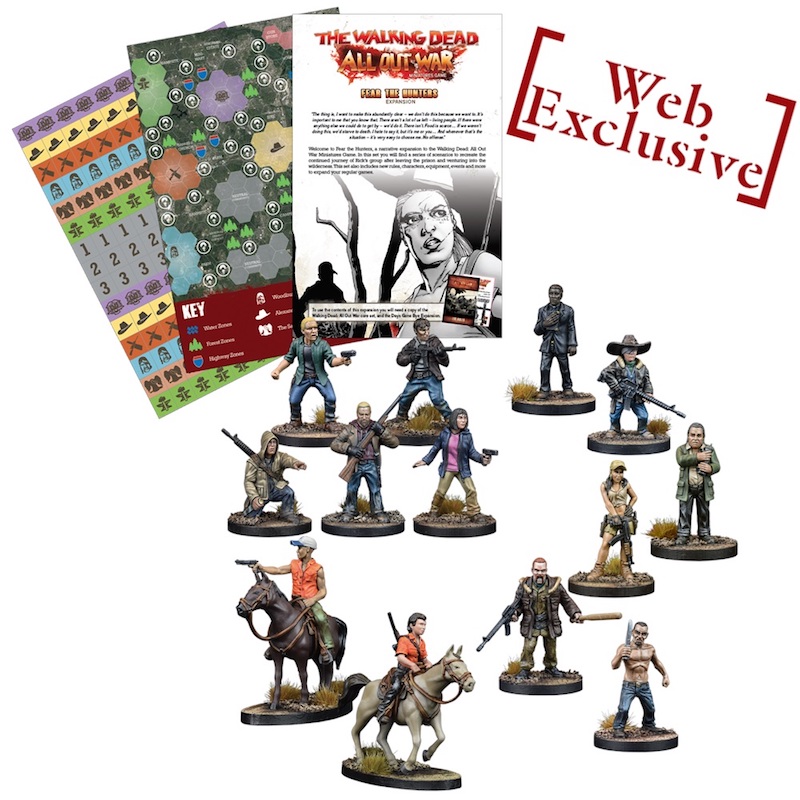 Wave Five Complete Bundle – £84.99
Fear the Hunters Expansion
5 Plastic Survivors – Albert, Charlie, David, Greg, and Theresa
Fear the Hunters Rulebook
Campaign Map
7 Character Cards
7 Event Cards
20 Campaign Events Cards
12 Supply Cards
12 Equipment Cards
Maggie and Glenn on Horseback
2 Resin Survivors – Maggie and Glenn on Horseback
2 Character Cards
4 Equipment Cards
1 Event Cards
4 Veteran Skill Cards
Abraham Booster
2 Plastic Survivors – Abraham and Jud
3 Character Cards
4 Equipment Cards
1 Event Card
4 Veteran Skill Cards
Father Gabriel Booster
2 Plastic Survivors – Father Gabriel and Carl Grimes
3 Character Cards
4 Equipment Cards
1 Event Card
4 Veteran Skill Cards
Rosita & Eugene Booster
2 Plastic Survivors – Rosita and Eugene
3 Character Cards
4 Equipment Cards
1 Event Card
4 Veteran Skill Cards