The books about the Wizarding World have the books are the best selling book series of all time, they are beloved by several generations of kids that grew up reading them. They've inspired movies, art, and toys. Bring the magic in to your office space or home with these playful statues from Qmx. A little theme music…
Hermione's First Spell –

$14.95
Hermione Granger, the brightest witch of her generation, takes her studies at Hogwarts School of Witchcraft and Wizardry very seriously. She excels at every kind of spellcraft (except divination), and since the moment she cast her first spell, delights in all things magical. This cute Q-fig depicts Hermione wearing her school uniform with her Gryffindor scarf blowing in the breeze.  As usual she has a book in her hand; a translucent magical wisp comes from her wand as she casts a spell for the first time.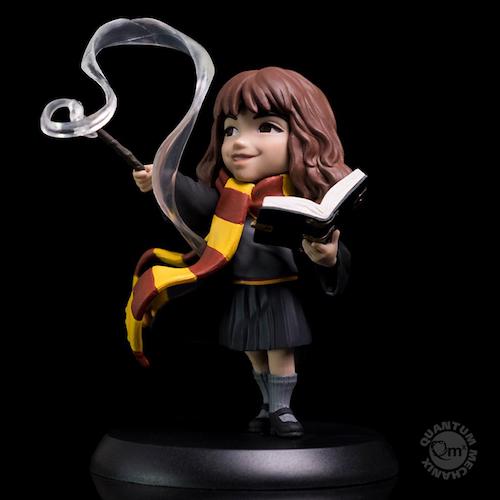 Harry's First Flight – $14.95
For Harry Potter one of the best things about being a wizard is flying. The latest in our top-selling line of Harry Potter Q-Figs depicts Harry himself flying on his broom atop a sculpted swirl of air. A spell bursts from the tip of his wand as Harry's robe and Gryffindor scarf flutter in the wind. The wind also parts Harry's hair, revealing both his scar and a huge smile of pure joy.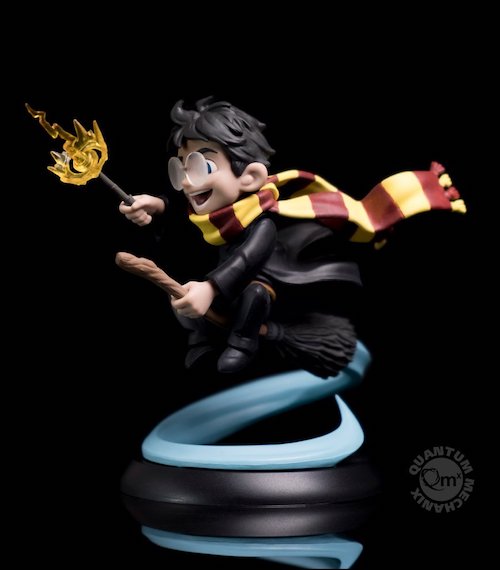 Harry Potter and Rubeus Hagrid Limited Edition – $99.95
To young Harry Potter, Rubeus Hagrid is teacher, protector and tour guide to the Wizarding World. Despite his daunting looks, the half-giant and groundskeeper of Hogwart's School of Witchcraft and Wizardry could not have been a kinder caretaker or more loyal friend.
Our biggest and most complex Q-Fig Max yet, the Harry and Hagrid Q-Fig Max Diorama depicts the two friends on Hagrid's magical motorcycle as they race towards adventure. Hagrid's long hair and beard is blown back by the wind while Harry smiles and brandishes his wand, ready for action.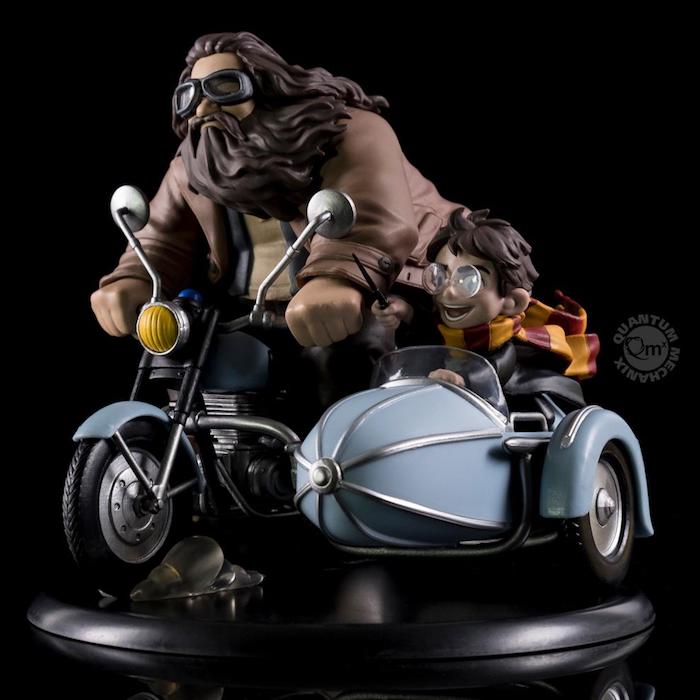 The diorama is huge – measuring 6 inches high and 7 inches long – and is comprised of over 50 individually-cast pieces. No detail was spared, from Hagrid's clear-lensed goggles (through which you can see his baby browns), to Harry's Gryffindor scarf billowing in the wind. A substantial piece, the whole diorama weighs in at one and a half pounds. Not only is Harry and Hagrid our most ambitious Q-Fig to date, it's also our first numbered, limited-edition Q-Fig as well. It even comes with a signed Certificate of Authenticity. Accept no substitutes!