The Grimdark is littered with fallen and misguided souls who think they are on the right side of wrong. But if we peel back some of the layers and look at their reason, we have to ask – are they really the villains we all think they are?
Nothing makes a story better than a great antagonist. The villains are the dark mirror that the heroes get to shine against. If the villain is weak or unappealing, then they can become flat and boring characters – nobody want's to cheer for those losers. However, what if the villain doesn't think that they are the bad guy? What if, in their mind, they are the REAL hero of the story…
Today, we're taking a look at a handful of characters that have been labeled one thing but might actually be the opposite. It just depends on your particular point of view.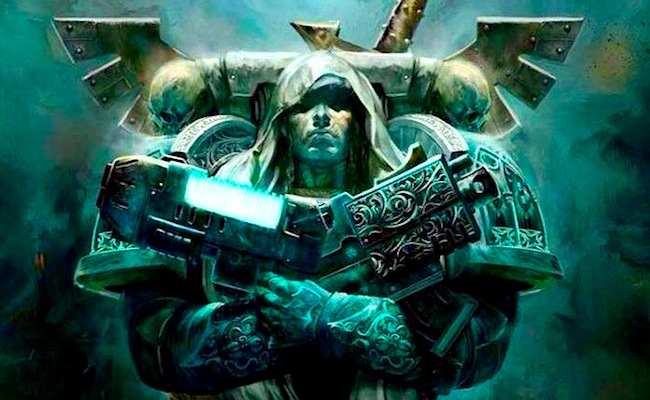 Cypher has been labeled a traitor and a threat to the galaxy. But you have to look at who is making these claims. I don't know about you, but I don't trust a chapter like the Dark Angels to give me a straight answer. Cypher rumored to be carrying the Lion Sword – a relic from his Primarch. He's been slowing making his way to Terra, perhaps to commune with the Emperor and reveal the truth about the Dark Angels. Or maybe he's there to aid in the Emperor's resurrection – the hard way!
The truth is that no one really knows who's side he's actually on. He's a mystery – but does that make him a Hero or a Villain?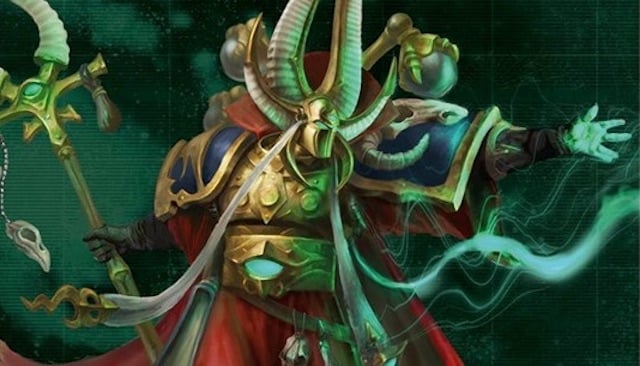 It's easy to take a look at this spell-slinging sorcerer of the Thousand Sons and write him off as a villain. But, take a closer look at his history and you might second guess that.
First off, The Thousand Sons were framed. And then Ahriman was banished for casting the Rubric – but he only used it to save his brothers. He's been trying to get into the Black Library so that he can unlock secrets to return his cursed legion back to normal. He's also been around since the beginning – he's actually Terran! He fought alongside the Emperor and comes from a long line of nobility that allied with the Emperor during the Unification Wars.
Ahriman has seen what the Imperium has become…and is trying to change it. Does that make him a villain or someone who's just seeking to clear his name and save the only family he's got left?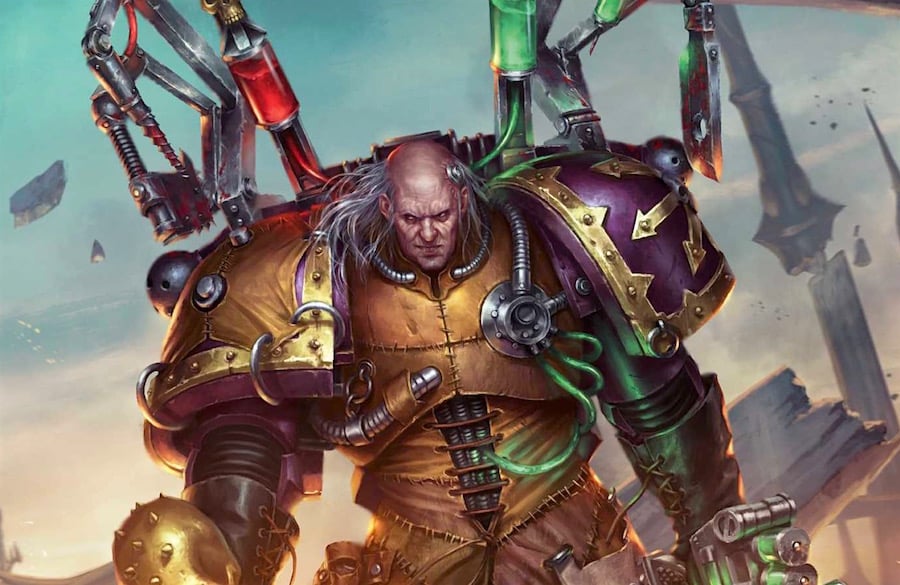 With a name like that, it's no surprise that he's been labeled a villain. But he's the 40k equivalent of Dr. Frankenstein in a lot of ways. He's not the monster, he's the mad doctor who just wanted to make mankind better.
Fabius Bile is 100% a Mad Scientist – and as such, he absolutely believes he is right. His vision is to create a new "human" to be able to survive the warp. He trains all his fellow apothecaries to do the same. He's just following in the footsteps of the Emperor who basically did the same thing.
Does his desire to make Humanity a better version of itself make him the villain? Or is really just his questionable style choices?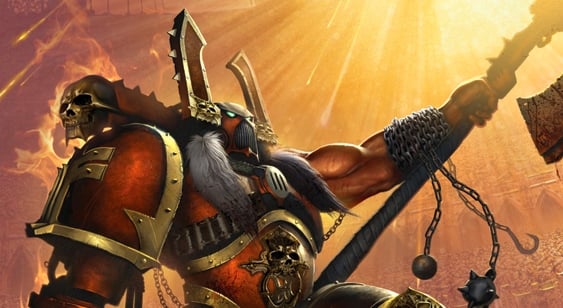 "Wait really?! We're going with this guy?"  Yes. And you wanna know why? Because Khârn, while he is a murder machine, is the victim of a messed up set of circumstances. Given the same options, I doubt anyone would behave any different.
What would you do? His legion has been betrayed by everyone. The Emperor used the World Eaters and Angron to be his executioners and war hounds. Horus used them for the same thing – regardless of their losses or how much danger they would be in. Chaos has used them – throw them in the thick of the fighting and let them do what they do, who cares if they live or die, it's all about SKULLS!
All his friends are dead and when HE fought to the death he was brought back to life by Khorne because he was "too good of a champion" to die. To top it off, he's not even crazy – he just doesn't care anymore. If you're doomed to be a killer for eternity, what else can you do?
Khârn is an anti-hero for sure. He's Wolverine. He's the Punisher. But does that make him a Villain?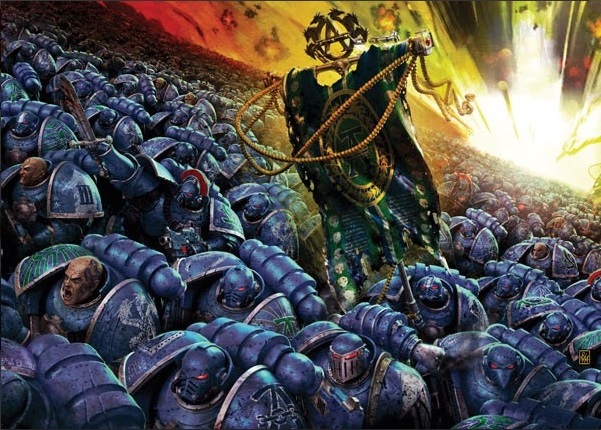 One of them is dead. One is not…Or maybe that's just what they want you to think. The Alpha Legion's Primarch(s?) are up to something and no one really knows what side they are on anymore.
They are loyalists – The question is loyal to whom… Have they have been trying to pull off an inside job a la "The Departed" for 10,000 years. Or are their followers so mixed up they don't know what the real plan is anymore? The Alpha Legion and their Primarch have a serious case of going in too deep for an undercover operation. They can't tell if they are faking being the villain and are secretly the heroes – but can you?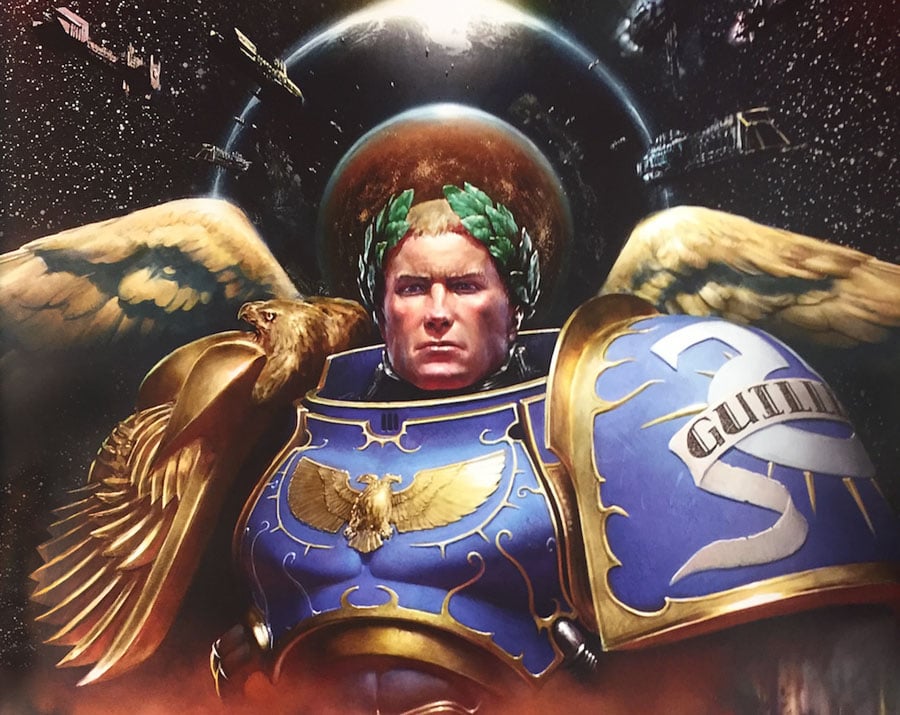 Ahhh yes, the Emperor's most loyal son… Or is he? Over the weekend we learned that GW finally confirmed that the Emperor is a Perpetual – and we've talked about some of the implications of that. The fact of the matter is that Guilliman returned from the dead and fought his way back to Terra and was able to meet privately with The Emperor.
What happened in that meeting? What was said – or what was unsaid – we may never know. But if the Emperor DID reach out psychical to the Ultramarines Primarch, what would he have said? "Hey, I need to be killed so I can come back – pull the plug, would ya?"  If I were in that position that's probably what I would have done!
Instead Guilliman walked out of that meeting with a new focus. Is he following the Emperor's Will or has he gone Rogue? Time will tell…
Who are some characters from the Grimdark that you think are just misunderstood? Let us know in the comment section!