40K Unboxing: Speed Freeks – High Speed Grimdark Combat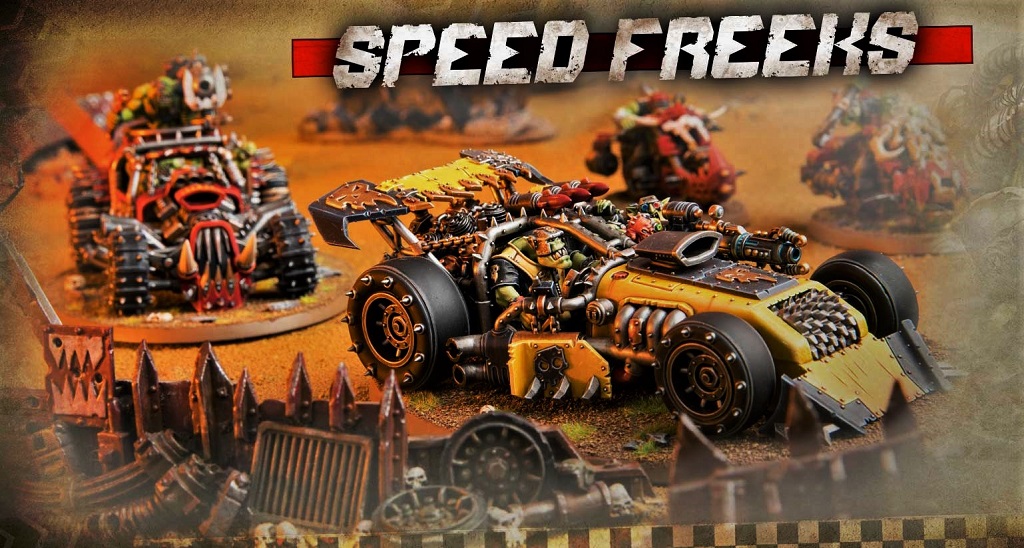 It's a new day and a new game from Games Workshop set in the 40k Universe! Rev your engines, it's time to go into overdrive with Speed Freeks!
If you ain't first, you're not last – you're probably dead in the new game from GW! Speed Freeks is what happens when you take an Ork WAAAGH!! that gets stalled out on a pretty much flat planet, show them Mad Max, and then drop loads of scrap all over place. Setting aside (which is a Mek boy's dream) we're diving in to the components of this new boxed game:
Maximum ORKER-DRIVE
The contents of the box are pretty straight forward. You get enough components to make 2 of the new Ork buggies – the Shokkjump Dragsta and the Kustom Boosta-blasta:
Shokkjump Dragsta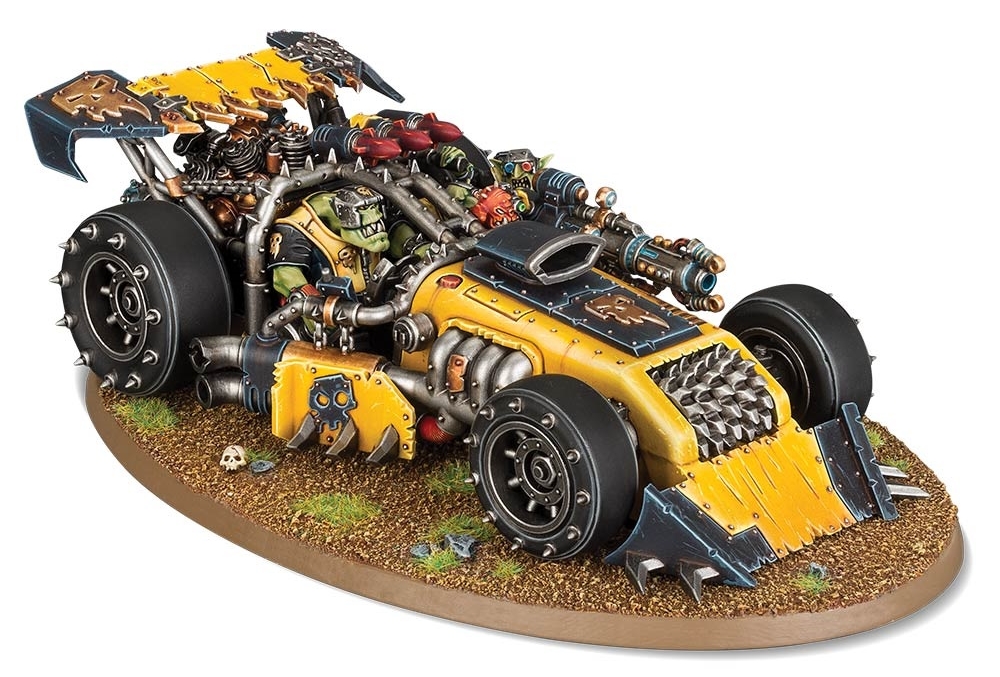 Shokkjump Dragsta Sprue
Kustom Boosta-blasta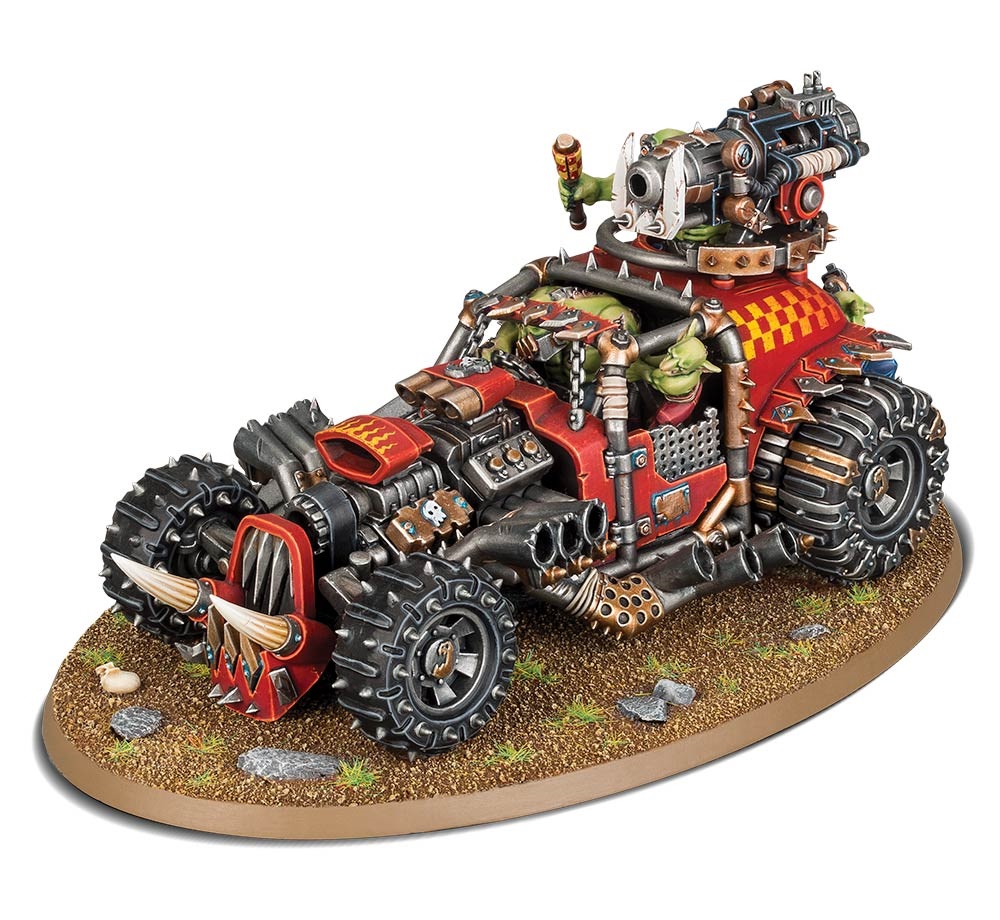 Kustom Boosta-blasta Sprue
And as you might have noticed, they do come in dyed plastic – yellow and red respectively. On top of that, you'll also get two kits worth of Ork Warbikes – also in dyed plastic. This is an older kit but those are still some great models to build and paint. Having survived through the reign of the Ork Nob Bikers in 4th, I might not have the best memories of these guys. I think I've still got a few tire-shaped skid marks on my psyche somewhere…anyways, they are also included!
The terrain kits that are included are actually some of my favorite "random junk piles" GW has ever made. While they aren't customizable like the Sector Imperialis (which is still my favorite terrain set) they do look appropriately orky! Plus, they are PACKED with details. If you're a hobbyist you're going to find yourself spending way to much time on those – and that's a good thing!
Aside from all the models, there are 4 sets of double-sided tiles you can use to play on. Plus custom dice, data cards for ALL the vehicles for this game (that includes all the ones GW has been previewing) as well as the warbikes, a range finder, two decks of cards (the upgrade and damage deck), two player consoles, and of course RULES to play the game.
Subscribe to our newsletter!
Get Tabletop, RPG & Pop Culture news delivered directly to your inbox.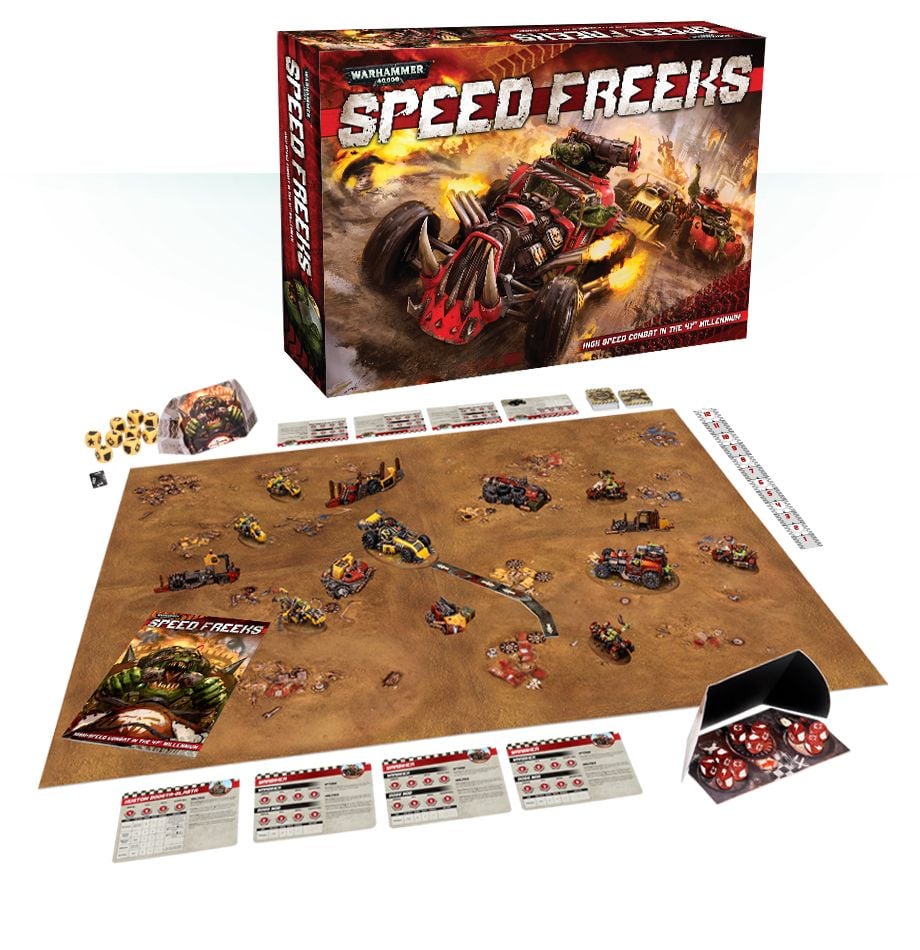 There is quite a bit of stuff packed in this one. The last thing I want to mention is that the rules for using both the Kustom Boosta-blasta and the Shokkjump Dragsta in 40k ARE included in the set as part of the assembly instructions. You can check out there rules in the video above!
So if you're looking to speed around the desert wastes in a Mad Max style Orky fever dream then get ready for Speed Freeks! Up for pre-order this weekend from GW!
Speed Freeks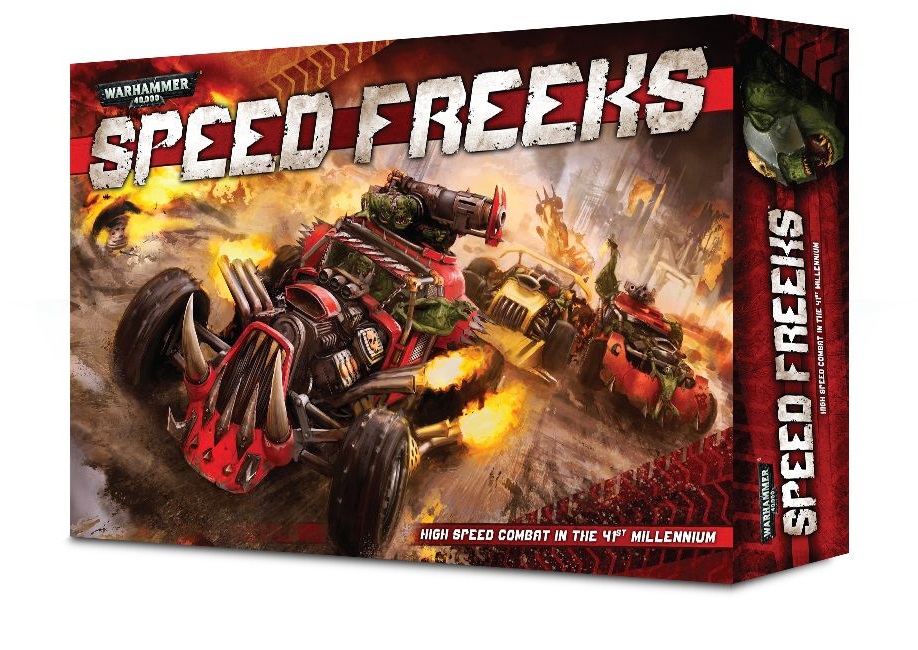 Engines rev, power cells whine, saw blades spin and loading mechanisms snap chunky shells into deadly experimental weapons. Meks make last-minute adjustments with hammers and wrenches. Da Speedwaaagh! is on!
Speed Freeks is a game for 2 or more players. Each player commands a Speedmob of Ork wagons and warbikes in high-speed adrenaline-fuelled combat. You'll need to kustomise your vehicles and pull off daring manoeuvres to win, but that isn't easy when your team consists of velocity-addicted greenskin maniacs. Players take turns picking models to move, shoot and attack up close, aiming to destroy their rival racers and become the greatest Speedmob in the galaxy!
Green for Go. Red for GO FASTA!