Discover: Lands Unknown is a game I have been looking forward to because of it's 'unique' game moniker. It's out now from Fantasy Flight Games and I really want to dive in and go exploring.
So what exactly makes this a 'unique' game? It's a pretty simple concept – the core rules for each copy of the game are the exact same. However, each box has a different adventure. I'll let FFG explain:
As a Unique Game, every copy of Discover: Lands Unknown is different. Although each copy pulls from a massive pool of possible components, each individual copy of the game is unique—with a distinct mix of components unlike any other copy in existence. This allows every owner to have their own stories about their game, and once you're done with your copy, you can even trade with a friend for a fresh new experience.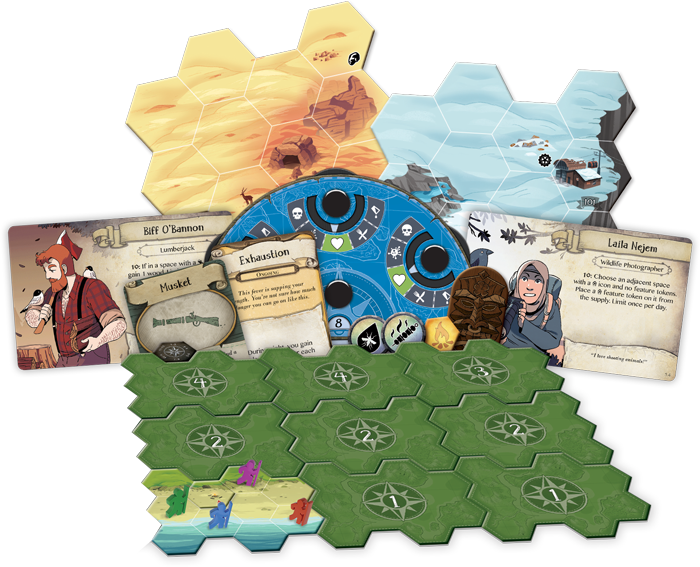 Each copy of Discovery contains 34 map tiles. These map tiles depict 2 different environments as well. For example you might get one box with the desert and mountains. Another might have the forest or a beach. And even if the box contains two of the same environments, the landmarks will be different so you'll have a different set every time.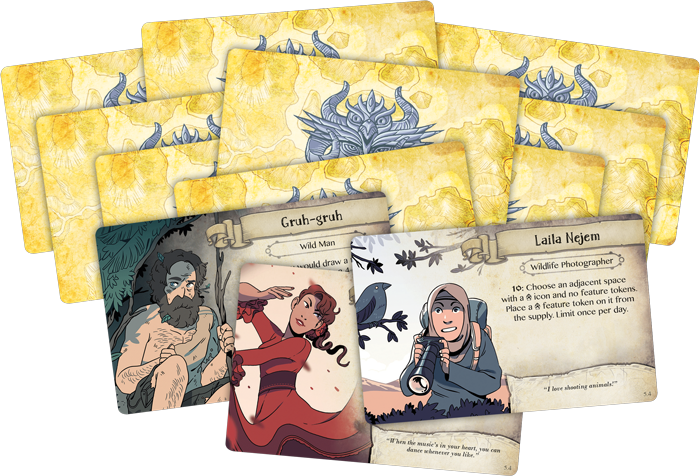 That's not all that's different in the box – each set will contain 12 different survivors as well. They each have different skills they bring to the experience. And your 12 survivors will be different from another set! That's just one more factor that makes each copy of this game 'unique' and replayable.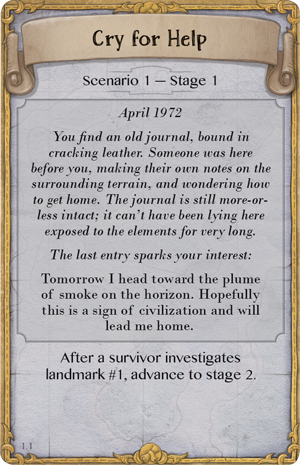 Each box also contains 4 interconnecting scenarios, plus a 5th competitive scenario. And if you haven't figure it out by now – these are also different between copies of this game! This means that each set has it's own narrative to tell and each game will have it's own set of challenges to overcome.
Discover also features a robust crafting system – and those tools are different in each copy of the game as well. "Every copy of Discover will feature eleven project cards and 44 crafted item cards showing the result of your projects, all of which are variable between copies. "

Discovery: Lands Unknown is the only game out there where you can trade your copy with a friend and have a completely different and unique experience every time. If you start to get comfortable with your copy, just swap with a buddy and see if you can master their copy. The game already has a ton of re-play value, but FFG might have found a reason to get multiple copies of the same board game with this one.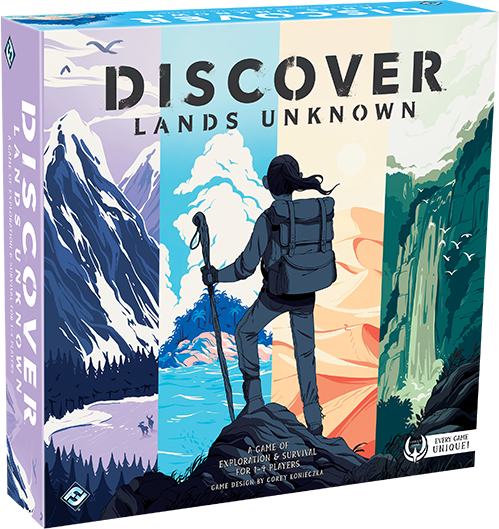 You awaken with a splitting headache and no idea of how you got here. The wilderness stretches in every direction, and something howls in the distance. Your quest for answers will have to wait; first, you need to survive. Will you help the others that are stranded here or will you save yourself at any cost?
When two to four players find themselves marooned in the harsh wilderness, you must cooperate and compete to search for water, food, and tools that will be essential to your very survival. But your adventure holds many secrets. Every copy of Discover: Lands Unknown is unlike any other in the world. A mix of environments, storylines, characters, locations, items, and enemies have been engineered to tell a story unique to every copy of the game thanks to an algorithm that ensures no two copies are alike. Your copy will contain various tiles, cards, and tokens, each pulled from a shared pool of components, and the combination will be different from every other copy in the world.
Are you ready to go explore these unknown lands?