Everyone is getting into the spirit of things this month, and that spirit is green and loves a good fight. If you are looking to add some fantastic new bits that have that spikey feeling that makes a lad ready to krump, Kromlech has you covered.
'Tis the season to be jolly and green and to be hankering for a fight that will satisfy even the most hardened of veterans. Kromlech is getting in on the game with their new Orc bits. With five new chainswords and a Smashin' Ball for your vehicles, there's enough here to bring out the flavor of your Orcs or Orc-adjacent warriors in any sci-fi setting. Brutal, barbaric, and held together with duct tape and bailing wire, these weapons look exactly as deadly as they should.
via Kromlech
Orc Chainswords – $8.57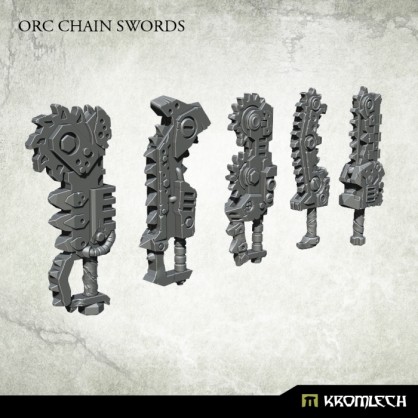 This set contains 10 high quality resin Orc Chain Swords. There are 5 different designs and you get two of each.
So get in there and get to choppin', hackin', slashin', and otherwise giving your enemies what for.
Orc Vehicles: Smashin' Ball – $4.72
This set contains high quality resin Orc Vehicles Smashin' Ball. It can be used to convert existing orc vehicles and buildings or build completely new ones.
As you can see, these are the exact kind of bits any lad worth 'is teef would be slavering for. So if you want to kustomize your vehicles, or just make some fortifications that can do something more useful than just stand there, this smashin' ball is great.
---
Everyone's getting into the spirit of the month. What bits will you use to customize your own squads?