Tabletop Spotlight: HeroClix Secret Wars Battleworld

Adam and Chris dive into the new HeroClix set and see what they can pull from their booster!
HeroClix is a tactical skirmish game featuring MANY different Marvel superheros. This latest set combines multiple comic arcs, allowing for a whole new slew of heroes to pick up for your own.
This new set has 16 Commons (plus 1 Prime), 16 Uncommons (plus 1 Prime), 16 Rares (plus 1 Prime), 12 Super Rares (plus 1 Prime) and 6 Chases and takes characters from Secret Wars, Spider Island, 1872 and others!
via WizKids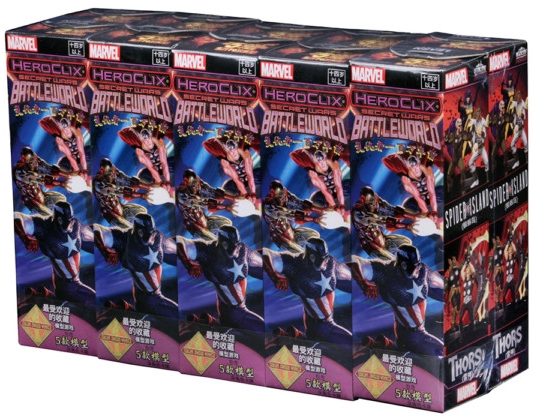 There are plenty of new characters and stories to explore and some new takes on fan favorites like the Avengers, Runaways, and Captain America with the popular Shifting Focus trait! There will be a showdown in The Valley domain featuring Wild West versions of Avengers like Sheriff Steve Rogers, Tony Stark, Black Widow, and more. Play with heroes from the Spider-Island storyline like Iron Fist, Hulk, and Captain Marvel, to fight against the baroness Spider-Queen.

Weirdworld was a critically-acclaimed, fan-favorite part of Battleworld, now follow Arkon the Magnificent as he travels through the ever-changing Weirdworld domain. He runs into many strange places and characters like the swamp inhabited by Man-Things, the Kingdom of the Torch ruled by Witch Queen Le Fay, and the crystal labyrinth led by the revived Crystar!

If you're feeling worthy, pick up the Thor Corps. Ranging from never-before-seen in HeroClix characters like Dino Thor and Destroyer Thor to fan-favorite Ultimate Thor(who was last seen in HeroClix almost 15 years ago)!

There will be something for everyone in this booster set with plenty of brand new shared traits, new Battleworld themed teams, and more never-before-clixed characters like Erik Killmonger, Regent, and Viv Vision!
Thanks for watching!

Subscribe to our newsletter!
Get Tabletop, RPG & Pop Culture news delivered directly to your inbox.