Feed your grim curiosity, revel in the absurdity. Whatever the reason, come join Adam and Chris as we look at the newest game in the grim dark franchise.
Let's not pretend this isn't an unusual pairing. Because it is, but that's not a bad thing. I should just skip the game description, but I have standards, darn it!
Monopoly is a competitive economic set collecting game with auction & trading and roll-to-move mechanics. The goal of each player is to avoid going bankrupt, which eliminates the player from the game. The last player standing, wins!
If you're like most modern gamers, you're not a fan of Monopoly. Trust me, I'm right there with you. Still though, theme can play a big part of making a game more enjoyable.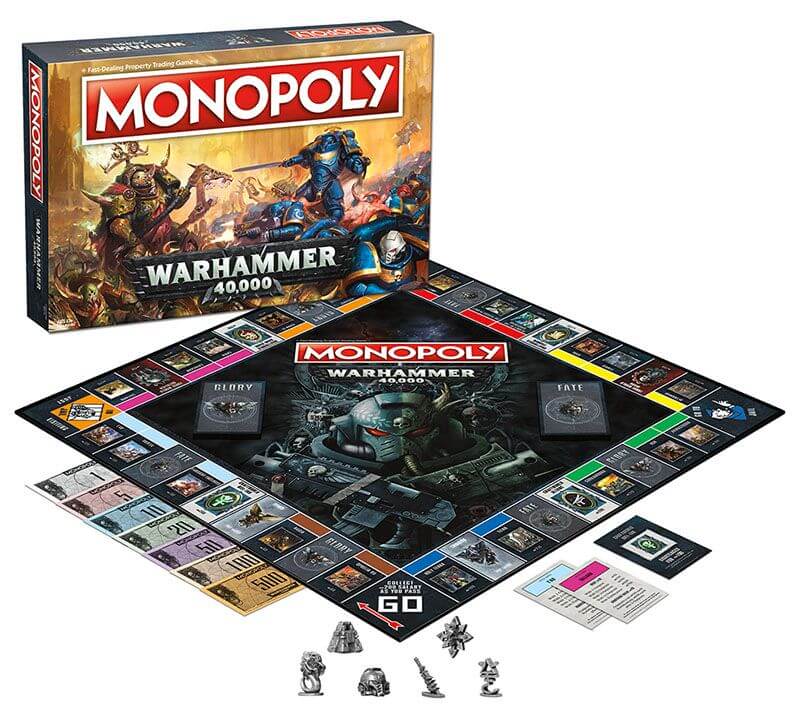 So if you're willing to get over your knee-jerk reaction, you might actually have a good time giving this one a try.  Not much else to say here.  It's Monopoly. But Warhammer 40,000. As a bonus it comes with some pretty cool metal minis to use as objective markers.
via USAopoly & Games Workshop

A classic flagship title meets MONOPOLY in a game that takes the infinite war to new levels.  Featuring 22 familiar locations from the setting, MONOPOLY: Warhammer 40,000 lets you play as one of six iconic metal tokens representing key factions and make your way around the board buying, selling, and trading properties in the 41st Millennium.  Build up your conquered locations with Outposts and Fortifications, seal your destiny with Fate and Glory cards, and collect a Billion Souls for the Emperor to continue your quest to dominate the board!  
2 – 6 Players

∞

Minutes
Ages 13+
Thanks for watching!