The Chapter Master of the Ultramarines has seen his ups and down through the decades. Let's take a stroll down memory lane.

The Original Marneus – 1988
Marneus Calgar had his origins in the Rogue Trader days. He was one of the original named Ultramarines detailed with artwork in 1989's Warhammer 40,000 Compendium. Back then there was this "Space Marine Commander" miniature clearly inspired by that magnificent piece of artwork up there, sitting so proud amongst his stuffed Tyranids and beloved picture of the Emperor.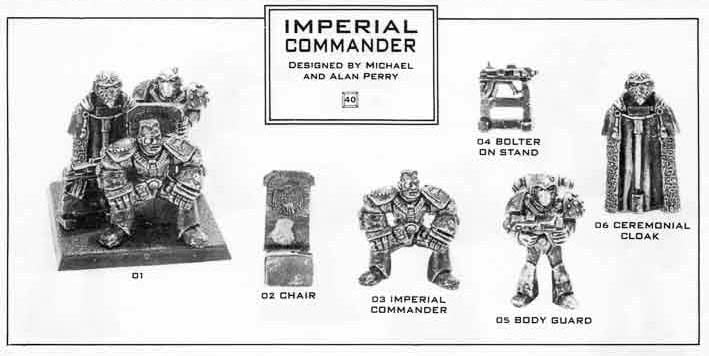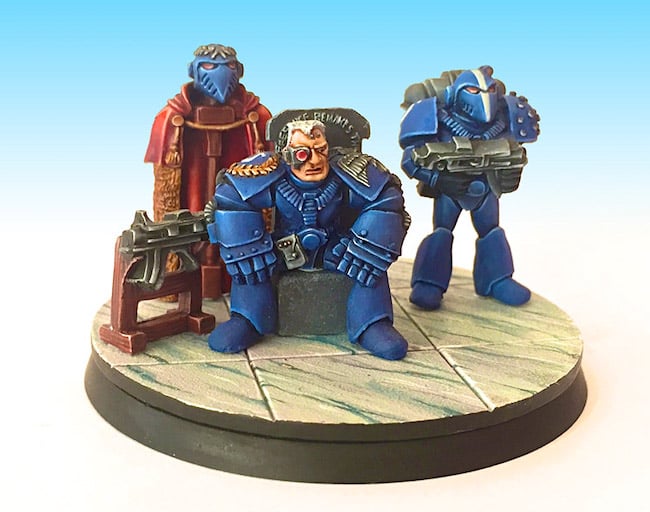 Maybe he could order a fancier chair… but no matter. This original Marneus Calgar would fight the good fight for 5 years – all while firmly planted on his chair until at last we reach 1993.

Marneus WALKS – 1993!
Yes that's right, as long last Marneus got his butt out of the chair and started swinging the Gauntlets of Macragge for the Emperor of Mankind in 1993. It was 2nd Edtion, the Ultramarines were a real thing with a real Codex and they needed a leader.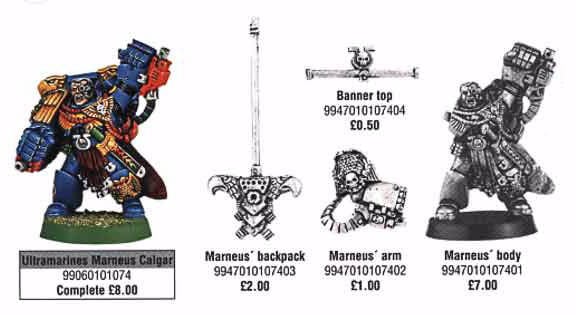 This is the Marneus we all know and love. The model soldiered on through three editions, until finally he earned his bling upgrade, in the middle of 4th Edition.
Bling Marneus – 2004-5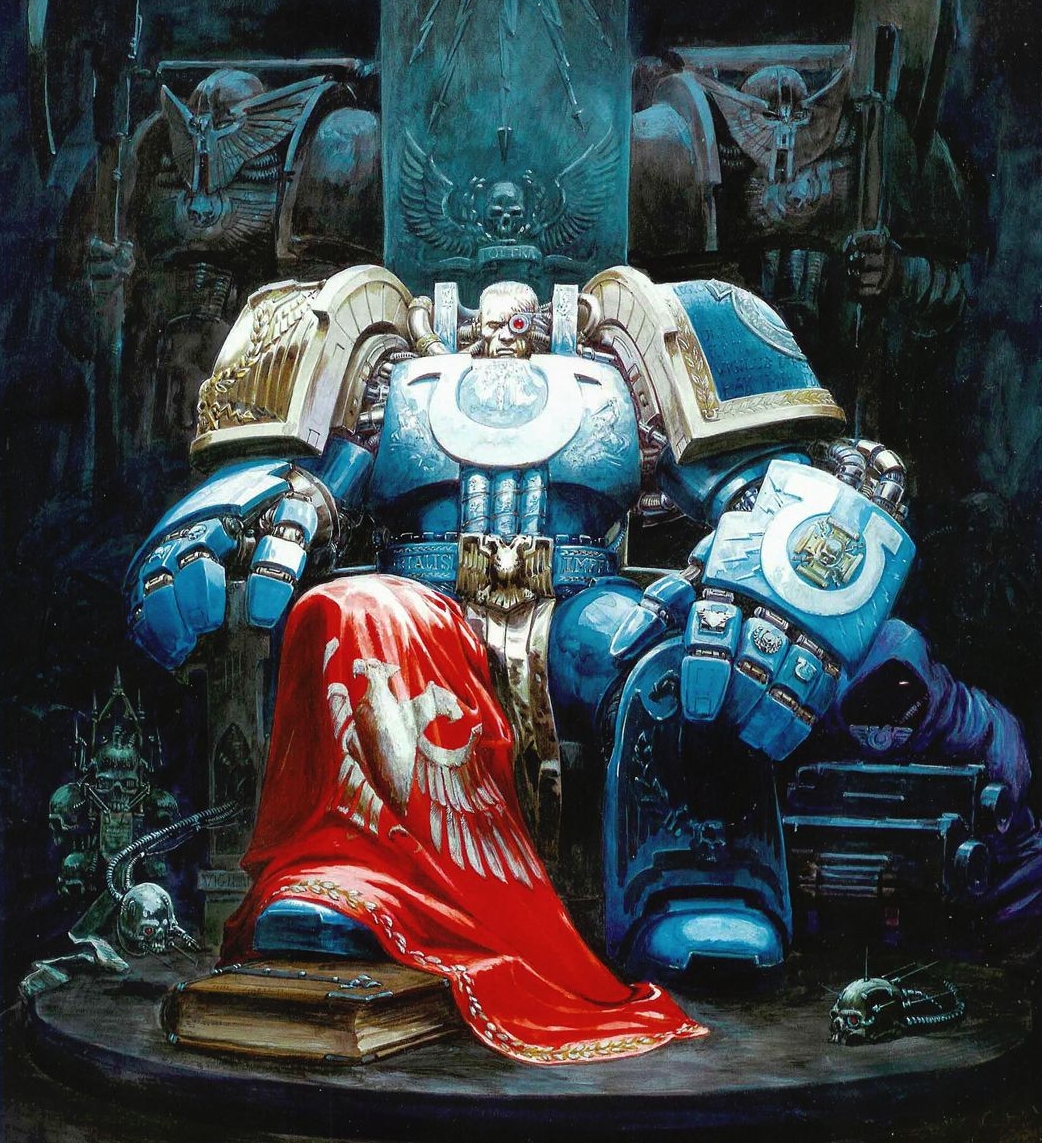 All Bling all the time! It was 4th Edition with an all new Space Marine codex by Pete Haimes & Graham McNeil.  Marneus got his all detail all the time model right after the codex went to print (oh no), accompanied by his Honor Guard. I can tell you, when GW rolled this out everyone's jaws hit the floor and hobbyists around the globe rolled up their sleeves and prepared for a mighty challenge.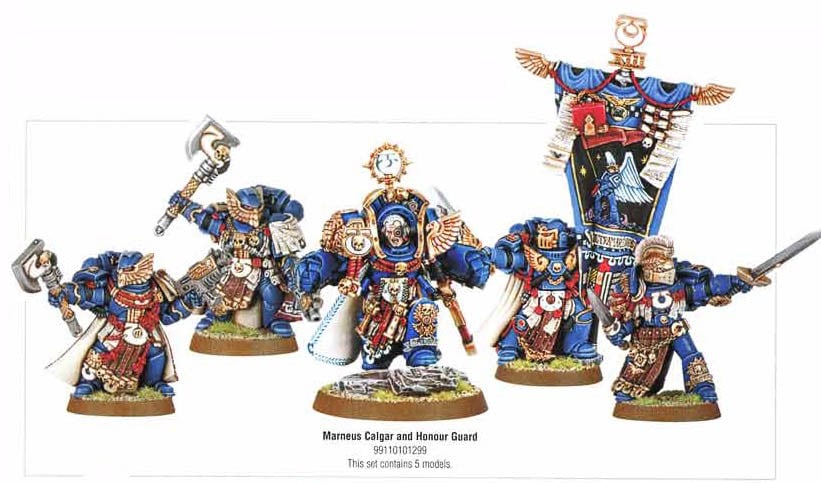 This was the height of style for Calgar and the height of his power. He ruled Macragge and answered to no but his Primarch, dead for 9000 years. Everything seemed fine for 10 years… Oh wait what, there's a Eldar witch, an Ad Mech Magos and an Inquisitor at the front door? Well let them in!
Primaris Marneus Calgar – 2018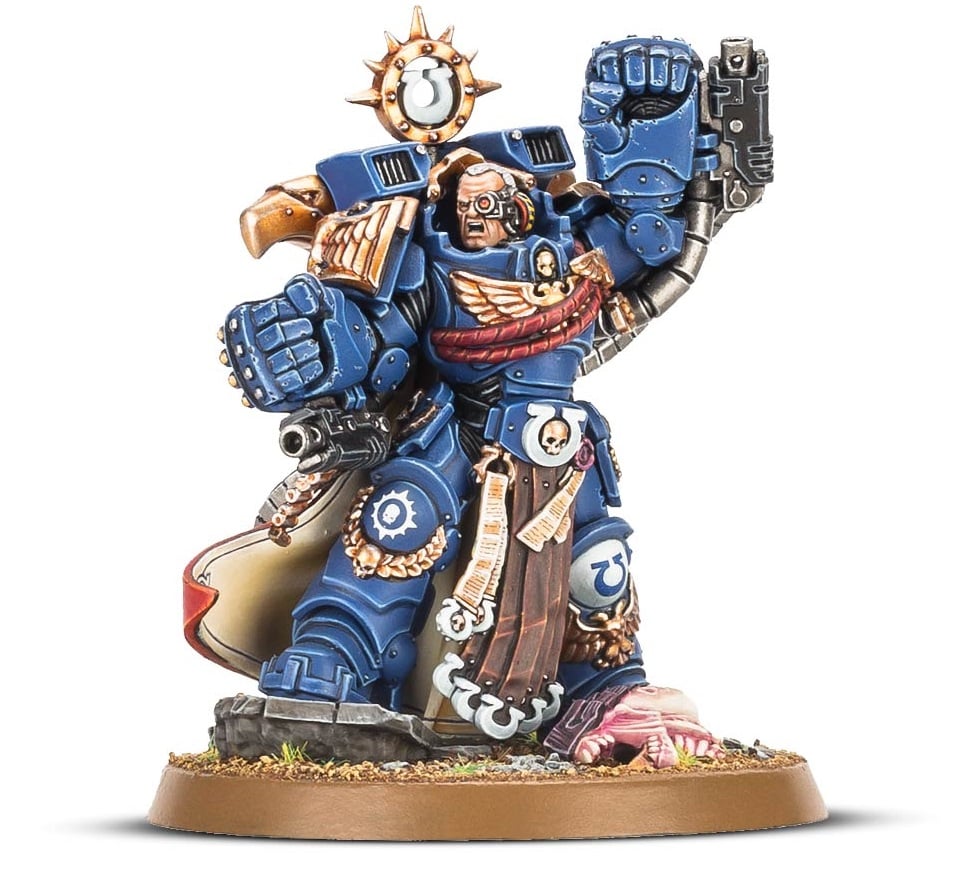 With the coming of the Primarch, Marneus stepped aside and took his place as his father's greatest living son. In time, he undertook the transition into Primaris Marine and here he sits before us. In plastic for the first time in 30 years.
~Who still owns some of these classics and which is your favorite Marneus?