The Agents of House Delaque are almost certainly human, right? Except for when you look at them closely–there's something not quite right in the best way about these shadowy humans(?) who definitely don't have their own agenda.
The myriad Houses of Necromunda each have their own unique look–the beefslabs of House Goliath have their David Ryder inspired look, House Escher have cornered the market on anything close to Glam, the craft beer enthusiasts of House Orlock would like to talk to you about Neutral Milk Hotel, House Van Saar still hasn't quite gotten over the last FPS they played, and House Cawdor is keeping the chandler industry afloat…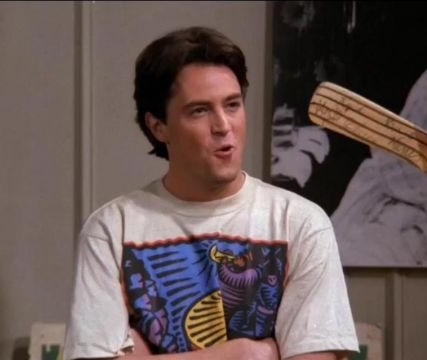 Now add to that House Delaque, who were created when a bunch of Strangers from Dark City decided to settle down and have some kids with the Spacing Guild from Dune.

Which is what makes them so striking–they have that sinister, creepy, not-quite-human air about them, and that's exactly what the designers had in mind when they created these definitely friendly fellows.
via Warhammer Community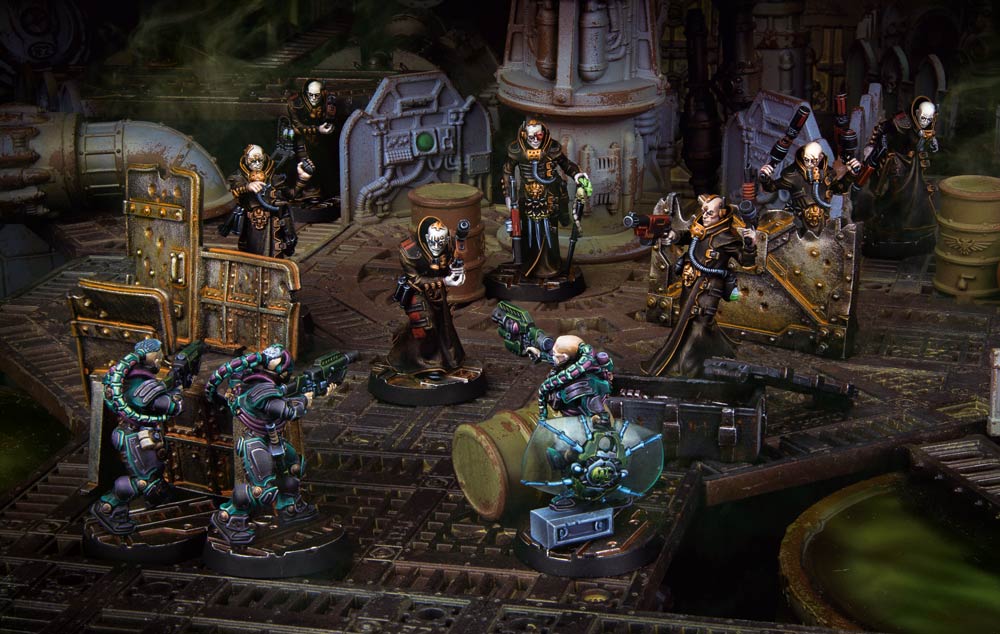 Despite its status as one of Necromunda's most powerful clans, House Delaque has existed in the shadows for as long as any can remember. The greatest asset of House Delaque is the iron grip it has on the flow of information throughout the hive. If their alleged degree of control is to be believed, Delaque's influence would reach all the way to the upper spire. What is certain, however, is that the agents of House Delaque will pay almost any price in blood – be it their own or (more commonly) that of others – to ensure they maintain a monopoly on such intelligence.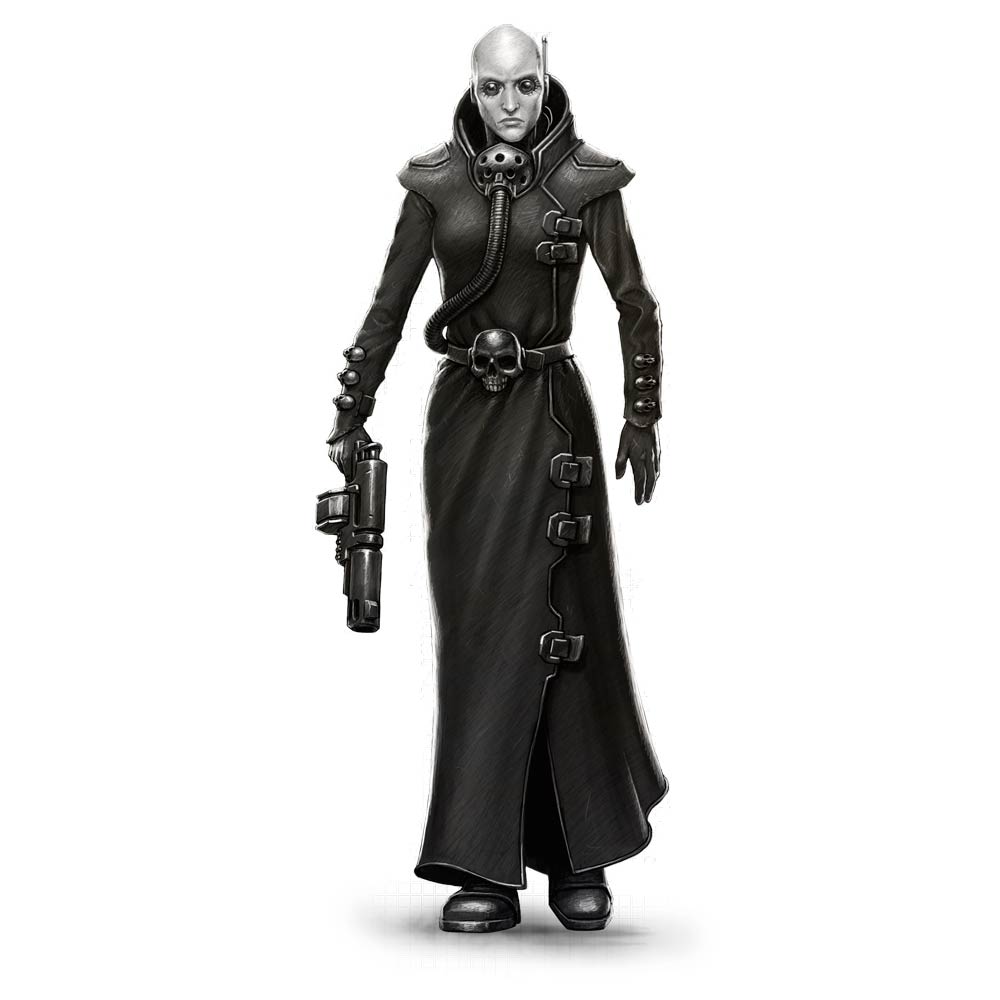 To be a Delaque is to remain unseen, to observe and report – to spy – only to intervene only when absolutely necessary. More often than rival Houses realise, their activities and gang fights are being observed from the shadows, their dealings documented and weaknesses discerned. Yet in such uncertain times, the gangs and agents of House Delaque have become more proactive than usual – though to what end none can truly say. If blood must be spilt, the act will be done so quietly and with as much secrecy as possible, for the way of Delaque has and will ever be the silenced bullet or the assassin's blade.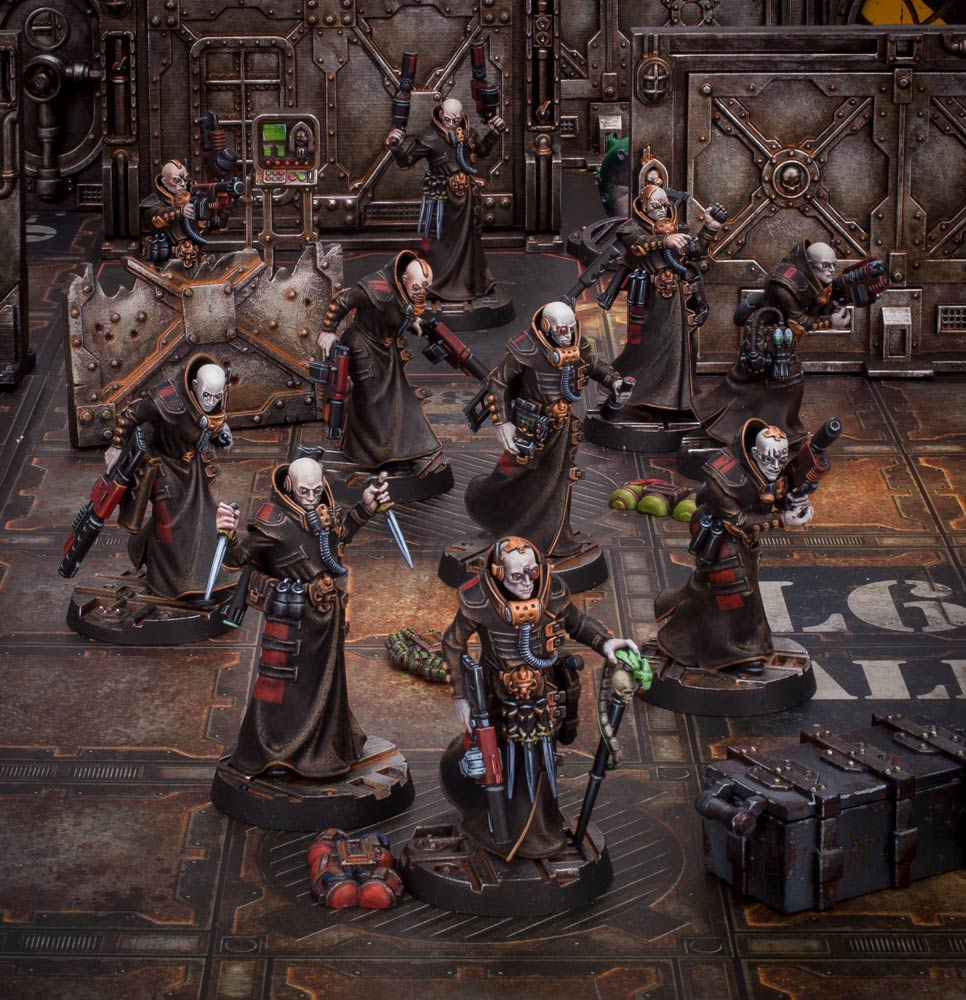 The goal was to build upon the nuances that made gangers of House Delaque distinct and original from the other houses. They're still essentially the same begoggled bald guys in trench coats at heart, but the miniatures have evolved in the same way that their House's background has been more fully realised. They're much leaner and taller, and instead of stylised goggles, they've got sinister-looking optical implants. It captures the rather unsettling image of dubious backstreet surgery – despite House Delaque doubtless having access to both the means and technology to (mostly) perform such operations safely, you can imagine it would be a less-than-pleasant experience! Their facial expressions are all intentionally expressionless, impassive and devoid of emotion. It adds a sense of creepiness, as if they're all of one mind…
And you can see that in their design aesthetic. Though this does mark the second time GW has teased something "off" about House Delaque, which makes me wonder what they have going on behind the scenes. We know there's the Spyker–which we saw revealed this weekend, but are they all "one mind?" Is there some other sinister secret lurking in their heart? We'll have to wait and see.