Chapter Approved is around the corner, metaphorically speaking, so it stands to reason that we should be seeing a fresh batch of rumors making the rounds. Here's the latest serving.
Fresh off the internet for your own enjoyment, a new batch of rumors about what you'll find inside Chapter Approved 2018. Will we see points changes? Almost certainly. Will they be the ones you can read about in this post? Only the hideous future can tell us. So while we awaits its dread arrival, let us take a look at the latest things reputed to be on the
The following rumors come to you from Bolter and Chainsword, so strap in, grab some salt, and let's take a look at the latest rumors from the mill..
via B&C
We've all seen that list of points tweaks going around–well here we have a shot of a few more points changes that may or may not be coming down the pipeline.

This could provide a much needed adjustment, assuming these are real. Though, some of the other pictures that have been making the rounds–including the T'au rumors below–have turned out to be elaborate fakes: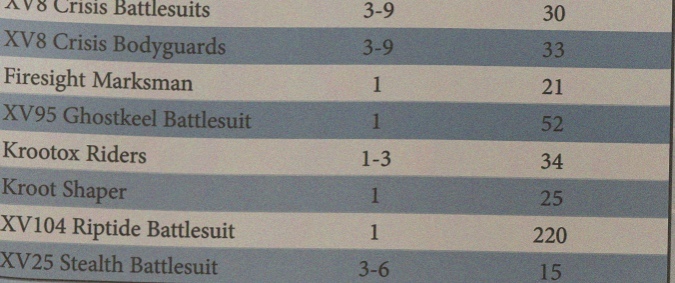 There's also been an accompanying image of a change to saviour protocols being only on a 4+, which were released into the wild by someone with too much time on their hands. At any rate–no word yet on the Land Raider points–they don't seem to be as obviously shopped as the T'au image, so there's hope that it proves true.
In the meantime, what changes are you hoping to see in Chapter Approved? We know the beta Sisters of Battle Codex is coming, but what else do we need out of this book? Let us know in the comments!