Games Workshop hit us with an astounding set of Miniatures yesterday and we need to talk about the cool new stuff for Age of Sigmar! Moonclan Grots, Darkoaths and new Chaos Daemons are on the way-  and it's about time!
The teasers have not been subtle. In case you missed it yesterday, GW showed off quite a bit of new stuff. We got a look at a ton of upcoming releases and I want to talk about them all but for now, I'm trying to contain my excitement to just the AoS news. First up, lets talk about Wrath and Rapture.
Wrath and Rapture – The Battle of Ancient and Bitter Rivals!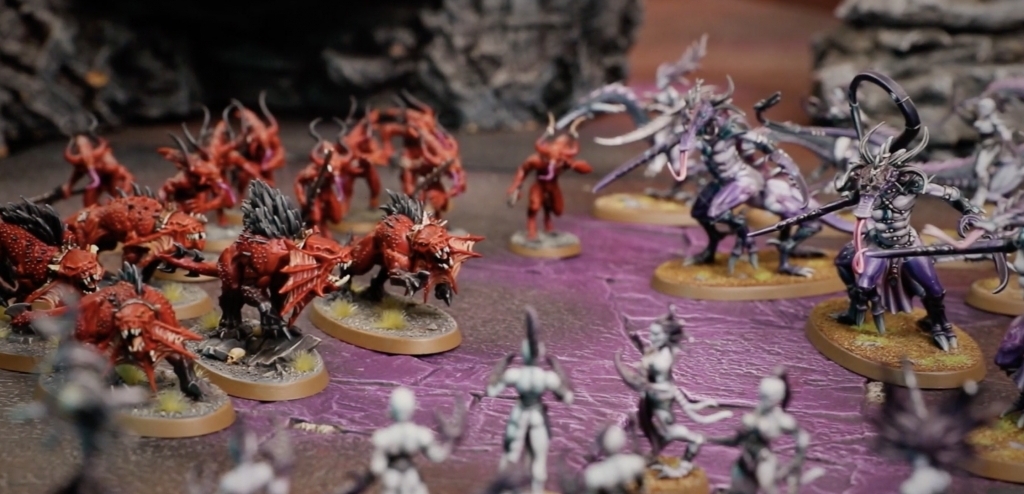 It's been confirmed now that Wrath and Rapture is a set that will pit Khorne vs Slaanesh. This will be a new battle box and will have a bunch of new miniatures and characters. Flesh Hounds and Fiends of Slaanesh have already been shown off – but I wouldn't be surprised if GW has more behind the curtain. If this set holds to the same patter we've seen, I'd expect it to run around the $150 price point and have a TON of miniatures value in the box.
What's going to be great about this set is that if you're an Aspiring Chaos Daemon player, this box will basically allow you to jump start your collection. You can bet that there will be at least two character (at least 1 per side = 2 HQ choices) and probably a mirrored-set of other units. If you're a 40k player, you can pick-up this box and have an instant battalion (or close to it) and if you're an AoS player, you've got the makings of a mixed-chaos army right off the bat.
Other than the Horus Heresy Boxes, I can't recall another boxed set where both factions facing off could basically be re-purposed into the same army – that's pretty cool! Maybe we'll get a Keeper of Secrets in plastic to help round out the Slaanesh range. I would be a great time to release one, don't you think?
It's Gotta Be Moonclan Grots, Right!?
This not-so-cryptic teaser has the face of a goblin on the moon plus, did anyone else notice the field of mushrooms below? I mean, c'mon. And if these Gobbos look anything like their updated Warband from Warhammer Underworlds, I think we're in for a treat!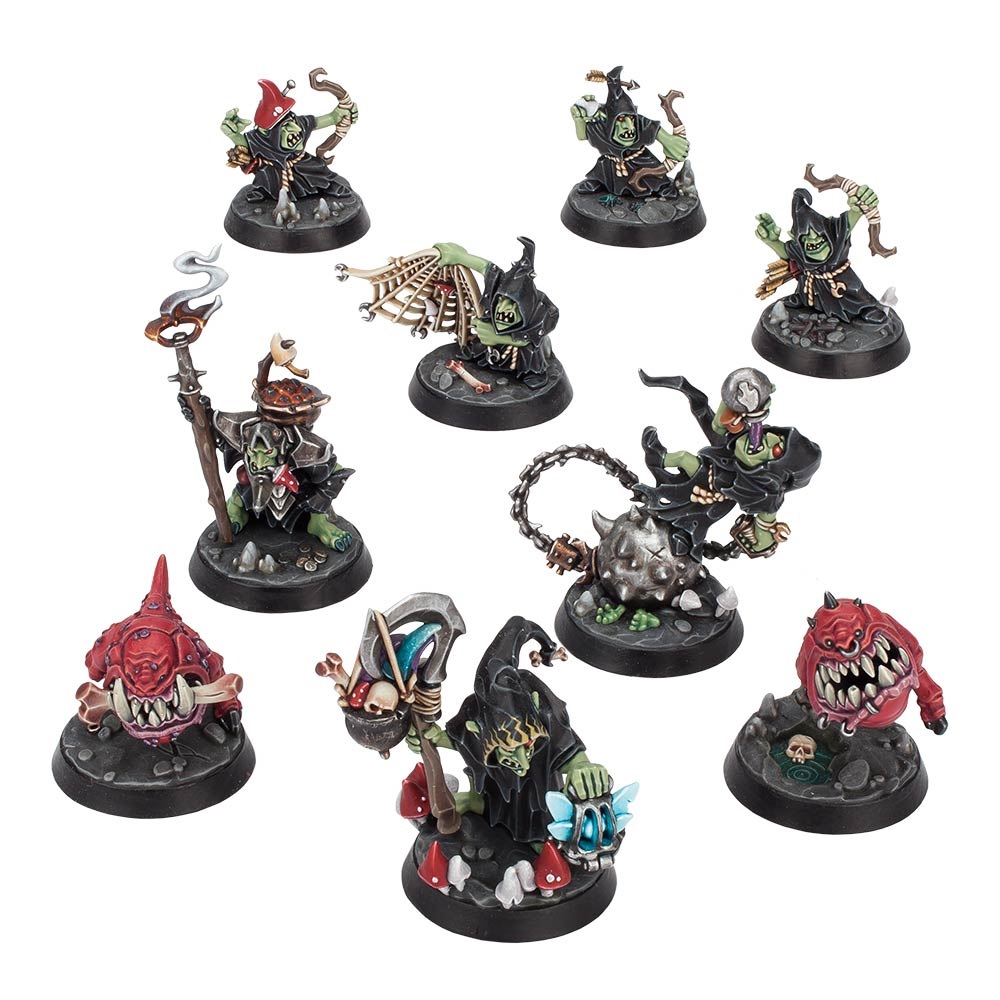 Playing Night Goblins has always been for a particular type of player. Masses of tiny goblins, hopped up on Mushrooms, riding squigs and launching fanatics at their enemies has always been their thing! They are a comical lot, but they can also do some serious damage. The Night Goblins are making a come back and GW has been hinting at these miniatures for a while.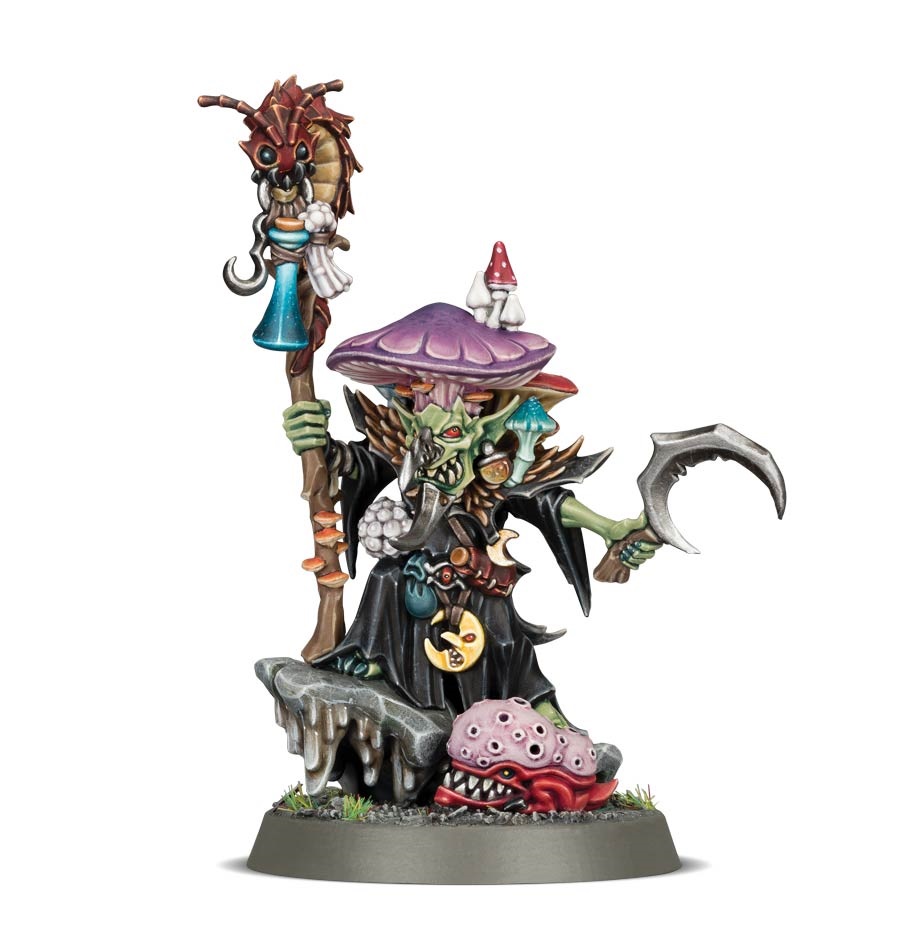 We got the first hint all the way back with Malign Portents with the new Fungoid-Cave Shaman. The new Warband Zarbag's Gitz expanded that line. And looking closely, we can see hint at what's hopefully to come. New Squig sculpts, new short-bow wielding gobbos. New Armored Goblins (squig-herders) and Fanatics! This looks like a great redesign. They've already got at least one cool character – let's hope GW gets them some more…and maybe a new BIG kit, too!
Darkoath Marauder Tribes – YES PLEASE!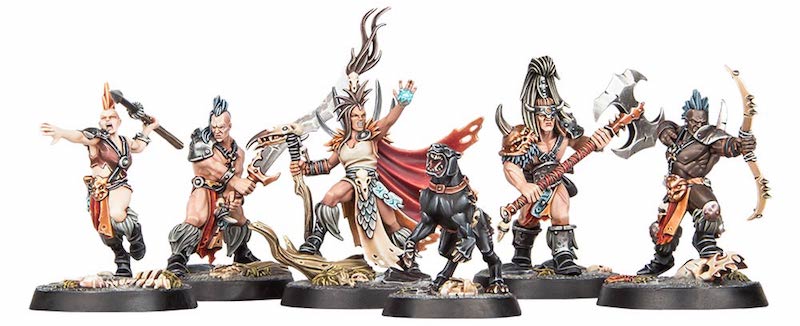 Again, here's a look at the new Darkoath warband known as the Godsworn Hunt. They are following in the footsteps of the Darkoath Chieftain and the Darkoath Warqueen.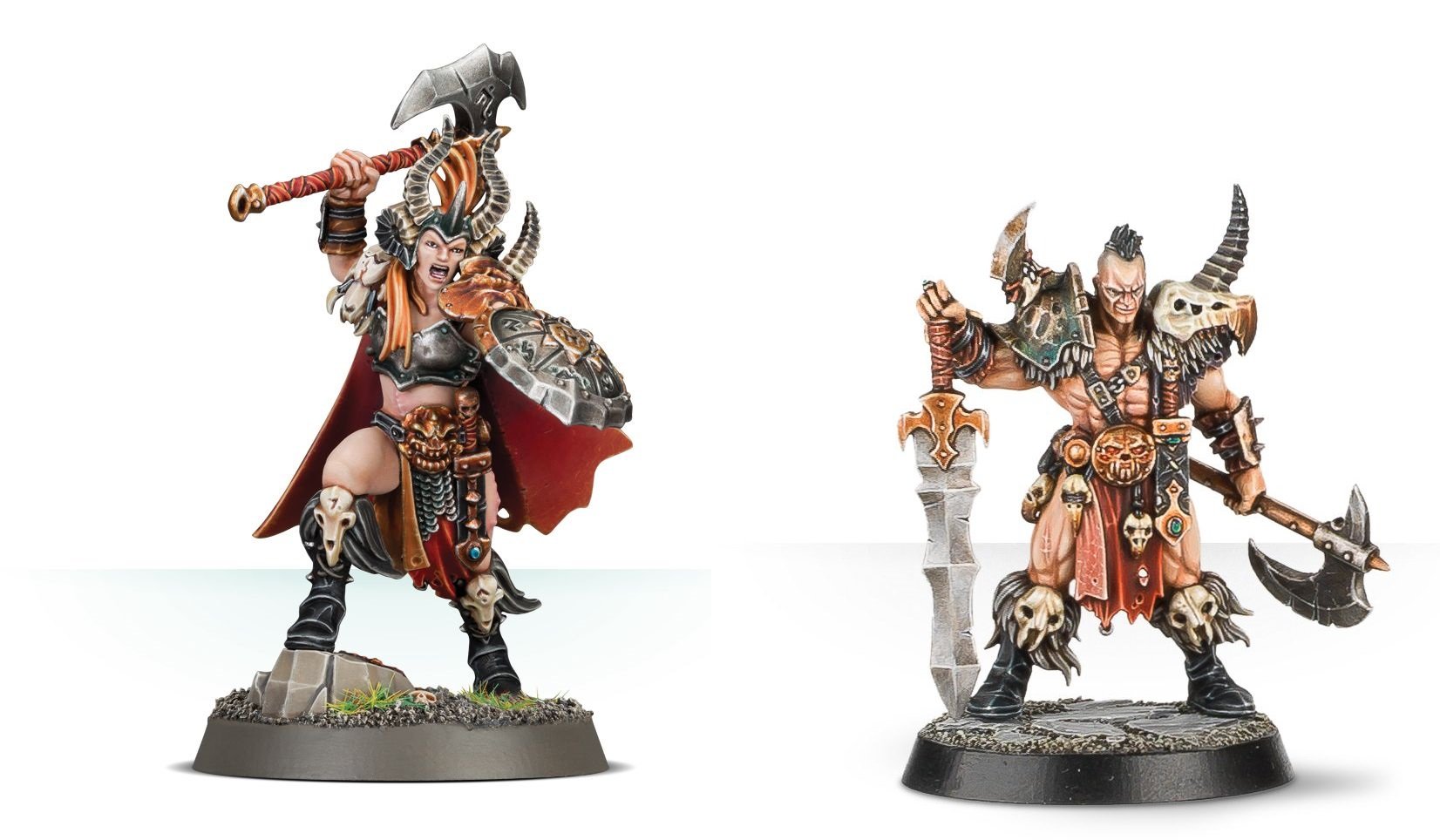 This is another faction that I think will be expanded upon later as well. The building blocks are there; we already have Chaos Marauders but the Darkoaths seem to be replacing them. And to be perfectly honest, they could use an update too: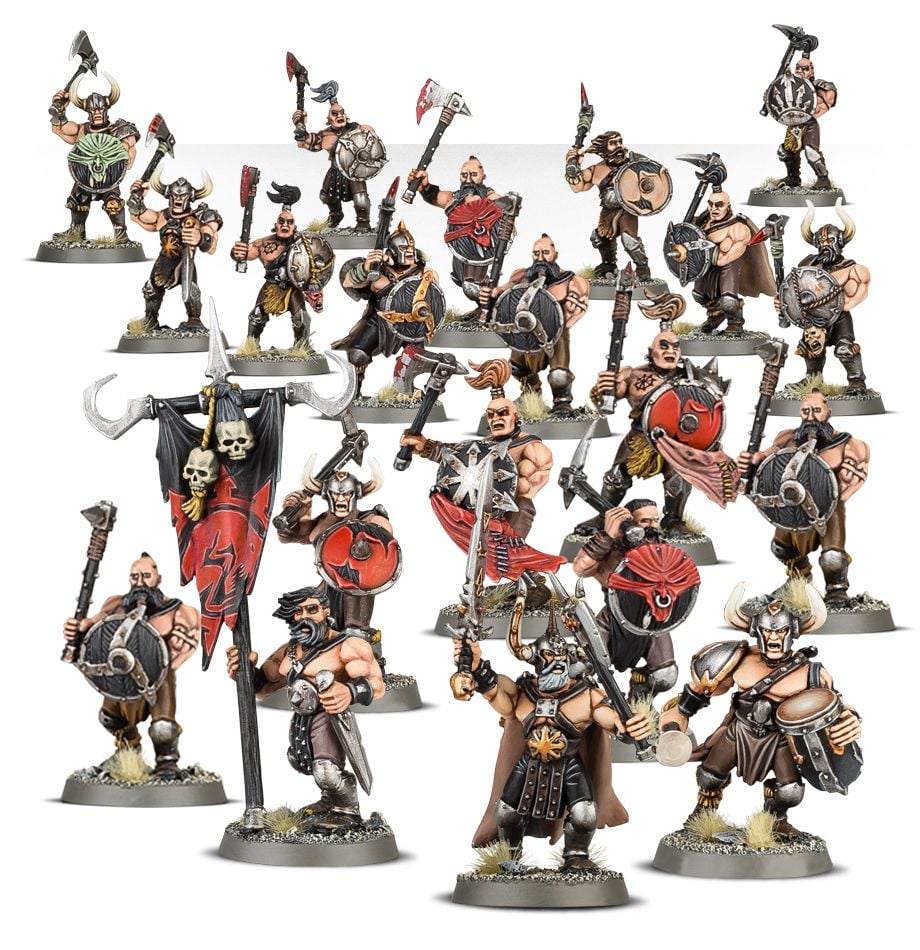 Not terrible – but the technology has come a LONG way since these guys hit the scene. The Chaos Marauders along with the Chaos Warriors kits have served nobly for many years but I know would be perfectly fine if the Slaves to Darkness Chaos faction got some love. I mean, think about an army of these new Darkoath Marauders and Chaos Warriors that looked more like the Varanguard and less like statues.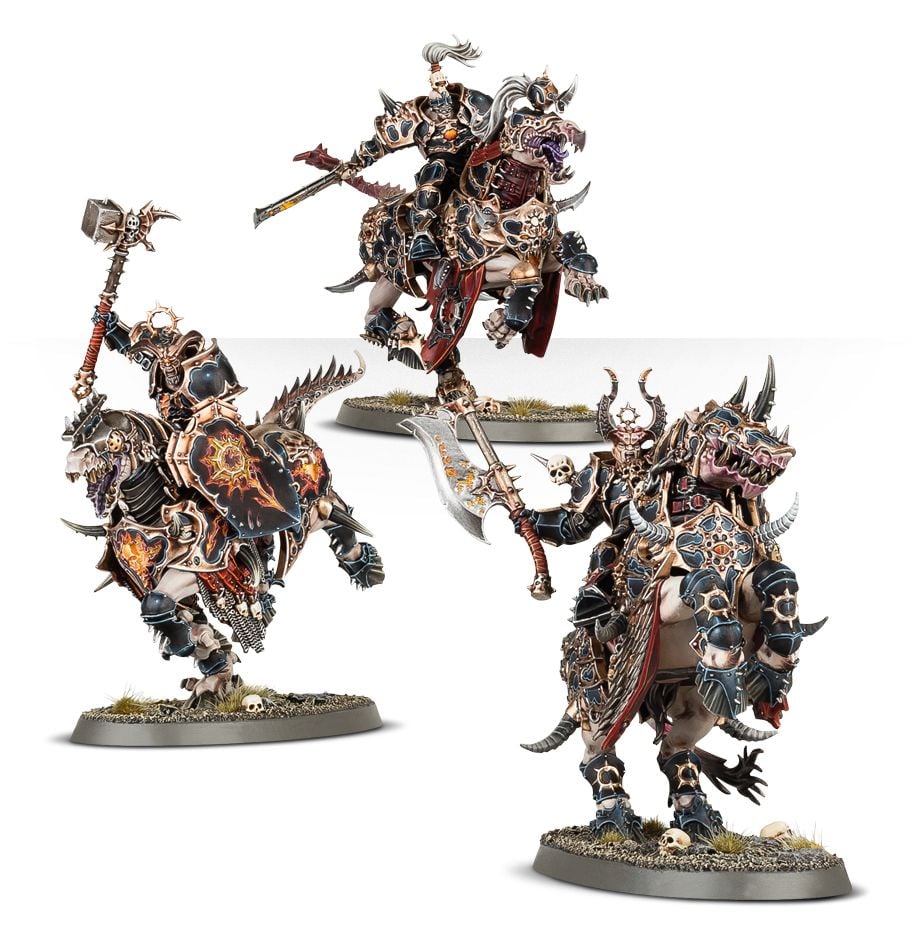 I'd be all over some new Warriors of Chaos/Darkoath Marauders/Slaves to Darkness in my AoS!
Harvest Moon
Will all of these pan out? Well yes – these are all products that are already on the docket! So that a done deal at this point. The real question is what ELSE does GW have planned. They haven't been shouting from the tree tops their next steps but they have been hinting at all this AoS for a while now.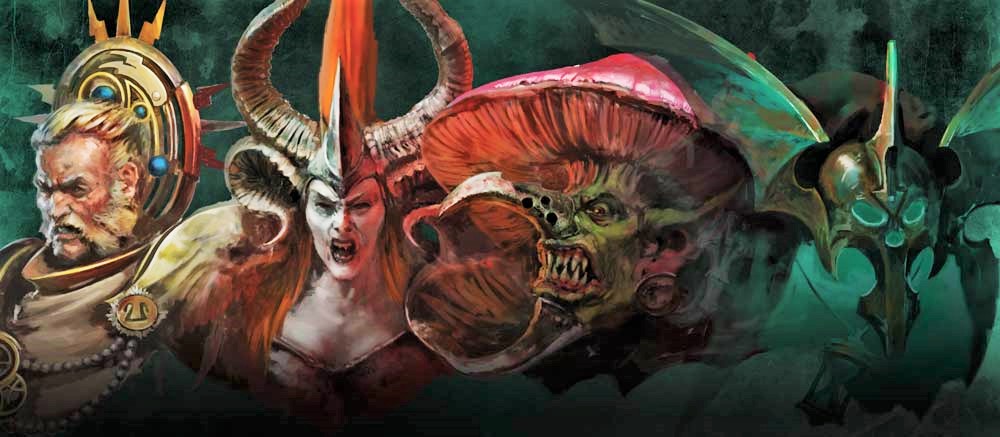 The seeds that were planted in Malign Portents started to bloom to become the Soul War. Now we're seeing more fruits come into season with Goblins on the horizon. Will GW go 4-for-4 and release more Darkoaths? That's a bet I'd probably make.
What do you think about all the new AoS factions – which one are you most excited about?