Worker placement games all function pretty similar. 1: Place worker. 2: Do the thing. 3: Pick up worker. 4: Start over. But, what happens if you remove Step 3?
The Weekly Board Games Top 10
"The Hotness" on BoardGameGeek is a list of the currently most popular games, as based on views. This week brings us these winners:
This is a very familiar Hotness this week. Of the games listed, only 3 of them we've not seen before. Those being In the Hall of the Mountain King, Architects of the West Kingdom and Neon Gods. In the Hall of the Mountain King, doesn't have a whole lot of information just yet, so we'll be skipping it for now.
However, Architects of the West Kingdom has PLENTY of information to jump into! So let's do that. Sorry, Neon Gods. You're great too.
Architects of the West Kingdom
In 850 AD, during the Carolingian Empire, after King Chucky and his wife, who was probably named Carol, united most of Western Europe for the first time there was a great need for new towns and cities to be build after a bunch of them got ruined somehow. During this time of reorganization, Chuck got everyone really big on religion. He really liked it and wanted everyone else to like it too. And the best religion needs the best cathedrals. In Architects of the West Kingdom, you play as an architect competing to create the best cathedral.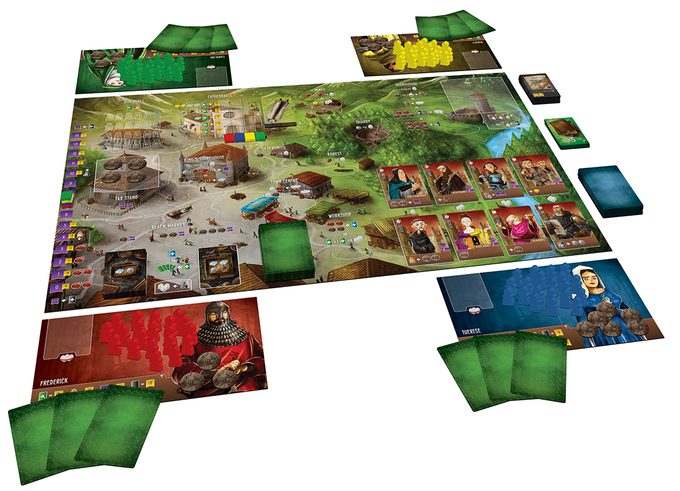 This history lesson brought to you by the public school education system
Architects of the West Kingdom is a worker placement game with optional variable player powers, some take-that mechanics and a karma system, kinda. The goal of each player is to have the most victory points when the game ends. Victory points are gained primary through constructing buildings.
On the surface, Architects of the West Kingdom seems like your typical worker placement game, but with one simple change to the standard formula, everything changes. Each player begins the game with 20 workers! Why so many?! Well, in Architects of the West Kingdom there is no collection phase of the round. Once a worker is down, it's down for the whole game (unless they get arrested. It can happen.)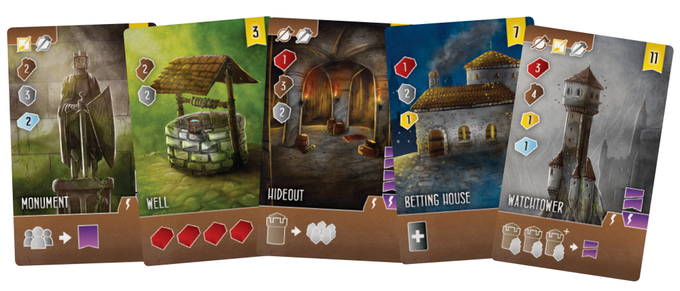 That means that the more workers you have placed on a certain space, the more resources you will gain from that space. So, you place your 4th worker on the forest, so you'll start getting 4 lumber a turn. Pretty neat, right? Well, it's neat when you do it. But when the other players do it, it's terrible. What can be done?!
Sic the guards on them of course! The Town Center space allows players to capture another player's workers to arrest them and collect a bounty on them. They probably did something arrest-worthy at some point. Don't worry yourself with those sorts of details. Once your workers have found themselves in the guardhouse, you'll be able to bail them out so they can get back to work. You've got a cathedral to make, after all.
Additionally, players will have options to buy from the Black Market and make shady deals with some unsavory individuals. These will lower your Virtue and potentially your score at the end of the game. But a few underhanded deals might be worth it in the end.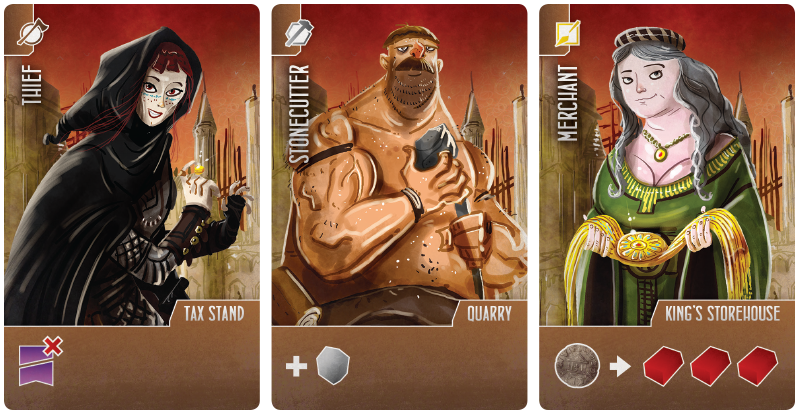 Architects of the West Kingdom is a fast paced worker placement game which does a great job of not being a multiplayer solitaire game. By allowing players to arrest their workers it keeps one player from steamrolling. Also, the lack of recovery phase keeps the game moving fast. The only worry is what you're doing on your turn, so keep an eye on that analysis paralysis and the game will run so, so smooth.
From Garphill Games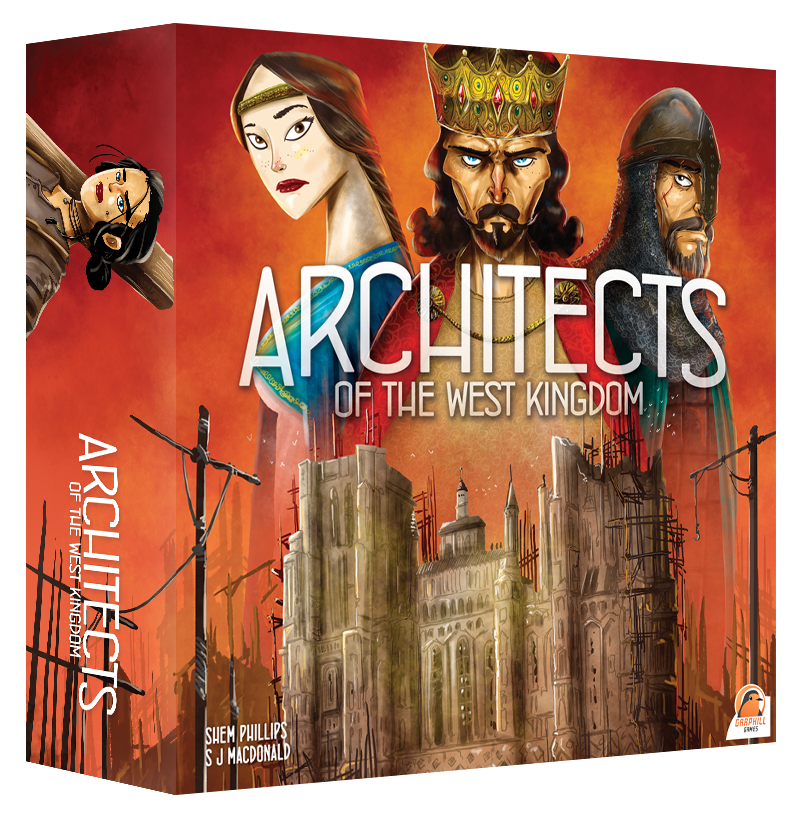 Architects of the West Kingdom is set at the end of the Carolingian Empire, circa 850 AD. As royal architects, players compete to impress their King and maintain their noble status by constructing various landmarks throughout his newly appointed domain. Players need to collect raw materials, hire apprentices, and keep a watchful eye on their workforce. These are treacherous times, and rival architects will stop at nothing to slow your progress. Will you remain virtuous, or be found in the company of thieves and black marketeers?
1 – 5 Players
60 – 80 Minutes
Ages 12+