The Guildmaster's Guide to Ravnica brings Magic: the Gathering to D&D. Accompanying it, nearly ten thousand years' worth of infighting, magic, intrigue, and most of all–immersion. Join us as we take you through the city-plane of Ravnica.
Ravnica is a world-spanning city straight from one of the more popular blocks of Magic: the Gathering. Originally released as part of a block that leaned heavily on two-color decks, it was a world that explored what happens when two different colors of magic aligned. This brewed up a ton of variety and new lenses to explore what the various colors of mana might look like. So you'd see things like the nature loving religion/protectors of the Green and White Selesnya Conclave, contrasted with the Black and White Orzhov Syndicate, who are all about business and the rule of the undead.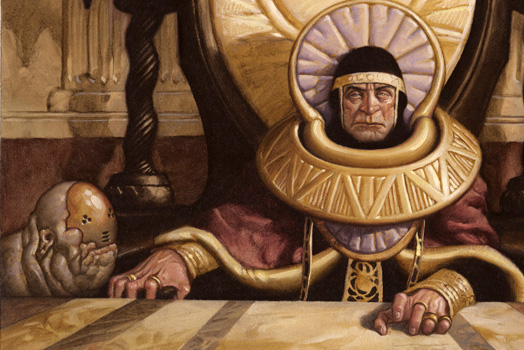 And in the Guildmaster's Guide, that same sense of thematic exploration is alive and well. Only instead of asking "what would happen if blue/green cards had synergy" it wonders what adventurers look like in a world where these guilds hold sway. It fleshes out the world poised by the original blocks, and provides players and DMs alike with a host of new options for playing games in Ravnica, City of Guilds. So how well does this Jetsons-meet-the-Flintstones style crosssover of D&D and Magic: the Gathering work?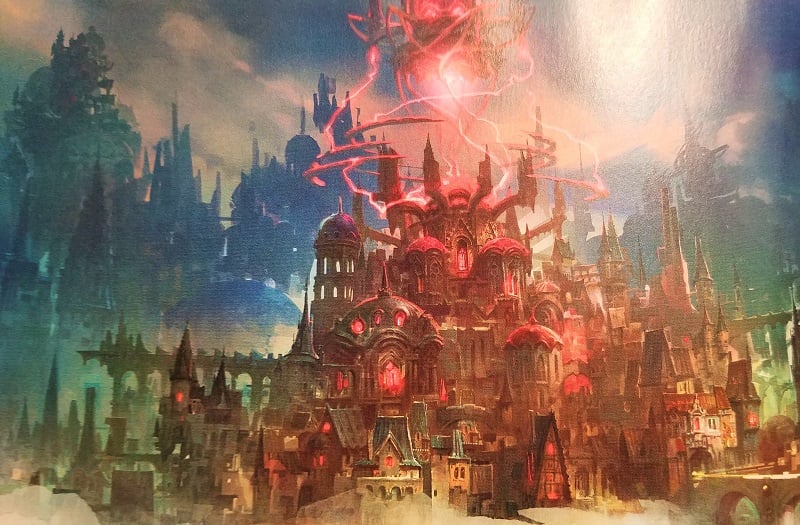 It depends on what you're after. If you're looking for a fully mapped out setting with continents and massive maps and points of interest–that's not what you'll find in this book. But if you want a practical adventuring guide, something that puts the tools necessary to run games in Ravnica in your hand, then this book does that and more. And if you're just looking for some sweet new spells, subclasses, monsters, or other kinds of inspiration for your own game, then you're in luck. Because this book is, as the name suggests, a perfect Guide for getting started in Ravnica.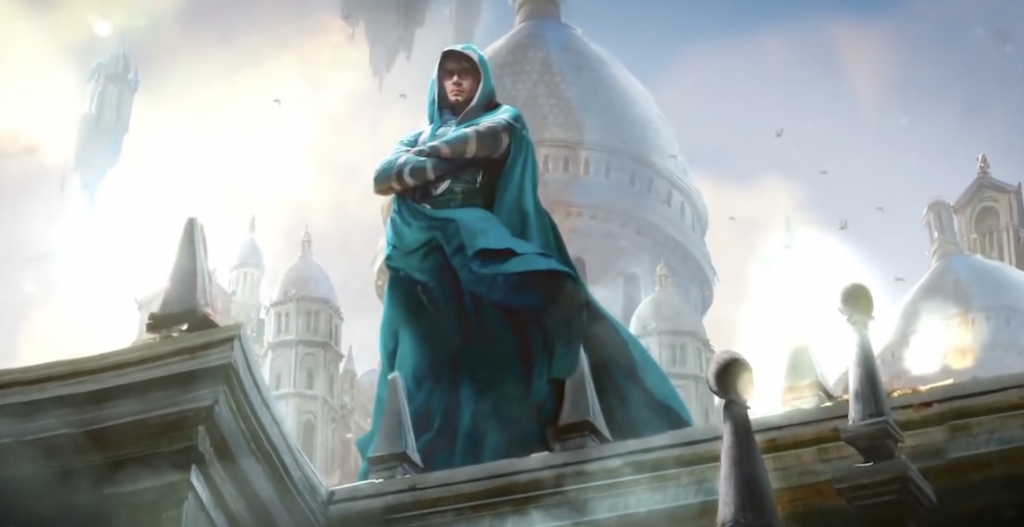 First the nitty gritty. If you're a player: the book introduces 5 new races (not Adventurer's League legal), a new spell, and ten different backgrounds–which are way more important than you'd think, but we'll  get to that in a minute. If you're a DM, you'll find tools for running each of the guilds, including adventures, villains, and other complications that characters might run into, as well as 14 new magic items, 10 new Guild-specific Charms, and about 70 pages worth of NPCs and monsters. But the book has so much more to it.
What Guildmaster's Guide to Ravnica excels at is creating immersion. Ravnica feels like a fully realized world, even if it's not exhaustively detailed in the book, and that's because the designers and writers invite you to play at every turn. Each of the sections is packed full of tables meant to generate inspiration, with suggestions for how to make a very randomized party work, advice on how to create the guilds in your game, and different ways you can use them.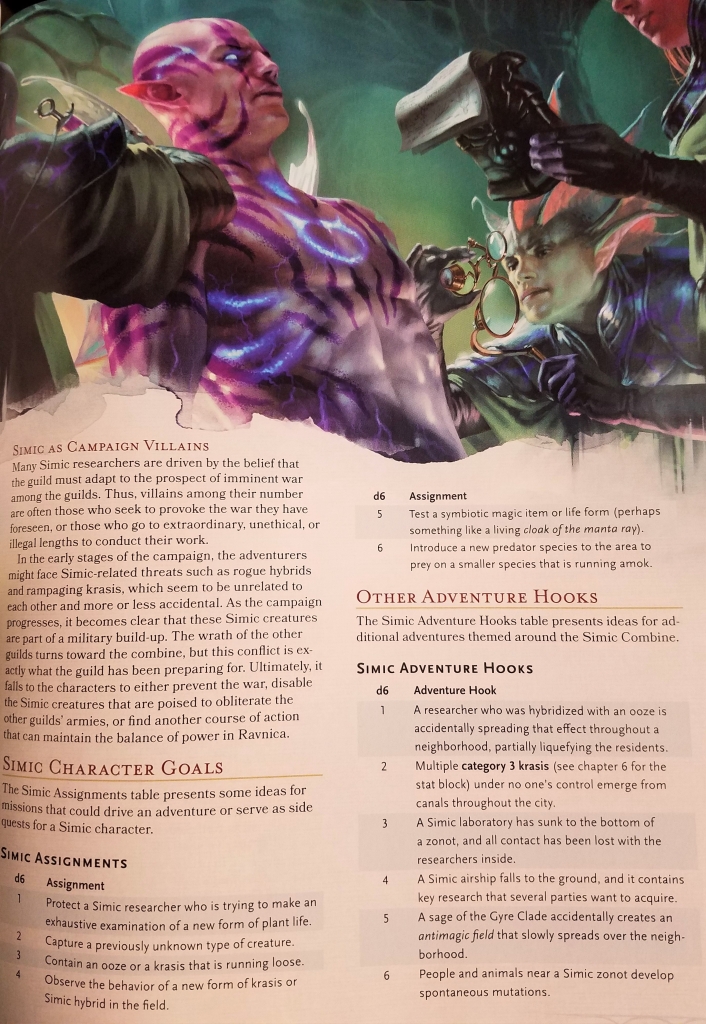 As a DM, you'll find adventure hooks, assignments that characters might take on if they are members of a given Guild, and my personal favorite, ways to use the Guild as an enemy of your adventuring party. But all of it is geared towards playing in the Ravnica sandbox. So all of these tools we're talking about–the adventuring hooks, the villain guides–all of it is there to draw players and DMs into the world. To get you excited to try playing around with the sample concepts before branching out into the world on your own.
And this is where the book really shines; it has a knack for getting players immersed in the game. And again, it comes back to the Guilds. They're everywhere, and so it should be little surprise that the adventurers are heroic characters who find themselves drawn to membership in one of the ten guilds. This is where the Backgrounds come in. Let's take a look at Selesnya.
In each of the Guilds,you'll find a section that details what players get for being a member of the guild. In Guildmaster's Guide, the Guilds are Bakcgrounds you pick for your character, but they're a lot more involved. So in addition to getting personality/ideal/bond/flaw type stuff, the Guilds provide characters with bonus spells that are just added to your spell list, as long as you're a spellcaster. In our Selesnyan example, their expanded spell list includes
Druidcraft/Friends
Aid, animal friedship, charm person,
Animal messenger, cal emotions, warding bond
Plant growth/speak with plants
Aura of life, conjure minor elementals
Awak, commune with nature.
And those are spells that any class (so long as they're a caster) will find added to their spell lists. But that's not nearly enough to get hyped about. One of my favorite touches in the dungeon is the Guild Ranks. In addition to the standard features that will get players excited to make characters belonging to different guilds (looking at you Minotaurs), the Guild Rank system provides each of the players with a goal.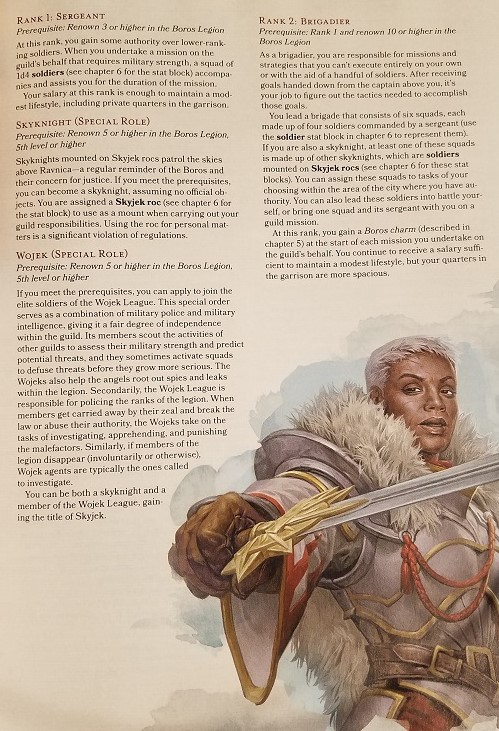 As you level up and gain renown, you're bound to attract all kinds of attention, shown above. But each of these ranks comes with its own reward for achieving it. You can call on monsters or Guild NPCs to help you, you might find yourself able to call on squads of soldiers and Sky Rocs and the like. But as you level up, you start to be in command of multiple troops/allies. Each rank gives you mechanical rewards and subtly encourages you to think about the world. As you move up, your character becomes more and more immersed in the city itself. And this creates player buy-in like nobody's business.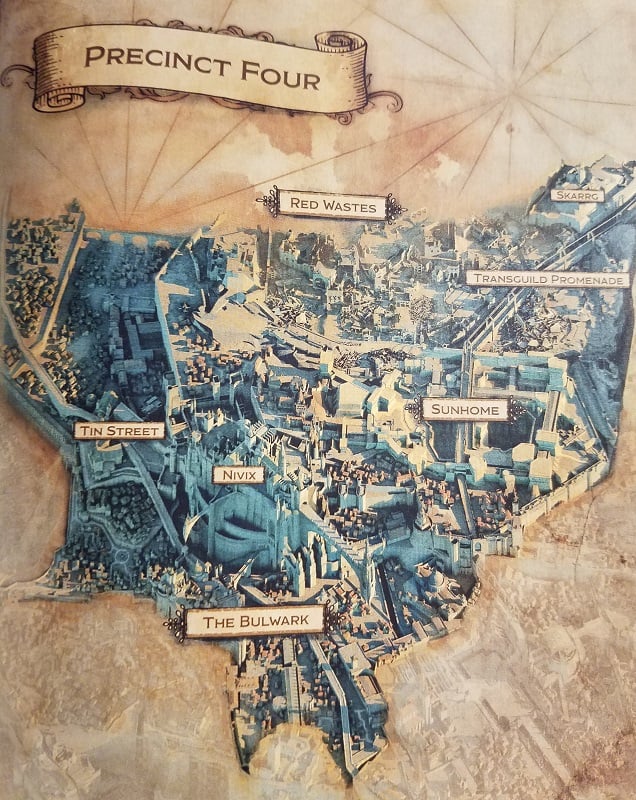 Guildmaster's Guide is full of maps–each Guild gets its own section, then each of the Precincts of Ravnica (you can see one above us here) are given their own treatment. The various "lore sections" form a quick overview of Ravnica's "Tenth District" where most of the action takes place. You'll find a very quick tour of any interesting sites and details about the Precinct and the organizations within each of them. You'll also find maps of interesting sites, or that evoke the theme of the GGuilds…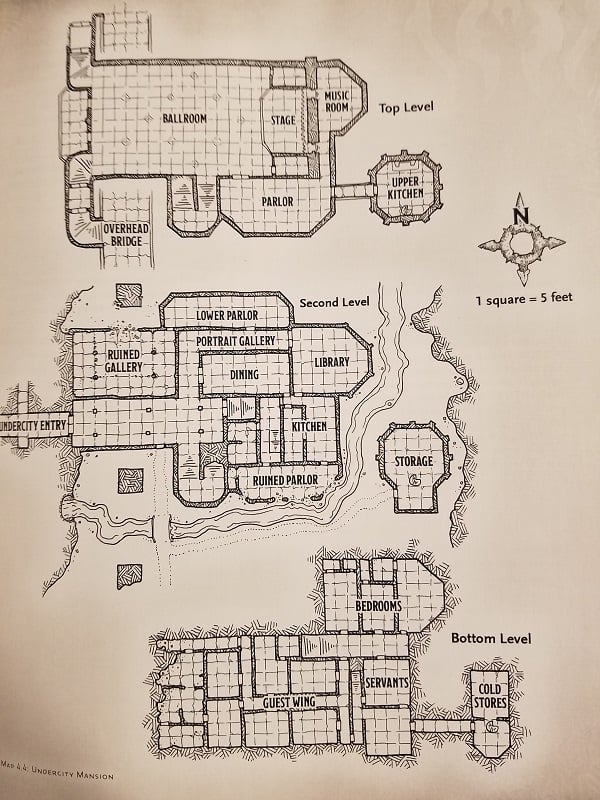 There's a lot to love about this book–and in the coming week we'll be taking a closer look at how the Guildmaster's Guide to Ravnica builds Immersion in a way that that Storm Coast Adventurer's Guide couldn't quite manage–so we'll go through some of the monsters and magic items and new player race. But for now, I wanna leave you with a look at how some of the monsters from Magic have made their way to D&D.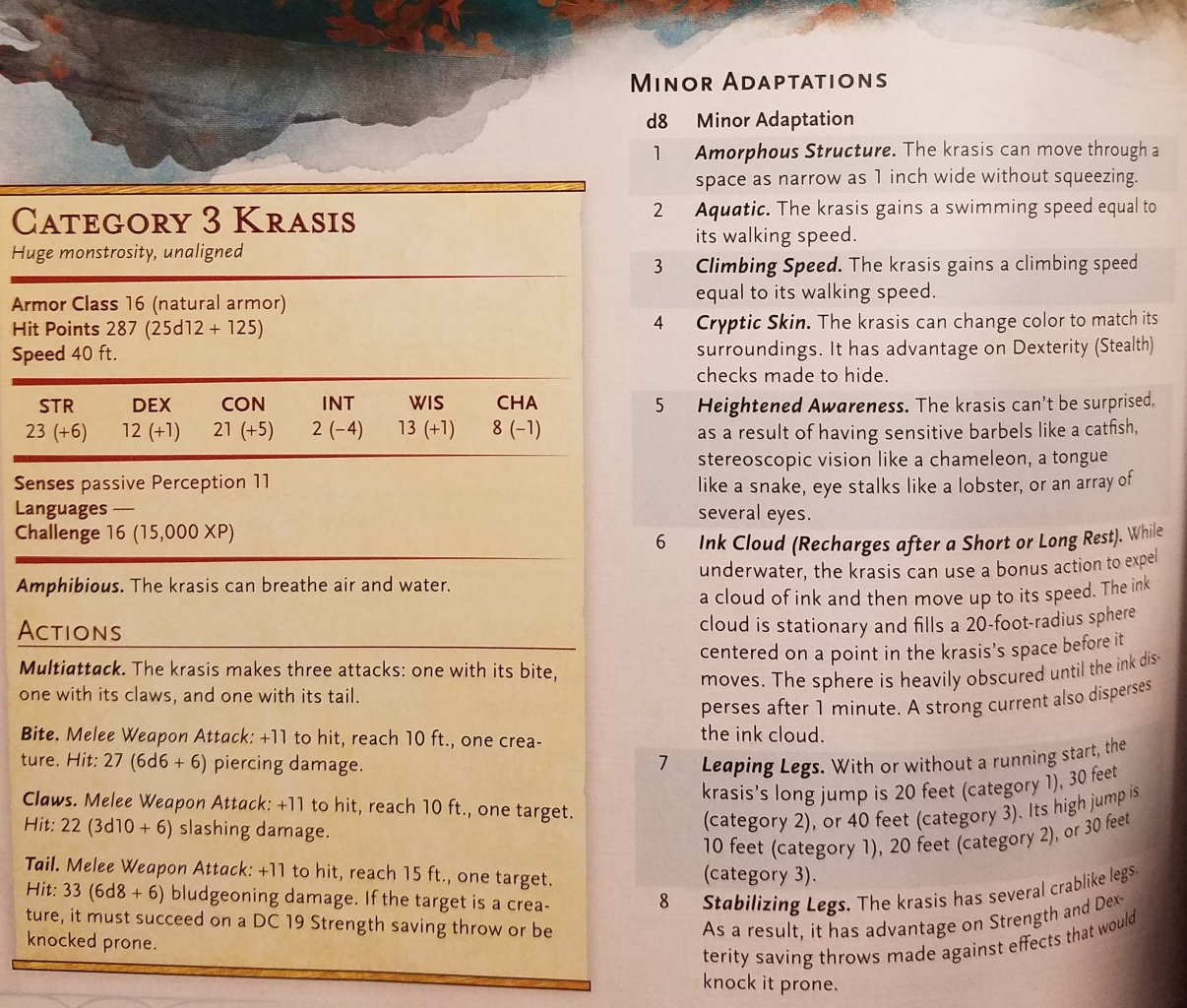 Happy adventuring until then!