Come check out the latest batch of flip-mats, which make encounter set-up fast and easy no matter where your fight happens to take place.
Three different reversible battlemats for you today, from Paizo. Each of these illustrates a different area with lovingly rendered terrain already printed on it. Set up interesting encounters in just a few seconds, with some stunning visuals that shepherd interesting conflicts into your game.
via Paizo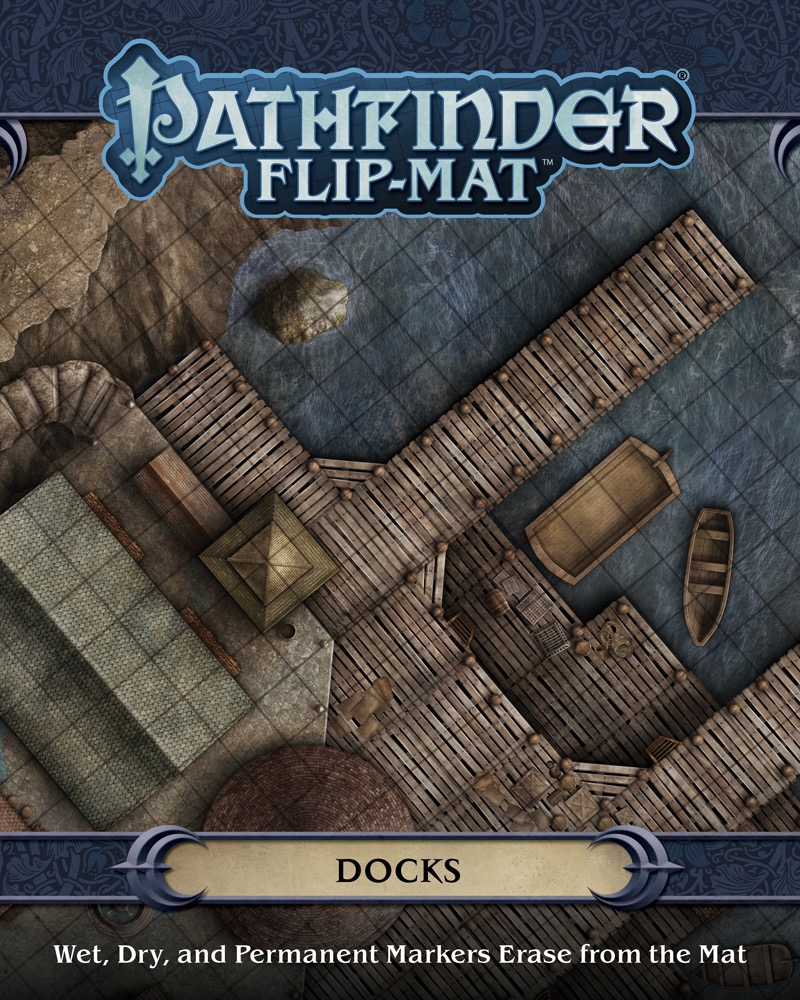 Ports of Call!

Whether your players want to brave the ocean waves and travel to far-flung ports or just start a fight with sailors, Pathfinder Flip-Mat: Docks has you covered. Each side of this Flip-Mat details a different waterfront: one is on the edge of a bustling metropolis while the other depicts a ramshackle pirate cove nestled in some far corner of the sea. This portable, affordable map measures 24″ × 30″ unfolded and 8″ × 10″ folded. Designed for experienced GMs and novices alike, and usable with both dry erase and wet erase markers, Pathfinder Flip-Mats fit perfectly into any Game Master's arsenal!

Don't waste your time sketching when you could be playing. With Pathfinder Flip-Mat: Docks, you'll be ready the next time your players want to ditch the dungeon and explore strange new locales beyond the horizon.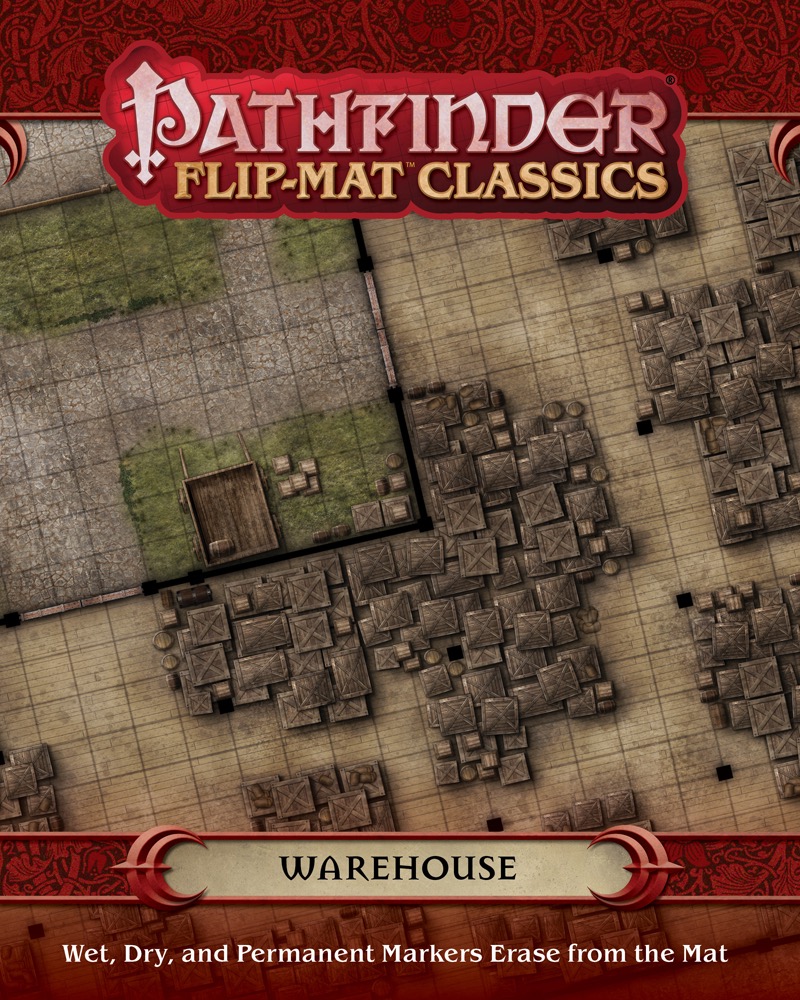 Adventure in Stock

Who knows what criminal conspiracies and deadly deals might unfold amid the maze of merchandise in Pathfinder Flip-Mat Classics: Warehouse? With a full suspicious scene on each side—one along the waterfront and the other with a holding yard—this durable accessory can serve as ambush site or hideout in any tabletop fantasy campaign!

A special coating on each Flip-Mat allows you to use wet erase, dry erase, AND permanent markers with ease! Removing permanent ink is easy—simply trace over any permanent mark with a dry erase marker, wait 10 seconds, then wipe off both marks with a dry cloth or paper towel. Each Flip-Mat measures 24″ x 30″ unfolded, and 8″ x 10″ folded.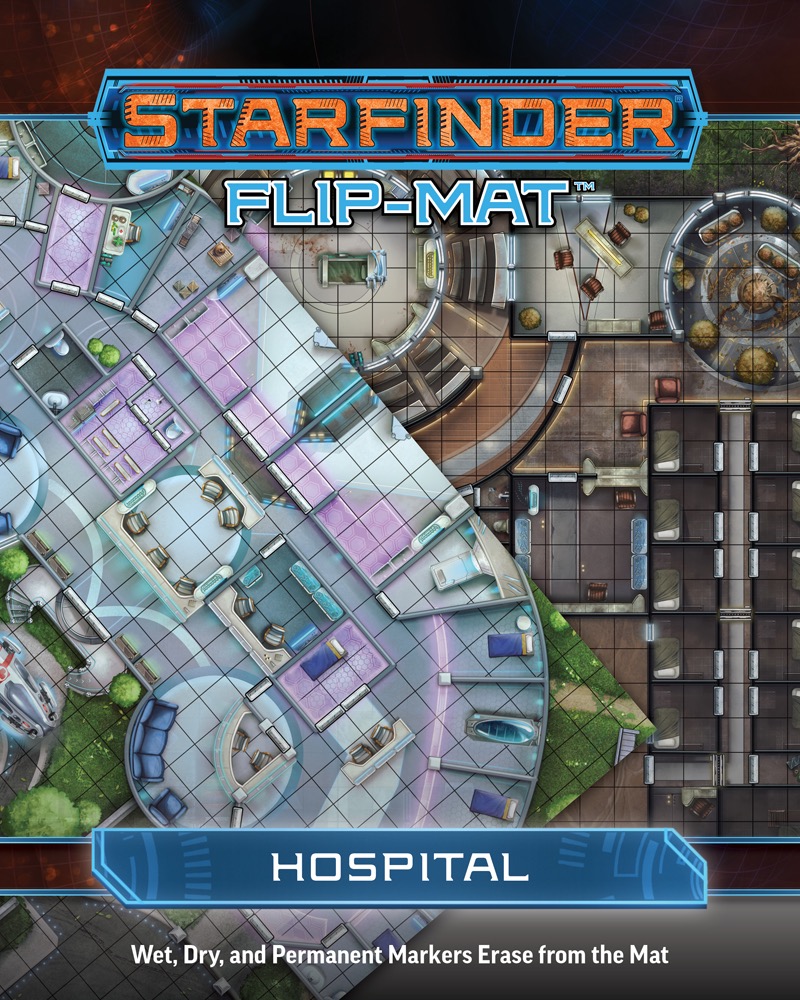 Somebody Call a Doctor!

Whether the heroes want to install cybernetic augmentations in their bodies, find a place to recover from serious wounds, or search for the source of an otherworldly plague, no Game Master wants to spend time drawing every nurse's station and operating room. Fortunately, with Paizo's latest Starfinder Flip-Mat, you don't have to! This line of gaming maps provides ready-to-use science-fantasy set pieces for the busy Game Master. This double-sided map features a futuristic, high-tech medical center on one side and a sinister, abandoned infirmary on the other.

Don't waste time sketching when you could be playing. With Starfinder Flip-Mat: Hospital, you'll be ready the next time your players need medical treatment for their injuries!
Happy Adventuring!