It's my birthday! Well… it was on Sunday. So today we'll be looking at a birthday focused retro game with everyone's favorite enormous discolored dog.
You might be wondering why, of all the amazing retro birthday themed board games out there, did I decide to write about the Clifford one? Well, because there aren't any amazing ones. There are barely any even good ones. So I picked mostly through necessity. Still though, this game, while obviously very child focused, is actually pretty decent.
Released in 2000, Clifford The Big Red Dog Happy Birthday Game is a roll-to-move children's game with number comparing mechanics. The goal of each player is to have the highest number of bones when the game ends.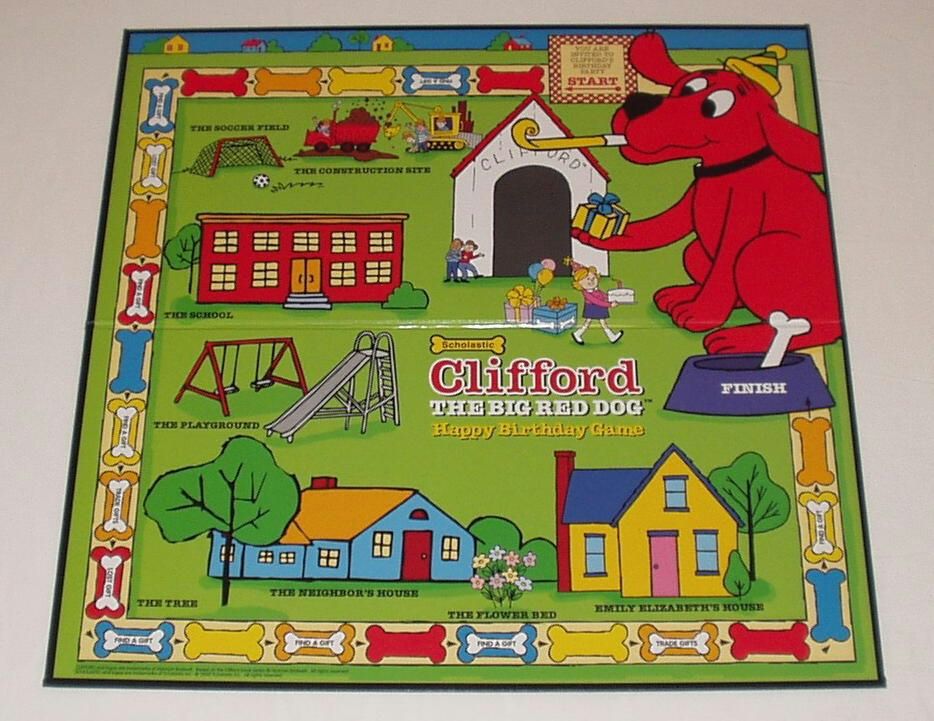 Before we get too far into talking game play, let's discuss some terminology.
Retro-Spective
Wikipedia defines 'retro' in a number of ways; referring to objects, interior design, fashion and others, specifically in terms of retro style. Many of these cite specific decades, like how movies and TV are always around 20 years behind on what's cool and retro. However, retro fashion specifically states: "The term "retro fashion" refers to new clothing, shoes, and accessories that are designed to resemble clothing, shoes, and accessories that are at least 13 years old or older." Meaning that even though this game was released in 2000, it's considered retro in the fashion world. Therefore, please visualize I'm wearing the game box on my head for the remainder of this article. Thank you.
Like that time Kendall Jenner wore a cardboard box on her head during Milan Fashion Week.
Gameplay
The gameplay in CTBRDHBG is fairly straightforward, but what sets it apart from other children's games is the inclusion of choice. I've ripped into other children's games many, many times over for one simple reason: They have zero choice for the players. Not even a one. So how is CTBRDHBG different?
As the player's move around the board via your typical spinner, they will land on Take A Gift spaces.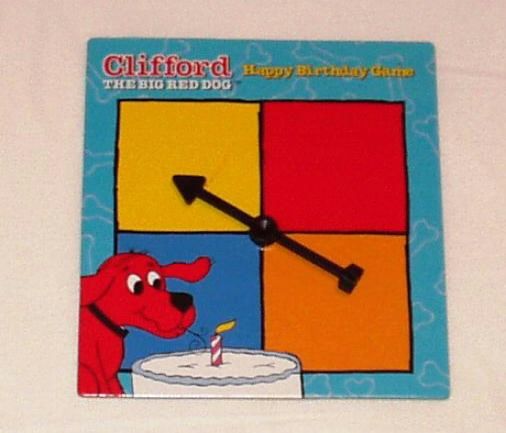 When they do, that player reaches into the bag of gifts, chooses one at random and keeps it secret. Each of these gifts is a folding board with hook-and-loop fasteners to keep it closed. Upon which is a number of bones the player is meant to keep secret.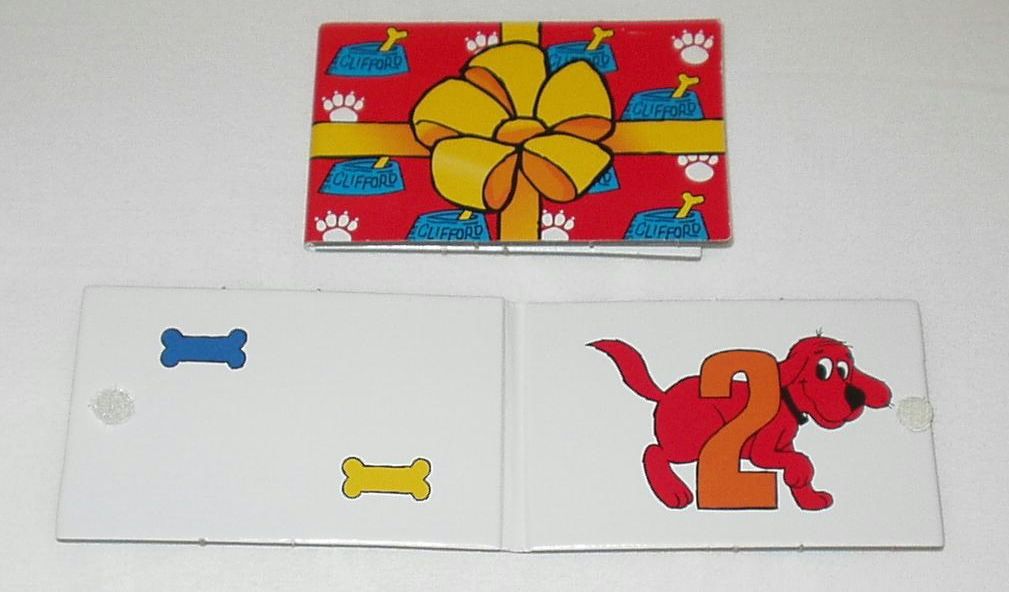 If a player lands on a Take A Gift space while they already have a gift, they have to choose if they want to swap or not. The goal is to have the highest number of bones when the game ends, but you can only have 1 gift at a time.
The game can end if a player lands on the Finish space. However, when the player lands on the space, they can choose to keep the game going. If they are not happy with the gift they have, they can instead choose to return to start and keep looking for a better gift. It doesn't matter who reaches Finish first, once a player decides to end the game, whichever player has the most bones in their gift wins!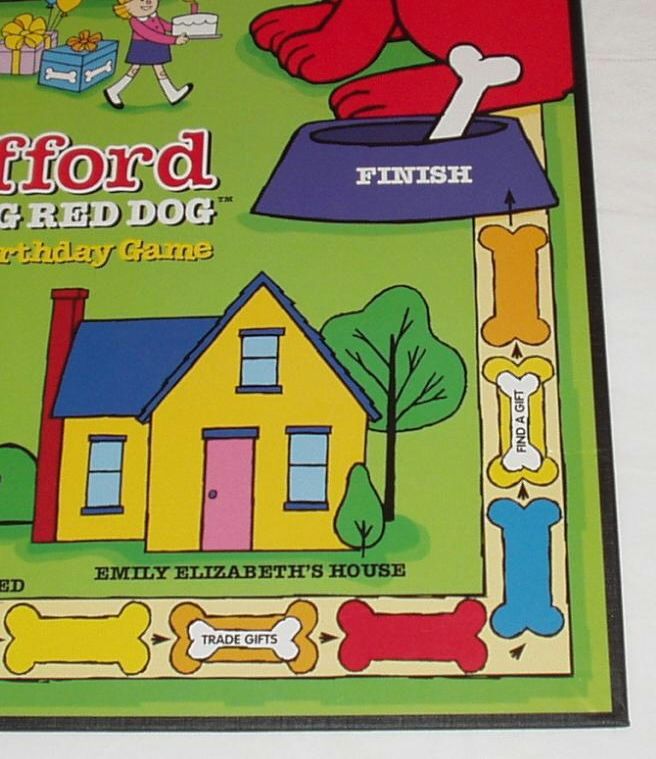 Why is CTBRDHBG Actually Really Good?
Like I mentioned before: choice.
Choice is key to any good game. Doesn't matter what medium. CTBRDHBG gives multiple options of choice, but keeps them simple enough that children will be able to grasp it and learn from it. The gift boxes go from 1 to 9, so learning which numbers are higher than other numbers is obviously a valuable skill in gaming… and life, I guess too but let's keep our priorities straight. But on top of that, it's a subtle teaching of odds. Fishing for a better gift with a 7 is more risky than fishing for something while holding a 3. Also, a great skill to learn and teaches value and odds and operational thinking skills. Brilliant.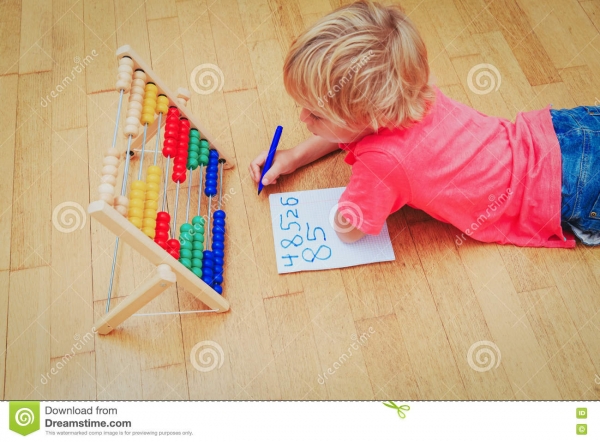 Ever have an idea of a picture you want so you spend 40 minutes Googling and doing bad photoshop, then get annoyed and just instead use a stock photo barely close to what you first envisioned?
Yeah, me neither.
On top of that, the players have the chance to skip ending the game. Being able to rationalize that "I'm holding a 1, therefore I can't win" is a pretty complicated cause-effect realization for a kid. Learning to understand that will absolutely help critical thinking skills later in life.
It feels very strange to speak so glowingly of a children's game, but really this is brilliantly designed. The next time someone asks for a great board game for their 5 year old, you can now confidently tell them "CTBRDHBG". It's pronounced Kit-BERD-ha-bug. They'll know what you mean.
Wish me Happy Birthday in the comments for 20% off my next article!
I don't mean price, I mean I'll delete the last 20% of the content. You're welcome.