Fantasy Flight Games has pulled the covers off the TIE/fo Expansion and we're taking a look at all the pilots of the work horse of the First Order. Come see what the pilots are bringing to the Tabletop!
We've see a slow trickle of X-Wing 2.0 news coming from Fantasy Flight Games and today we're getting a look at all the pilots for the TIE/fo. If you want to run with the faction of Kylo Ren then you're going to want to study up on what these new TIEs and Pilots can do!
Pairing the trademark speed and maneuverability of its namesake with enhanced defensive capabilities, the TIE/fo can hit the Resistance where it counts. You can start forming your own squadron of these surprisingly lethal fighters with the TIE/fo Fighter Expansion Pack. Each expansion pack includes one fully assembled and beautifully painted miniature, twelve ship cards, five upgrade cards, four Quick Build cards, and all the tokens you need to add a TIE/fo fighter to your First Order squadron.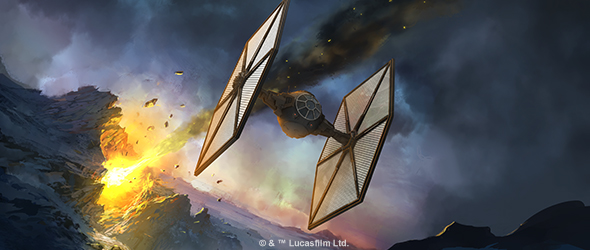 Aces, Veterans, & Cadets
The TIE/fo comes with a wide variety of pilots and we're going to be breaking them down based on their Initiative order. Starting with the top dog – Commander Malarus.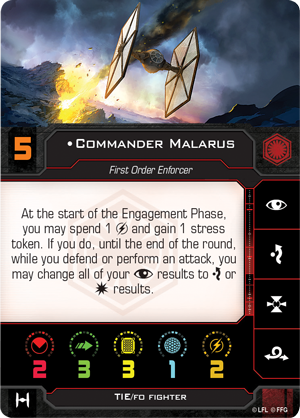 Commander Malarus has two charge tokens that she can spend to gain a stress. Now that might seem like a bad move, but that trade will net her the ability to change ALL focus results into either evades or hit results. That can be incredibly valuable for both offensive and defensive turns.
I would also like to pause for a moment and appreciate this ship's stat line. It's got a respectable action bar with a focus, evade, lock and barrel roll as well as slightly better stats than the old school TIEs. At least the First Order attempts to keep their pilots alive…even if it's just 1 shield.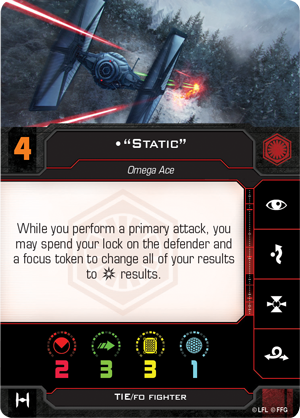 Clocking in at initiative 4 we have Static and Scorch – now you might recognize their pilot abilities from before. FFG renamed the previous pilots with new callsigns and boom – they are now "new" pilots. Static's ability lets you spend a lock and a focus to convert ALL of your results to crits – that's probably worth the price of admission!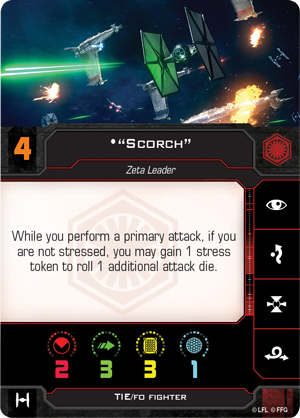 Scorch can artificially inflate their primary attack by taking a stress token. A single TIE/fo that is able to get a 4 die primary attack is no joke.
Dropping down to initiative 3 we have our first generic pilot and also Longshot who can get a 3 die attack at range three! Longshot isn't just a callsign, it's a calling card.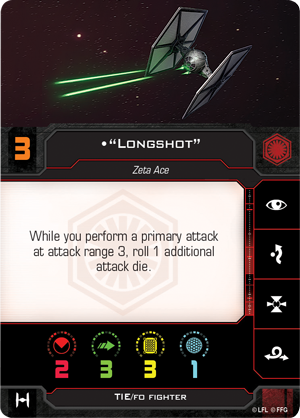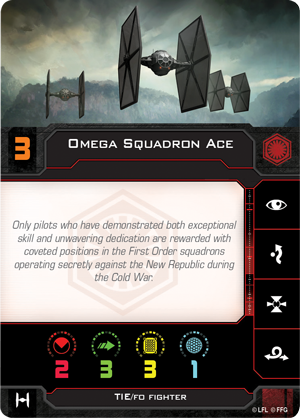 At initiative 2 we have TN-3465 and the generic Zeta Squadron Pilot.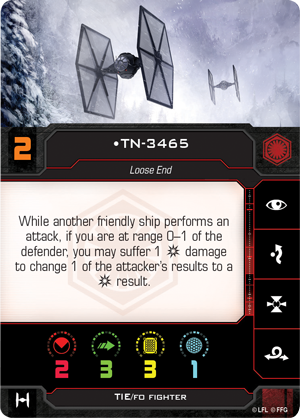 TN-3465 is a support ship who can help you bump up the damage potential of an ally. Are you willing to sacrifice your health for the good of the First Order? Of course you are…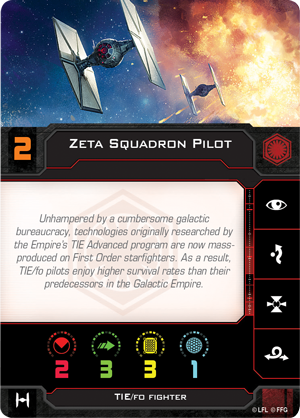 And finally we get to initiative 1. Again, we have a generic pilot with the Epsilon Squadron Cadet and also Lieutenant Rivas who has a strange, but useful ability to get a lock on a ship within range 1-2 that has gained a red or orange token for the round.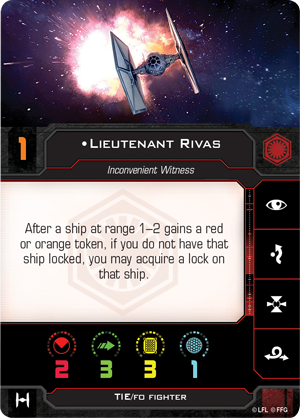 It might actually be a good thing that Rivas is going so far down in the turn order – that mean that enemy ships may have activated first generating those tokens which you can swoop in and use.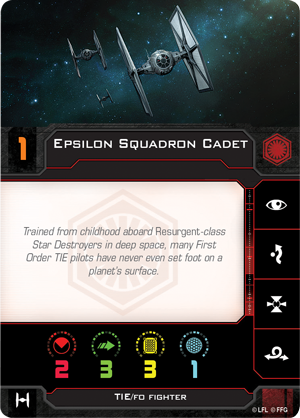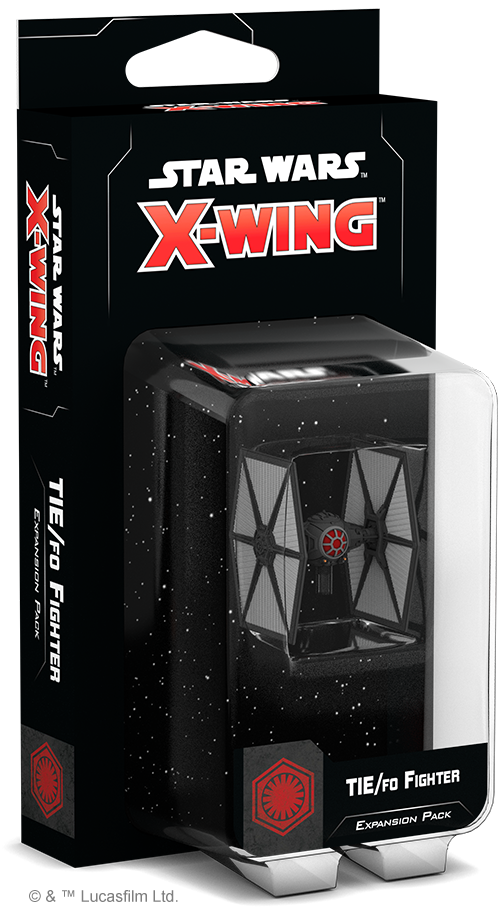 Developed using technologies pioneered for the Empire's TIE Advanced program, the TIE/fo fighter is a shielded, mass-produced TIE fighter that the First Order can use to spread terror across the galaxy.

The TIE/fo Fighter Expansion Pack includes one fully assembled and beautifully painted miniature and all the ship cards, upgrade cards, and tokens you need to add one of these frightening fighters to your First Order squadrons. The strikingly detailed, pre-painted TIE/fo fighter miniature in this expansion is accompanied by twelve ship cards—including nine unique pilots—and five upgrades, giving you all the raw power you need to begin rebuilding the Empire.
The TIE/fo Expansion will be out in stores in Q4 of 2018 with the rest of the Wave II of Star Wars: X-Wing!