Which of the 104,000,000,000,000,000 possible decks will be yours when you first step into KeyForge?
KeyForge is a competitive card game that differs from others in that it removes the buying of booster packs (mostly) and doesn't require hunting down cards for trading. Each deck you buy comes pre-constructed and is totally unique. With the first set, KeyForge will have a possible 104 quadrillion possible decks! Rather than being "pay-to-win" like so many other card games, in KeyForge, you must work with the cards you're given.
KeyForge was designed by Richard Garfield. If that name doesn't mean anything to you, you might better know some of his best works like Dilbert: Corporate Shuffle, Bunny Kingdom and Ghooost!.
In KeyForge, the goal is to be the first player to gain 3 keys. Keys are built using 6 Æmber. Æmber is generated through the creatures you play and the spells you cast.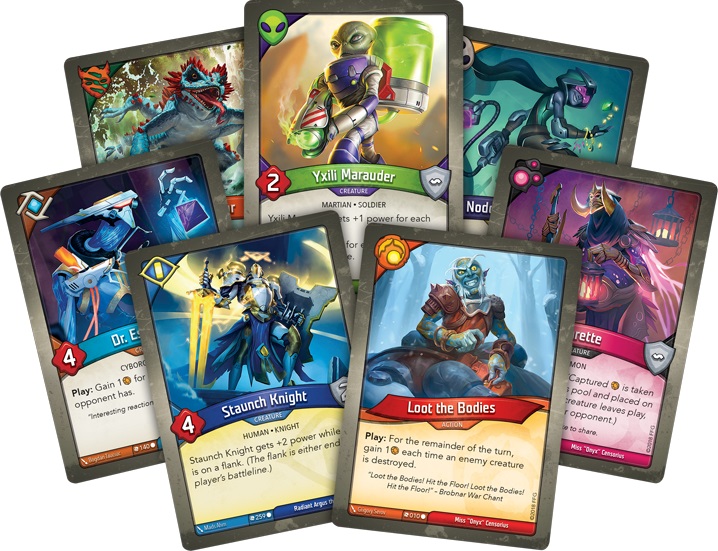 Each deck contains cards from 3 separate factions. On each player's turn they will declare which faction they are calling. Then, for the remainder of that turn that player can only play cards and use actions, artifacts, creatures, and upgrades from that faction.
From Fantasy Flight Games

KeyForge –

$39.95 Starter Box / $9.95 Booster Deck

– Available Now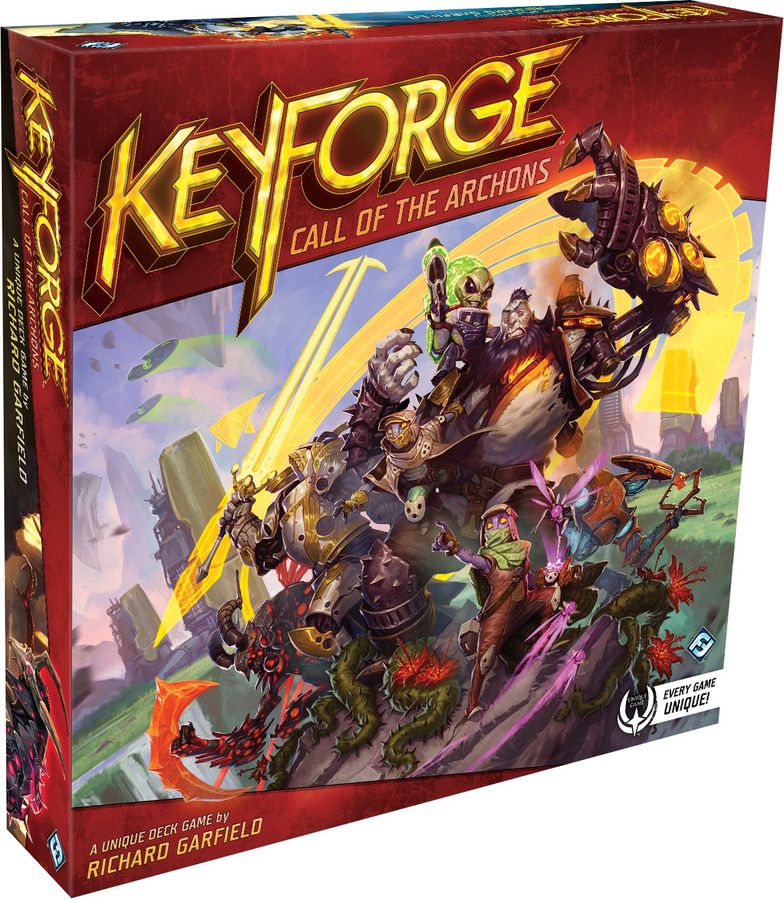 Enter a world where anything is possible in KeyForge! In the center of the universe hangs the Crucible, an artificial world built from the pieces of countless planets. Here, in the world's first Unique Deck Game, created by legendary designer Richard Garfield, two players step into the roles of mighty Archons, racing to forge keys that unlock the Crucible's hidden Vaults.
Leading their diverse teams, filled with followers from three of the Crucible's great Houses, the Archons must gather Æmber, stave off their opponent's progress, and ultimately be the first to open a Vault and gain its incredible knowledge. With a vast array of creatures, artifacts, and abilities and over 104 quadrillion possible decks, every deck is completely one-of-a-kind, and no two battles will ever be the same!
2 Players
15 – 45 Minutes
Ages 14+