This resourceful astromech droid is ready to save the galaxy – and in prime condition, it is a good bargain.
This 1/6th scale R2-D2 has a die cast dome and a detailed body that has functioning panels, a dozen arm attachments with various functions, and a retractable middle leg. It comes with a bunch of fantastic accessories including 2 scale holographic Leia figures, Luke Skywalker's lightsaber hilt, and the Death Star plans data card. You can make the droid come alive with remote controlled sound effects and LED lights.
Pre-orders are open now, and shipping is expected Q3 of next year.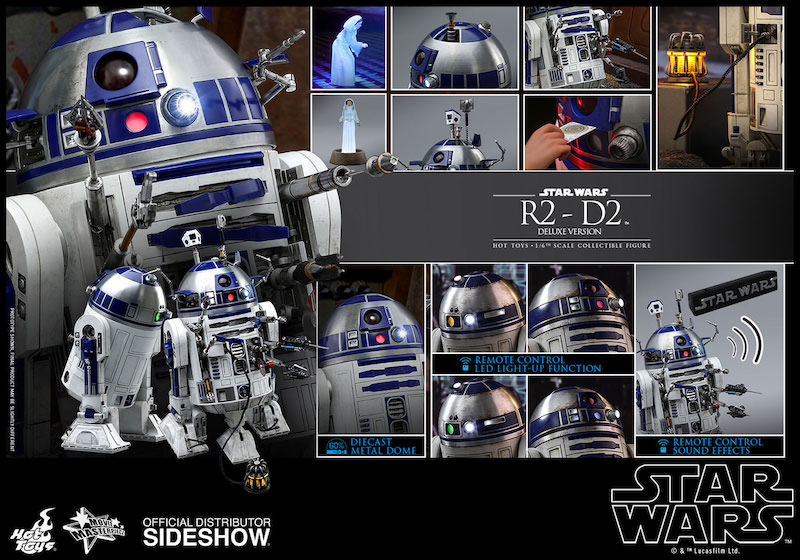 R2-D2 (Deluxe Version) – $243
1/6 scale – a

pproximately 7 inches tall

10 points of articulation

Remote controlled LED light-up functions (8 sets of LED light up points, battery operated)

Remote controlled sound effect function featuring 14 iconic R2-D2 sounds (battery operated)
Accessories:
Pair of articulated terrain tread legs

Articulated and retractable center tread leg

Extending periscope

Twelve arms pieces (some equipped with magnetic function):

1 life-form scanner

1 computer terminal arm

2 lock pick arms

1 repair arm

2 multi-function utility and interface arms

1 pair of computer interface arms

1 utility arm

1 utility saw


1 universal computer interface arm

Death Star plans data card

L

ightsaber hilt

LED light-up small lamp with cable (yellow light, battery operated)

2 Hologram figures of Princess Leia (standing and 

bending pose)

LED light-up base for hologram figures (battery operated)

Infrared remote control for R2-D2's sound effect and LED light-up functions (battery operated)