Break out the lobbyists, stump speeches, and accusations of cronyism because we've got a look at the campaign rules included in Vigilus Defiant.
Ah, the Campaign. Such a glorious time–full of opportunities and hopes, dreams, and promises, that, best-case scenario won't end in total scandal, corruption, and ruin by the time the Campaign is over and done with. And this works whether we're talking about letting Bartlett be Bartlett or playing a campaign of Warhammer 40K.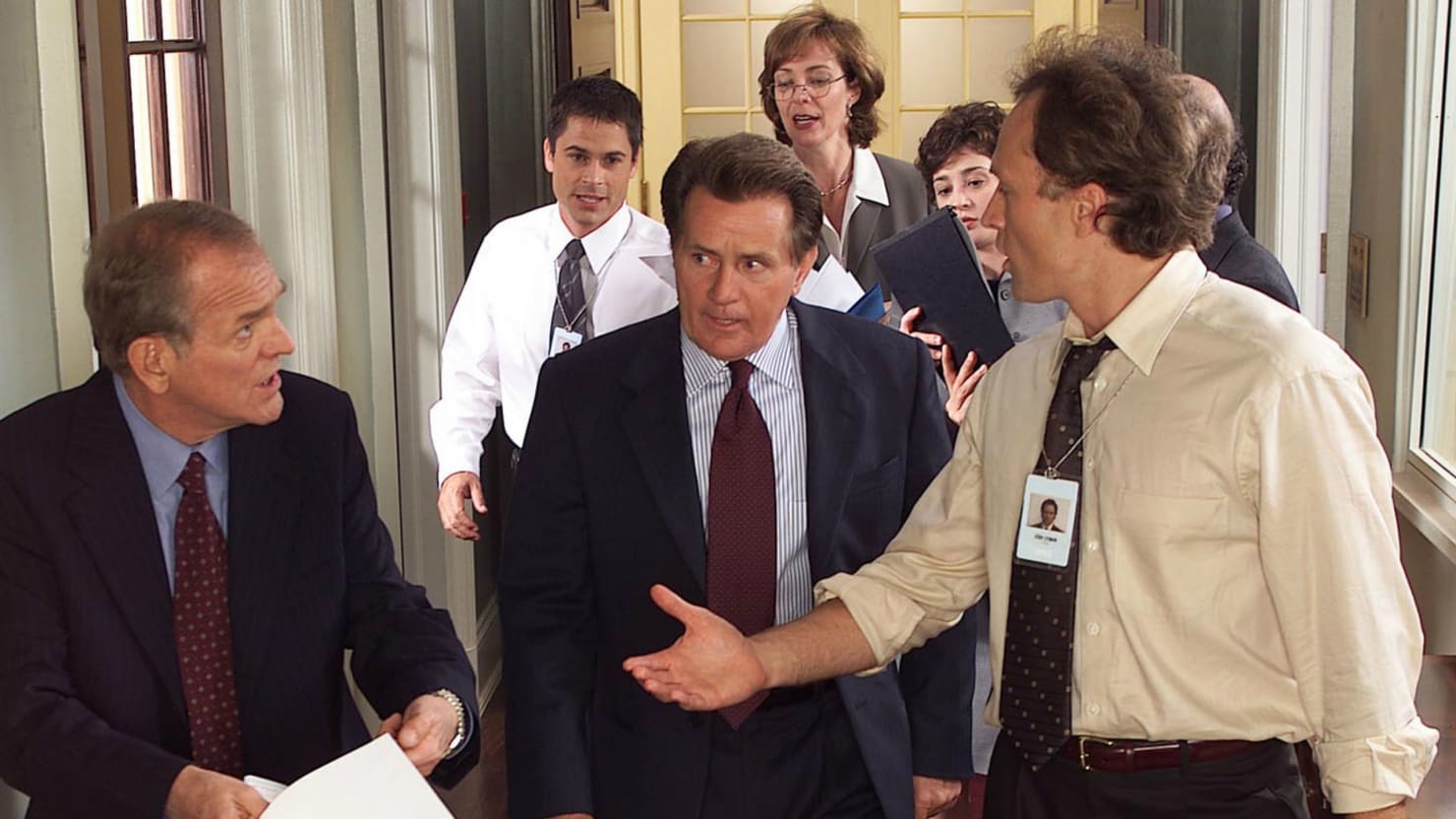 And like any good Campaign, there are rules to be followed and broken when you need to try and get a little ahead.
Arguably this is probably the best one
So today we're going to take a look at what Vigilus Defiant has to offer your campaigns. Let's dive in.
via Warhammer Community
Now any campaign runs on a narrative; good ones have a story in mind when they're baked up, with rules to help support the unfolding tale of heroic last stands, utter victories, and crushing defeats that come out of a campaign. That's why we play this way–it's not enough to try and wipe that smug grin off of Kevin's face for once, now you'll get the satisfaction of knocking that smirk off his face while defending a world. Or conquering it. And Vigilus is no different, opening as they do with a story–and pre-generated campaign–to outline the War of Beasts.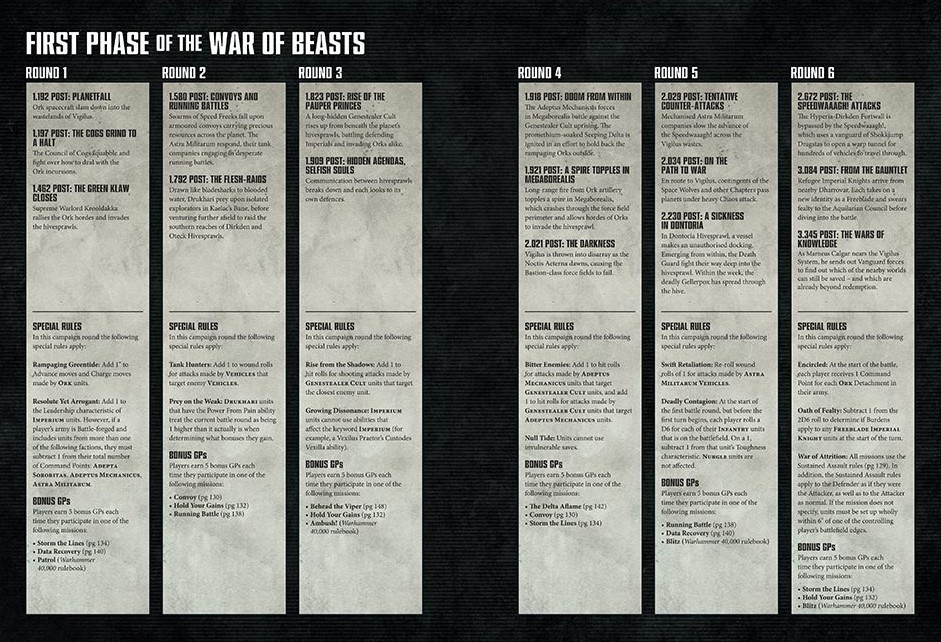 The Vigilus Campaigns section kicks off with a dedicated War of Beasts campaign. This purpose-built system breaks down the key events of the war (as detailed in the sweeping narrative earlier in the book) into manageable, bite-sized chunks – specifically, three phases, each comprising 6 rounds. Each round has its own narrative highlights, special rules and recommended missions to use, based on the current stage of the war. If you're after a ready-made Vigilus campaign that you can start from the get-go (a great option for gaming clubs), this is it!
And accompanying the vaious phases of the War of Beasts (and the correct use of comprising), you'll find Echoes of War missions, which are intended to recreate specific battles, because being in the grim darkness of the distant future doesn't have to mean that you don't have some historical reenactment; and you'll also find the Crucible of War missions that demonstrate what a typical battle during the War of Beasts could look like.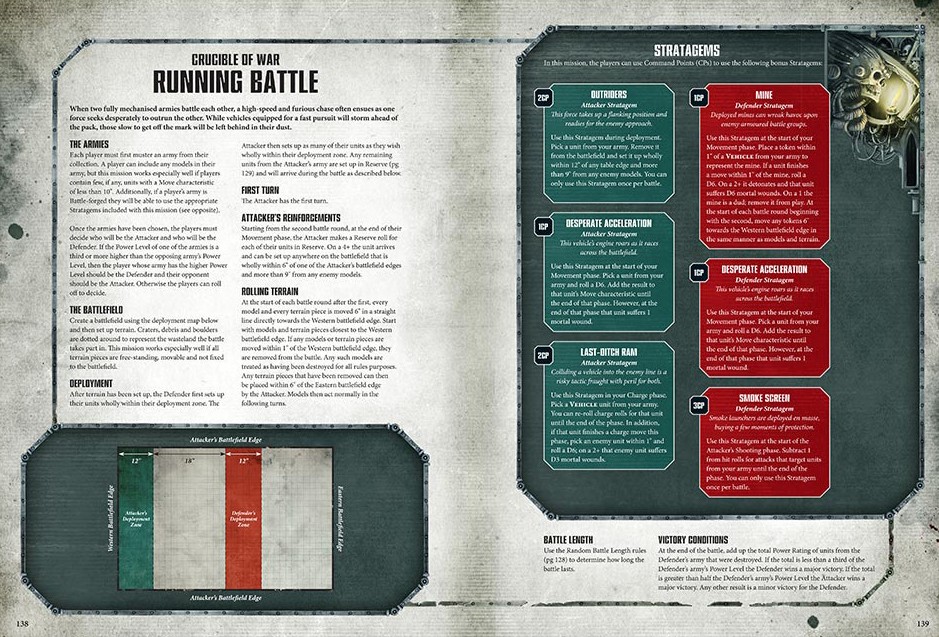 But Vigilus Defiant lives up to its name. And Defying Vigilus, the Campaign toolbox section of the book takes you through guidelines to create a campaign set within the Vigilus War Zone, showcasing myriad scenarios, events, and random effects from being so near the Imperium Nihilus.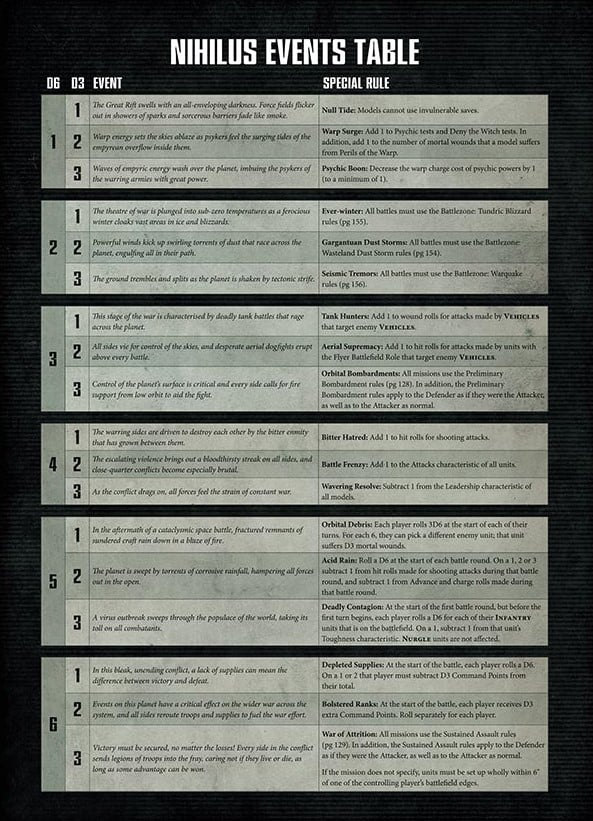 You might get lucky and have your units bolstered by morale or psychic interference from Ruinous Powers, giving you the flavor you need to spice up your missions.
Or learn about the exotic ways that the planet Vigilus itself might try to kill you–and then incorporate those rules into your game, with one of the six different Battlezones that encompass everything from a 'warquake' to a harsh, unyielding blizzard, seen below.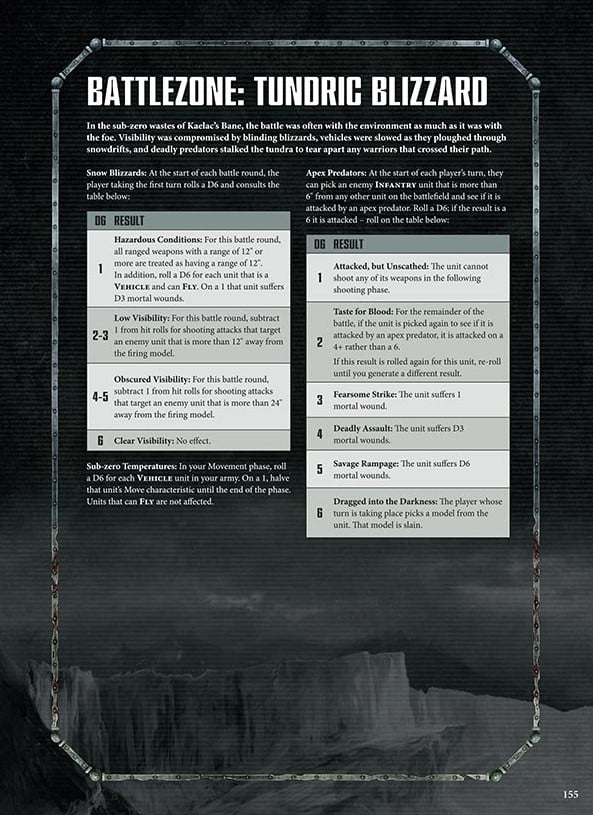 And last but not least, there are War Zone rules as well, which dictate how to put together a game that represents fighting in a different region on the planets surface. These come with typical missions and narratives and battlezones–you'd come to a War Zone to figure out what Battlezone and what missions you'd want to draw on.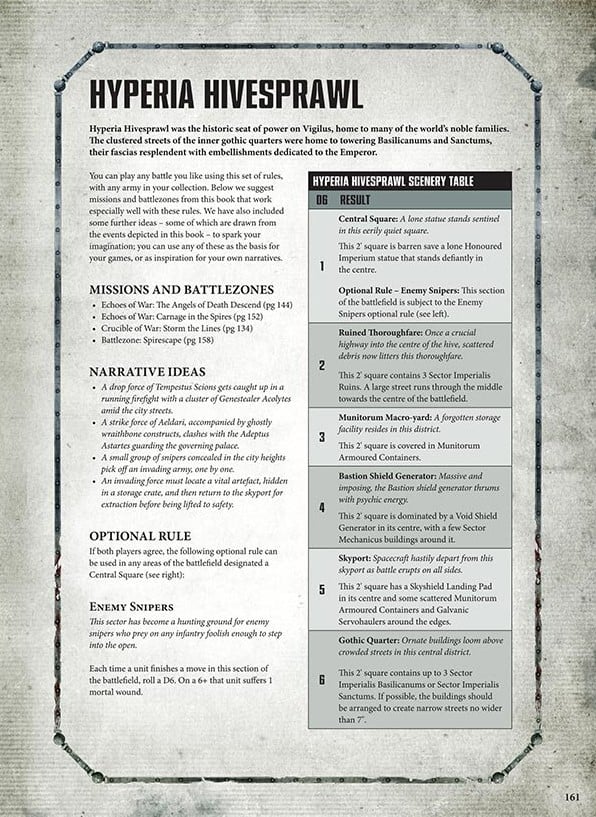 They're like the template you'd use to construct a campaign. Or at least to reflect a campaign as it progresses in one region–if you were really ambitious, you could use these different zones to build a Map Campaign, and draw out four or five different regions and let players decide where they're concentrating their fight as you make your way across the face of Vigilus.
All in all, there's an expansive list of options available to players looking to build their own campaign.
Whatever you do though, you had better not use these rules to create a campaign on a planet that wasn't Vigilus. That'd be treacherous and heretical–so we'd better not hear that any of you have done this.