The Genestealer Cult is getting some new tricks with Vigilus Defiant and today we're diving into one of there new Specialist Detachments – the Deliverance Broodsurge. Get your Goliaths ready!
If you've been waiting for a way to get your Genestealer Cult Goliaths in the game then this just might be the Specialist Detachment for you. The Deliverance Broodsurge will have you Tokyo Drifting across the battlefield and delivering a payload of pain on the unsuspecting enemy. But first, let's look at the Specialist Detachment: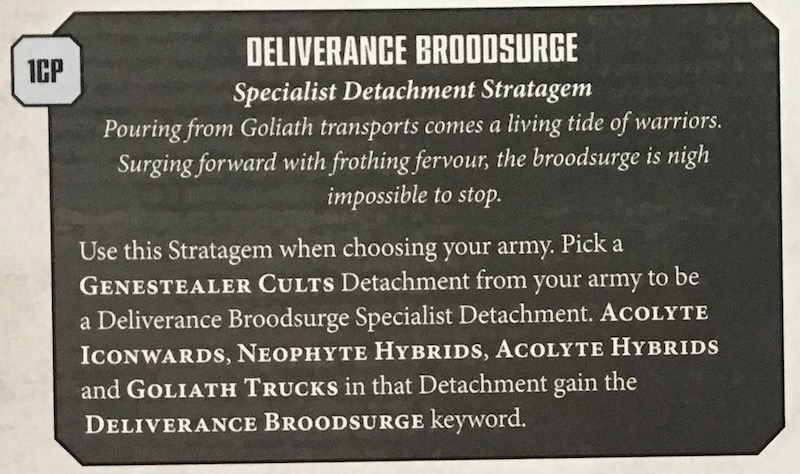 Acolyte Iconwards, Neophyte Hybrids, Acolyte Hybrids and Goliath Trucks all again the Tokyo Drift Deliverance Broodsurge Keyword. That will unlock all the bells and whistles below. And what are those? Well next up is the Stratagems and pay attention here:
The First to Draw Blood is great for any of those units that makes it into combat. Adding 1 to Wound Rolls can help you topple the mightiest of units. Wounding of 5s vs 6s is pretty huge! And if you do it right, you should be able to stack additional buffs on your cultists so they can hit their hardest.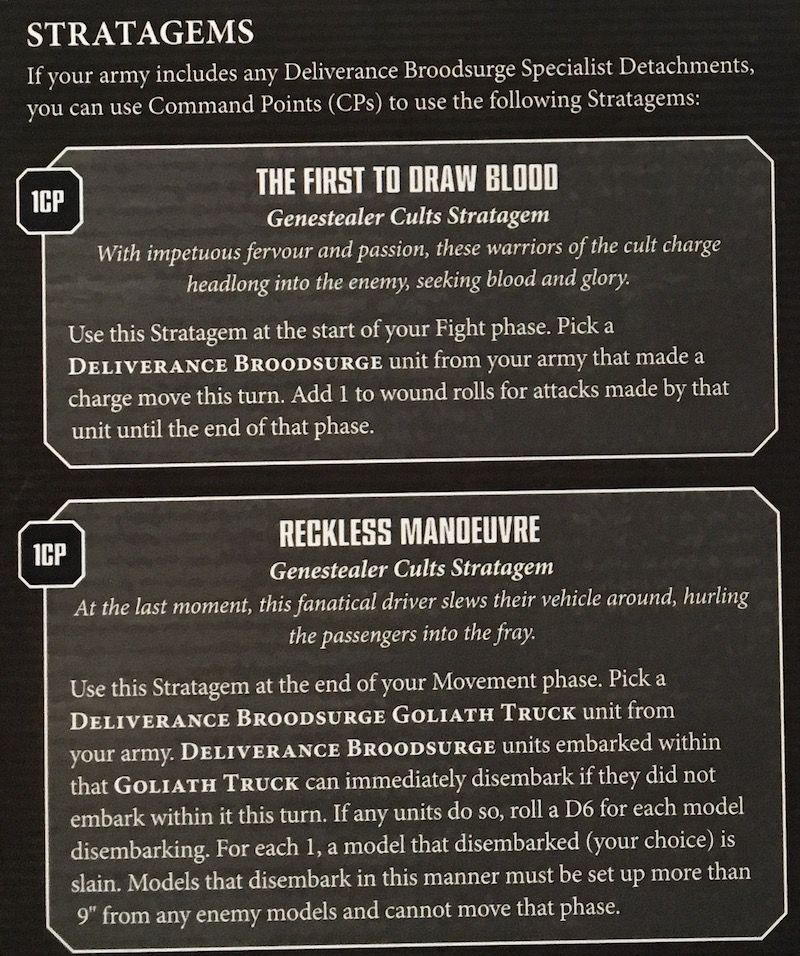 Reckless Manoeuvre is the thing that is going to help you get where you need to be! The Trucks can move their full movement an the units on board can disembark – either to shoot the enemy or prep for a charge or both! Sure you have to be 9″ away but that's what re-rolls are for, right!? And speaking of re-rolls check out the Warlord Trait: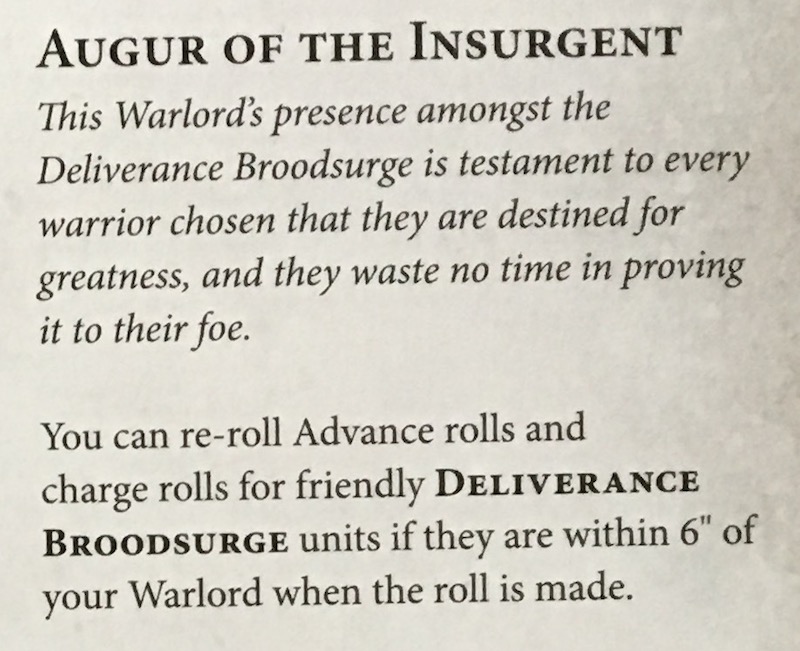 The Augur of the Insurgent lets units within 6″ of the Warlord re-roll Advance and CHARGE rolls. That's right folks – move them up, spit them out and ready the charge! And just in case you were worried about not having enough damage output you could always use the Vial of the Grandsire's Blood. For inspirational purposes only…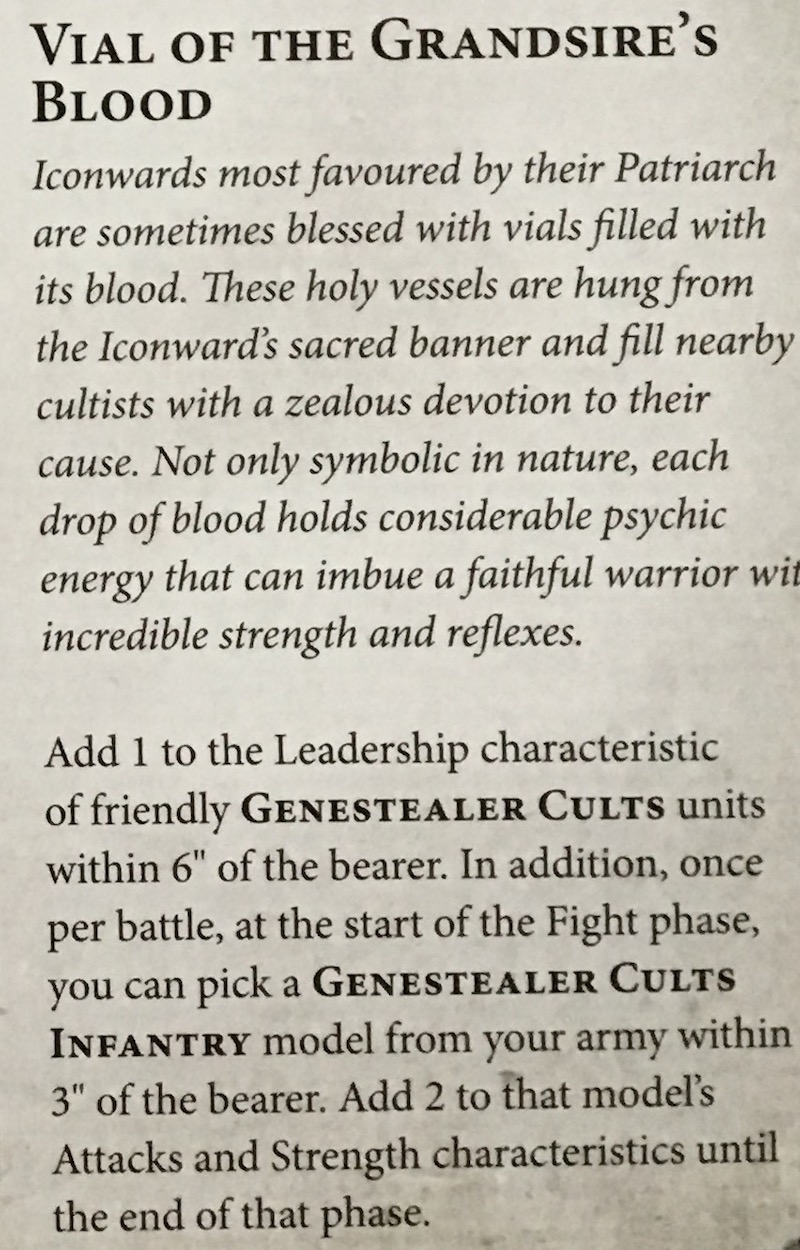 Gee, I wonder what model would be a good target for that ability? The correct answer is pretty much anyone in the GSC army that is a legal target. But some standouts would be one of the Acolyte Hybrids with a Heavy Rock Cutter/Drill/Saw. If you wanted to get crazy and found a way to stack all the buffs I'm pretty sure you could start wounding a Knight on 2s pretty easy.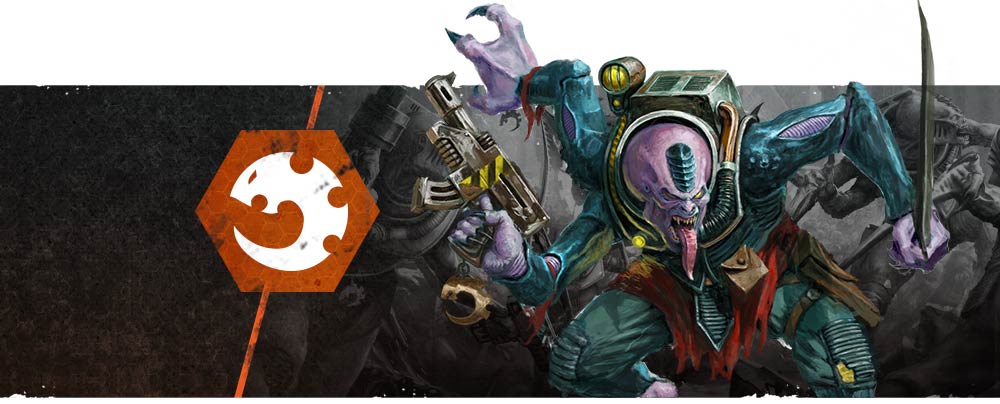 The Genestealer Cults have always been an army that relies on those overlapping Auras and synergies to work. We know they have a Codex on the way and a lot of new models, too. It's going to be very interesting to see how these Specialist Formations interact with the army once we get a look at their full rules. This could be really, really good for the GSC players out there!
What do you think of the Deliverance Broodsurge? Do you think this could be a good sign for the GSC army's future?