Everyone's favorite bird alien carnivore mercenaries are getting their own Killteam in the latest White Dwarf, but their rules have already leaked to the internet, as most rules end up doing. Check them out here.
That's right folks–the Kroot are getting their own Killteam, which presumably will spend about as much time feasting on the fallen as it does on actually fighting. Gotta adapt, after all. We have a look at their rules, which come to you courtesy of DakkaDakka once again, this time from users Zamerion and DarrintheOccult. Let's take a look:
First up, here's a blurry pic at a terrible angle of the models that are included in a Kroot Killteam.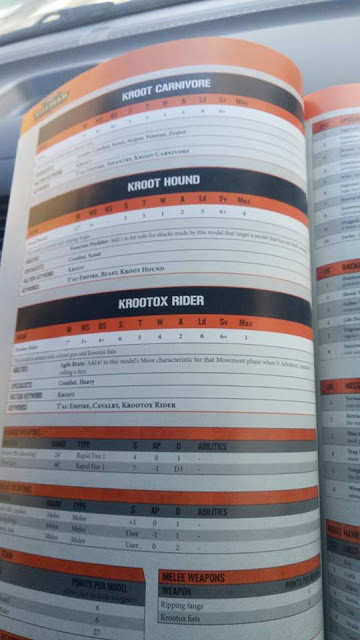 As you can see you get all three varieties of Kroot, regular Kroot, Hound Kroot, and Krootox (with accompanying Rider). This last one is a little insane, especially since it comes with 4 wounds. But the others are no slouch either–especially once you start looking at their tactics.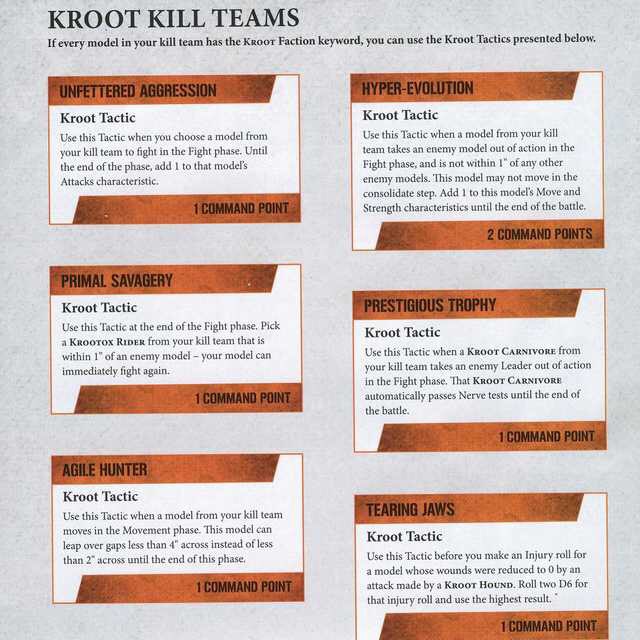 I love that Hyper Evolution is represented in the game–and you can gain a buff everytime a model kills something in the fight phase. Which means you'll want to be up close with your Kroot. An interesting prospect, because Kroot are fragile–but with enough preparation you can tear through your enemy while they try and flail helplessly against your tactical might.
Or at least your ability to roll consistently high–which is where the Kroot really shine. Still, at least we have them, the Kroot are here to stay (at least in Kill Team), so those of you who are awaiting the chance to use more Kroot on the table, this is probably one of the best bangs for your buck.
This takes us through the big rules reveals in the upcoming White Dwarf, but stay tuned to see what drops after that as well!