Vigilus Defiant has a wealth of new stratagems and today we're focusing on 5 from the Xenos side of the house. It's time to dive in our 5 favorite stratagems for the Aeldari, Orks, and Genestealer Cult!
We've already checked out 5 of our favorite Adeptus Astartes stratagems from Vigilus Defiant and now we're shinning the spot light on the xenos. They've also got a ton of new stratagems to go over so we're sticking with the ones we found most interesting. Remember, to use these stratagems you've also got to spend that 1 CP on the Special Detachment upgrade. That said, let's get started!
The First To Draw Blood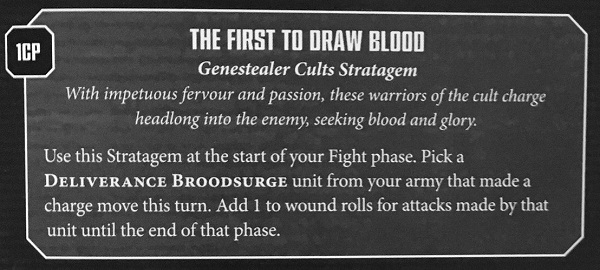 We've talked about the Deliverance Broodsurge before and why this ability is good – that's why it's on our list. Anytime you're adding 1 to your wound rolls, you're suddenly able to swing way above your weight class. A unit of GSC charging a Knight with a few "Power Snips" mixed in is a real threat now – plus all those random attacks that are now wounding on 5s instead of 6s. Bring on the assault of the GSC!
Kustom Ammo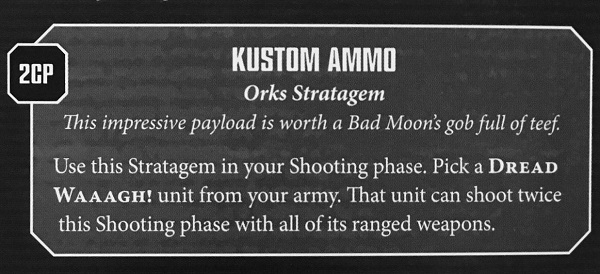 There is one thing that this rule doesn't explain and that is the units that are available for the Dread Waaagh! Special Detachment. We're talking all the big robots for the Orks (minus the Stompa, but don't worry about that for now). There is one unit in particular that stands out as a target for this: The Gorkanaut. Doubling up on a Deffstorm mega-shoota? YES PLEASE! Plus all the OTHER firepower those things pack. Hey, if you want to roll buckets of dice, this stratagem is for you!
Nimble Escape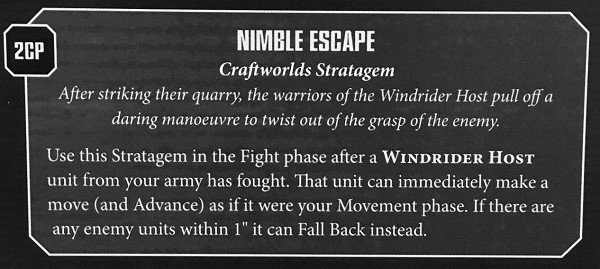 If there was any army that would be all nimbley bimbley and hop from tree to tree it would be the Windrider Host. This stratagem is very similar like the Ravenwing one – which is to say it's pretty good for them! It allows them to attack and then immediately move/advance or fall back. That's a great way to keep your glass cannons in good repair!
Spirit Shield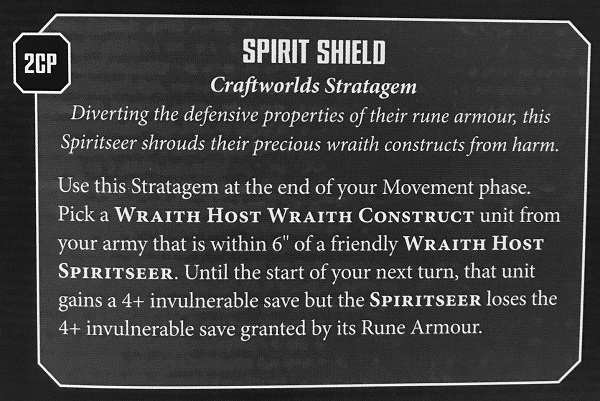 Spirit Shield turns the already tough Wraith Host Wraith Constructs into an even tougher unit to kill. Our favorite target for this one is a unit of Wraithguard backed-up by a Spiritseer. Sure, the Spiritseer loses the 4+ invulnerable save but if they are behind the Wraithguard, they can't get targeted anyhow due to them being a character.
Stompa Porta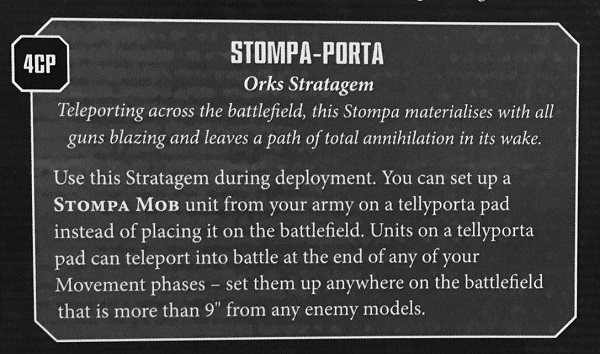 Deepstriking. Stompa. That's pretty much all I need to say about this one.
Those are our picks for the Xenos Stratagems from Vigilus Defiant! Any Ork Players out there as excited about Deepstriking a Stompa as I am?!