As the weekend ticks by and we inch closer to seeing what's next from GW, here's a look at the state of affairs, rumorswise.
If there's one thing that makes the buzzmill buzz right now, it's Chapter Approved. Whether it's rumored points reductions, points increases, tweaks to rules, or of course, what we can expect to see out of the Sisters of Battle Beta Codex, everyone's very curious as to what will actually be in the book. Aside from the few reveals we've already had, like Looted Wagon rules, Warlord customization, and of course the extant but as-yet-unknown beta codex for the Sisters.
via Reddit/Faeit/Et Al.
First up, there's the big list o' rumors from French Wargaming Studio. Now a lot of these come from people translating what they've said in a video into English–but they've had a decent track record with accuracy in the past.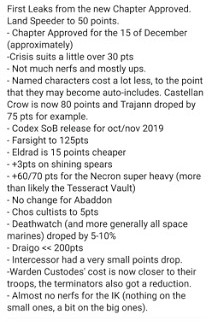 Now some of these points changes are massive, if true. Trajann dropping by 75 points, or the reduction for Land Speeders and "more generally all Space Marines" means that you could be seeing more of the boys in blue/yellow/green/red/black/rainbow on the tabletop and soon. Which is good, because it feels like they're in a place where they could use just a little boost.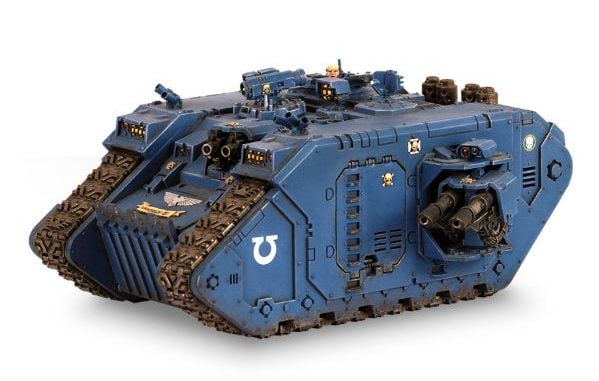 Next up: more points changes.
Intercessor down 1 (18pts > 17pts)
Repulsor 185 (210pts > 185pts)
Primaris captain 78 (91pts > 78pts)
Captain in gravis 90 (134pts > 90pts)
Twin las to 40 (50pts > 40pts)
Land raider to 200 (239pts > 200pts)
Be'Lakor 240
Terminators 23 (40pts > 23pts)
Drop Pod 63 (83pts > 63pts)

cultists to 5 points
point reductions on greater daemons
Tzaangors possibly bumped up from 7 to 8 points
90pt 5-man Rubrics
26pt Grey Knight Terminators
Rites of Banishment is being removed for Grey Knights, gaining Smite
Cultists up from 4 to 5 points
Scarab Occult Terminators getting a points cut from 33 per model to 26 per model
Again, this tracks with what we're seeing. A lot of tweaks to bring cool toys down–we're not really seeing an increase anywhere. The new beta rules might have something to do with that. It's hard to say what exactly needs nerfing right now, other than a few combos that seem to do well (by making the game unfun).