Alright, strap those waders on, Chapter Approved and Vigilus Defiant are leaking everywhere. Come take a look at Specialist Detachments for the Militarum and for the Indomitus Crusaders.
It's release season and that means that it's a race against time to see how much of the book will get leaked before it's actually out for official release. Whatever the amount, there's a statistically significant increase today because we've got leaks from Vigilus Defiant, specifically regarding their Specialist Detachments. So. Time to get HYPED.
That's right, hidden in amongst those pictures of the points changes, are pictures of a few of the Specialist Detachments straight out of Vigilus Defiant. So let's get down to business and not only defeat the hun but also wade through the new rules. So strap in, keep your arms and legs inside the post at all times, and we recommend against flash photography but only because reflections and glare are a thing.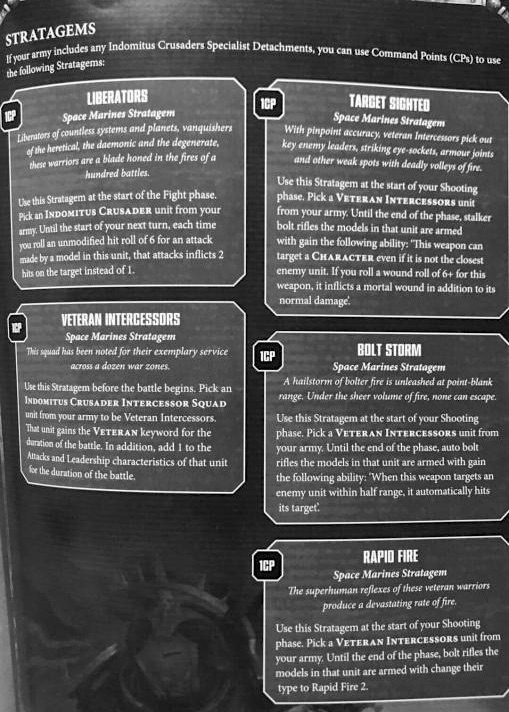 Let's start with the Indomitus Crusaders. We've seen these veteran Primaris boys before. They have stratagems to make your Intercessors better at what they do, no matter how you've armed them. This might actually lead to different squads of Intercessors each equipped with their custom bolter options to maximize your strategery.

Bolt Storm is very strong letting you max out your hits when you're at 12″, and they're assault, so you can advance into range and then shoot a unit off the board. Veteran Intercessors is decent in that it makes everyone a sergeant. Target Sighted will help you snipe away a lot of the buffing characters you see crop up–but Rapid Fire might be the best option of the bunch if you're looking to pump out the most bang for your buck. Strength 4 AP -1 with 4 shots out to 15″ makes them pretty spicy.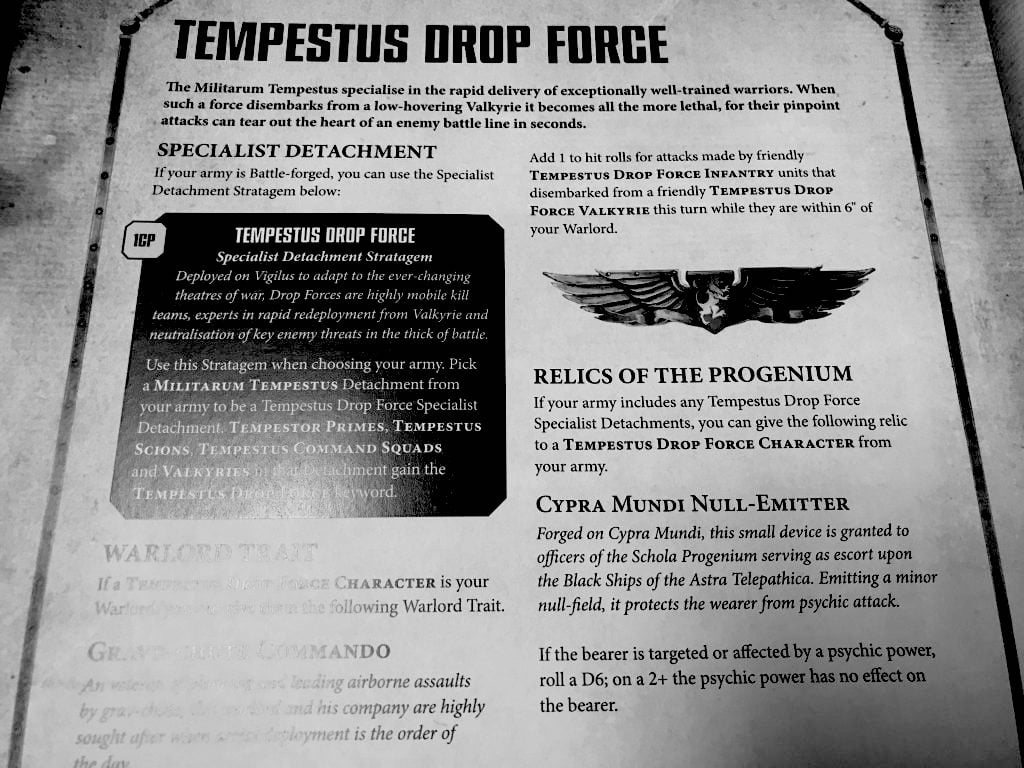 Then you have the Tempestus Drop Force, which turns your Tempestors into a drop force and gives them a Warlord Trait that allows you to get +1 to hit with attacks if they've hopped out of a Valkyrie and are hanging out near their Warlord. Their special relc is pretty strong–protecting your special drop bois from getting smote off the table.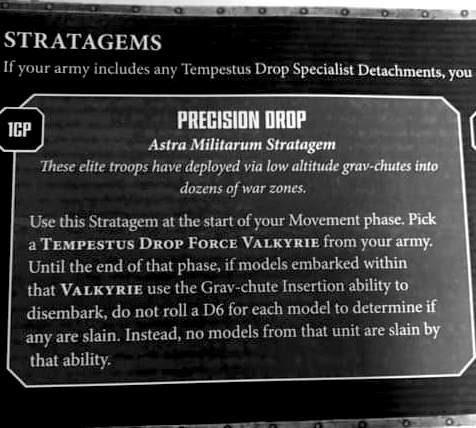 And you can make sure your Tempestuses live when they drop out of their Valkyrie, thanks to their new stratagem. No more randomly losing half your squad because your dice decided to roll 1s today.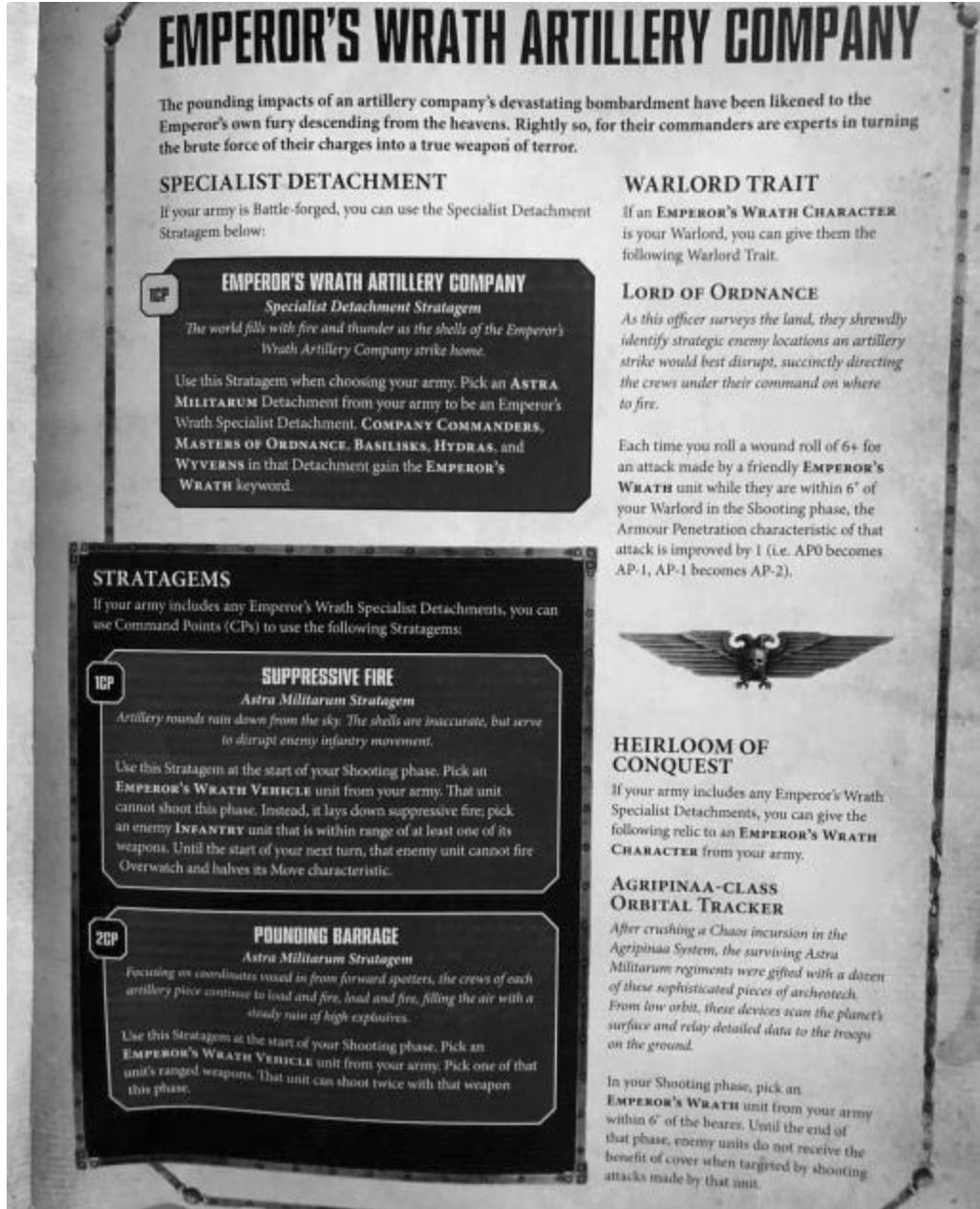 In addition to needing more .jpeg, the Emperor's Wrath Specialist detachment lets you bring the thunder with some powerful artillery abilities. The Orbital Tracker relic is particularly great, and it plays so well with Pounding Barrage. But the real hero here is Suppressive Fire, which is an incredible support ability, denying your opponents Overwatch and keeping them pinned down while your own units move around the field. I expect we'll see more Artillery companies being added to that delicious Imperial Soup.
What do you think of these leaks? Does Imperial Soup need more leeks? Let us know!