Fantasy Flight Games has changed their Organized Play model for Star Wars: X-Wing. Say good-bye to Store Championships and Regionals – it's time to go to Hyperspace!
The Star Wars: X-Wing Community is a very active and engaged one and FFG has been providing a lot of great support for Organized Play since it was introduced in 2012. The previous format consisted of a pyramid-type system where players could participate in a local Store Championships to qualify for Regional Championships. Then, those winners would be invited to Nationals and Worlds Championship. It was a pretty clear pipeline for the players. That pipeline is still around but it's changed for the 2019 season.
FFG is doing away with the older model and introducing more ways to play and get involved with the game. Since the games Second Edition, they have introduced a new App as well as adjusted points and introduced new ships. They have introduced a new formats to the game as well and we're here today to help break down what those are and how you can join in on the fun. But to do that – we need to start from the top.
The World Champs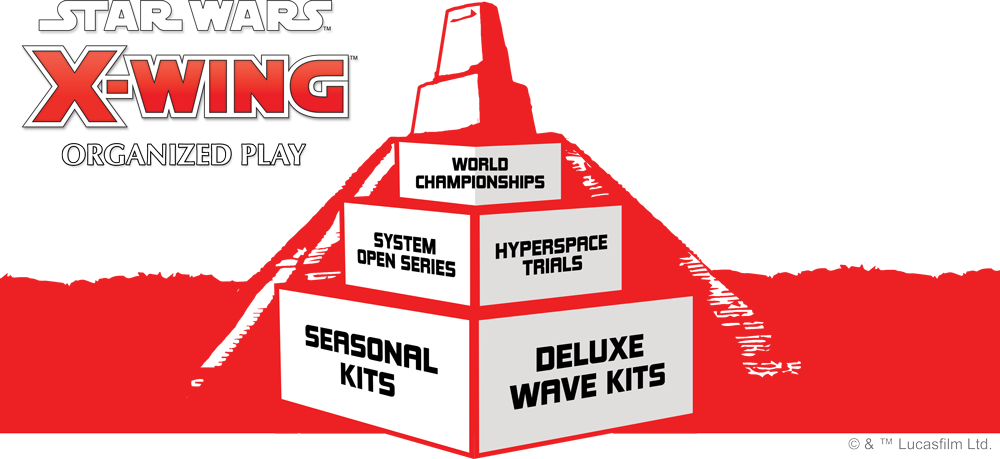 The top of the pyramid is of course The World Championship. This is the BIG one where players from all over the world compete to win the chance to help inspire a future card in the game – on top of all the other prizes along the way. This is the big finale to all the other events. FFG will have more details on this but you can bet it's going to get a lot of attention from them at a later date.
System Open Series

The System Open Series leads-up to Worlds. These events can be pretty massive and are typically held at conventions. There is the "main event" and lots of side events as well. The Top 8 players at the event will win an invitation to play at Worlds. The winner of the event will also win an invitation to the Coruscant Invitational – this is an event that takes place immediately before Worlds. For a list of these events you can check HERE – the 2019 season has already started!
Hyperspace Trials
The Hyperspace Trials are NEW and a great way to get into the competitive side of X-Wing. The format is different than before and I'm going to let FFG explain with these bullet points:
Hyperspace Trials run twice per year and refresh the metagame with event-specific squad building guidelines.
Each qualified retailer may run one Hyperspace Trial each year.
The winner of each Hyperspace Trial earns an invitation to the next X-Wing World Championship.
Hyperspace Cups are upgraded versions of Hyperspace Trials that come with additional prizes and offer an experience befitting a premier level of competition.
To break that down even further, these are a "limited" format – not all ships are legal for these events. How do you find out what ships ARE legal? Check the App or pop over the the FFG Points list for your chosen faction. You'll see a new column called Hyperspace Legal:

If the ship isn't Hyperspace Legal then it's not part of the Hyperspace Trials. Again, these are event specific restrictions and can change between events! Always contact your Tournament Organizer and make sure you have the latest information before you make that trip!
If you want to learn even MORE about the new Hyperspace Trials you can read about them HERE.
Seasonal Kits & Deluxe Wave Kits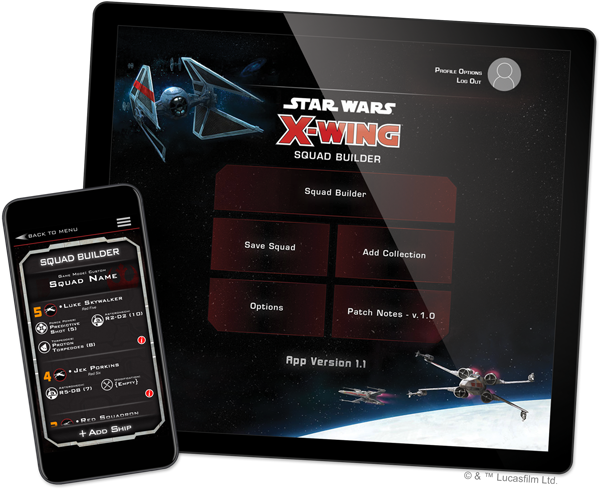 These are also new for the the game. These are kits that stores can use to run Seasonal Events (up to 3 events or leagues per season) or a Wave Championship (for the Deluxe Wave Kits).
The Seasonal Kits are there to help your FLGS grow an X-Wing Community. It's got all the materials a store needs to run events or a league and they are pretty easy to understand. They also provide a Seasonal Challenge that players can earn a special prize for completing. As far as restrictions and limits – check with your local organizer and the App but for the most part these should be pretty open in terms of list restrictions.
The Deluxe Wave Kits are the replacement for Store Championships but there is so much more inside those kits. First off, they still have the Wave Championship tournament content and they will be released along side each new wave. This provides players with more opportunities to win those "Store Champ" bragging rights as the new Wave Champion.
These Deluxe Wave Kits also support two other events: A Release Event (for the new wave) and a Theme Event that has a "tailored squad-building pool" designed around those ships in the new wave. If you're new and  looking to jump in the action the Release Events are perfect for you because they will use the Quick Build cards. The Theme Events are a bit more restrictive and provide veterans with the challenge of playing in a much smaller sandbox.
Also in these Deluxe Wave Kits are patronage cards that reward you for making purchases are your FLGS. Finally, these kits also tie all the events together with the Wave Leader title – players will earn points for performing well at these events in store. The player with the most points by the time the next wave is released is dubbed the Wave Leader and will be awarded a special prize.
That's a lot to take in and you can read more about all there HERE.
X-Wing For ALL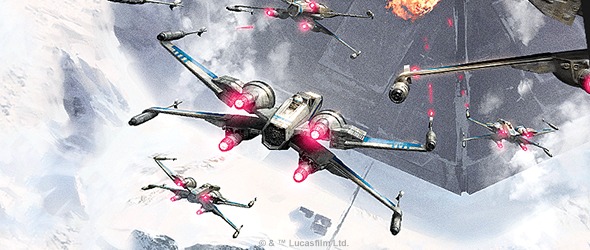 If you're a veteran player or a Rookie pilot there are events for you at all levels of play. As long as your FLGS is signed up they can get these leagues going and you can join in and have a chance to win a spot a the "main events" by playing (and supporting) your FLGS. It's a win-win for the stores and the players – so get out there and play some X-Wing!
Are you ready to make the Jump to Hyperspace?