Slaanesh is Back!  Wrath & Rapture, and more goodies arrive!
Here's the list of products and prices for this weekend's GW releases about to hit the shelves. starting with the that awesome Noise Marine, and Wrath & Rapture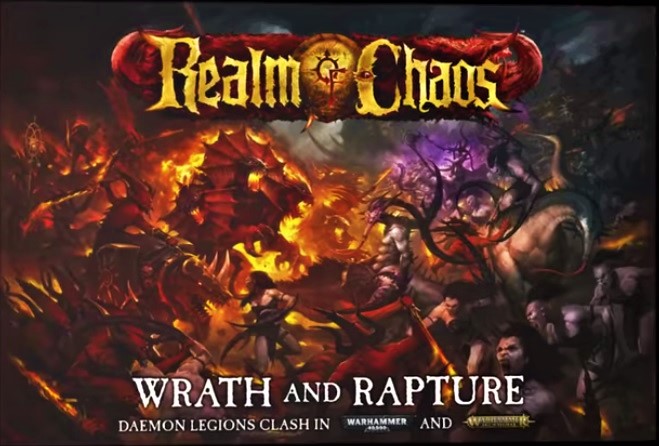 Wrath & Rapture

 $160
All the Daemons all the time, and creepy tendon-playing harpists!

Noise Marines 
$35
"Master of Puppets, I'm pulling your strings.  Twisting your mind and smashing your dreams."
Black Library
Horus Heresy: The Crimson King (Paperback)

$15.99
THE STORY
After the razing of Prospero, Magnus the Red spirited the Thousand Sons away to the aptly un-named Planet of the Sorcerers, deep within the Eye of Terror. Removed from the concerns of the galaxy at large and regarding the Warmaster's unfolding Heresy with cold detachment, he has dedicated his hollow existence to the preservation of all the knowledge once held in the great libraries of Tizca, should mankind ever seek such enlightenment again. But his sons can see the change in their primarch – he is a broken soul, whose mind and memories are slipping away into the tumult of the warp. Only by returning to the scenes of his greatest triumphs and tragedies can they hope to restore him, and allow the Crimson King to be crowned anew by the Ruinous Powers.
Written by Graham McNeill

The Beast Arrises: Volume 3 (Paperback)

$19.99
THE STORY
The Imperium's initial attempts to attack the orks and kill their leader have ended in failure and tragedy, but there can be no surrender: the fate of humanity hangs in the balance. New, more flexible fighting teams of Adeptus Astartes have been assembled and allies from the Imperium's past have also pledged their support. With new troops, revised tactics and the full backing of the Adeptus Mechanicus, the Space Marines head to the orks' home world one final time. This time there will be no retreat. They must succeed in their mission… or die in the attempt.
CONTENTS
Watchers in Death by David Annandale
The Last Son of Dorn by David Guymer
Shadow of Ullanor by Rob Sanders
The Beheading by Guy Haley

Warhammer Chronicles: Tyrion & Teclis (Paperback)

$19.99
THE STORY
Tyrion and Teclis: the most legendary high elf heroes to roam the Old World. Destined for greatness from birth, the twin brothers are as different as darkness and light. While Tyrion, a calculating tactician and unrivalled swordsman, inspires valour and fidelity in those around him, Teclis is the most powerful natural sorcerer of the age, harnessing a gift that rivals even the mythic Caledor.
In this omnibus, relive the twins' most gripping adventures – from their quest through the deadly jungles of Lustria in search of the fabled lost sword of Caledor, through to the bloodthirsty battle to save their homeland from the malevolent Witch King, Malekith.
Written by William King
CONTENTS
Blood of Aenarion
Sword of Caledor
Bane of Malekith
~ Welcome back Dark Prince!