Silent Titans is an RPG that takes old-school D&D flavored mechanics and runs them through a filter of dreamlike trippiness and anarchic artistry to create a game that could only exist because of Kickstarter–and we're here for it.
Got another Kickstarter for you today–and it's an odd one, to be certain, but that's what I love about it. This is the sort of game that you only get because of platforms like Kickstarter. This is the sort of weird, highly specific stuff that people might not even know they want until someone out there takes a risk to say, "here, check this out." Which is exactly what Patrick Stuart has done with Silent Titans.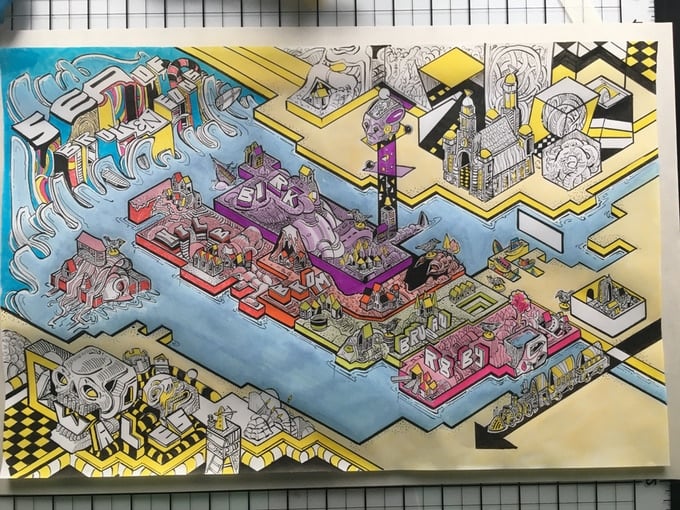 This is a game that has players fall through a hole in reality to the peninsula of Wir-Heal, which is a "time lost peninsula built on the tangled and comatose bodies of world-destroying trans-dimensional titans and suffering under a curse which slowly reduces its inhabitants to the status of wild woodwose," and there they find themselves cut off from the rest of their reality. Now they have to deal with the fact that the comatose Titans are rousing from their slumber and their fragmented thoughts must be stolen if the world is to be saved.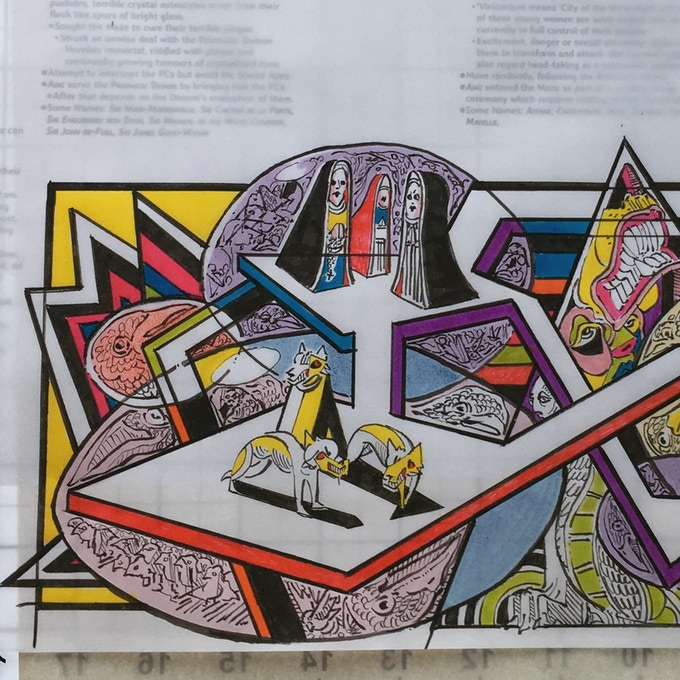 And if that doesn't interest you, this game isn't for you, and that's fine. If you saw this and thought, oooh yes please more of that, you're welcome. It's remarkable enough that it exists in a gamescape full of Humans/Elves/Dwarves (which, don't get me wrong, those are amazing too–give me haughty elves, doughty dwarves, and relatable humans any day of the week) is kind of incredible. So I thought I'd share the Kickstarter for those of you who are into it–and if not, maybe take a look at what else is on Kickstarter–the game that's your specific brand of weird might just be waiting for you to find it.
---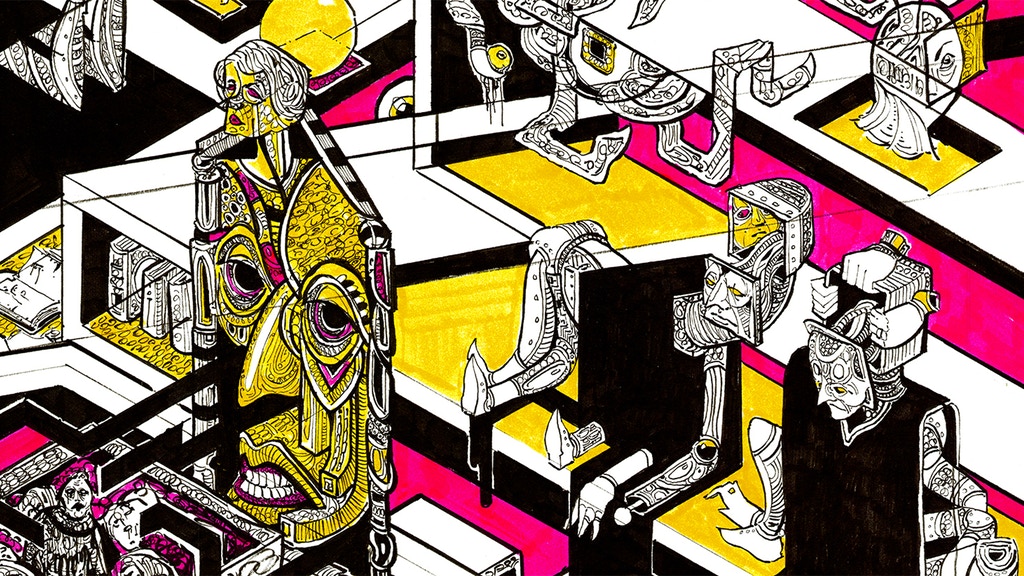 The player characters fall through reality under Mysterious Circumstances™ and end up in Wir-Heal, the plughole of the metaverse.

Their only real problems are that they are lost in time, cut off from the rest of reality, dirt poor and that the Titans themselves are waking up and going to end the world.

As well as that, they have pissed off an evil Pig.

To prevail and escape Wir-Heal they must brave its nightmare-haunted shifting realities, find ways beneath the land, break into the Titans' sleeping minds and steal their golden thoughts. This will put the Titans back to sleep, shift the realities back to something more closely approximating normal, and you get to keep the gold.

A simple enough operation.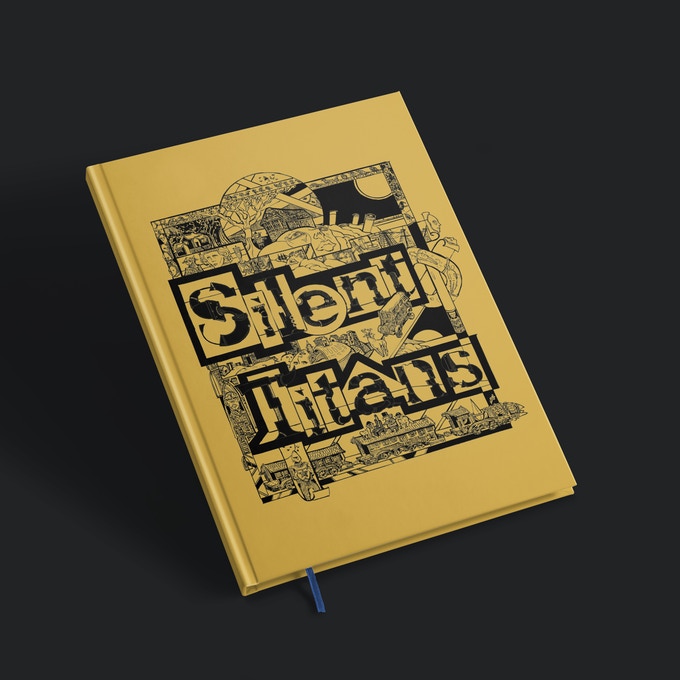 What about the rules though? The rules are based on the first edition of Chris McDowall's Into the Odd ruleset. Character generation is integrated into the adventure/game. Players are given specific, named characters to play, though a lot is left open to their interpretation (an idea I stole from Chris Himself).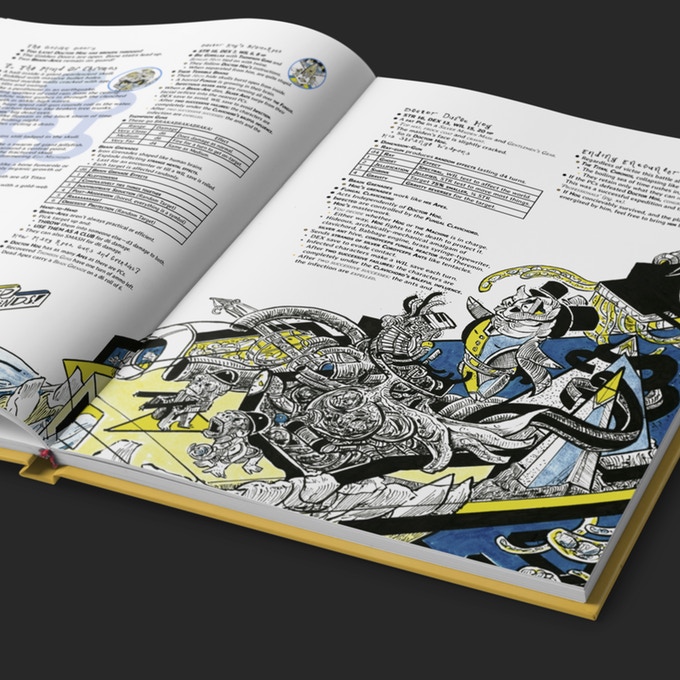 And the physical book itself? Will it be nice? You'd better believe it. Silent Titans is being published by Swordfish Islands LLC (the team behind Hot Springs Island) and printed by Friesens up in Canada (the company that printed Maze of the Blue Medusa, and Hot Springs Island).

Binding? Sewn. Paper? As luxurious as that found in Veins of the Earth. Color? Everywhere. Ribbon bookmark? Of course. Archival quality everything? You bet. End papers printed with useful information? Absolutely. A dust jacket possessing both beauty and utility? Indeed. Foil stamping? On the book itself for sure, and maybe even on the dust jacket if the Kickstarter really takes off. A cloth cover? As gold as the Titan's dreams.
Happy Adventuring!