My new favorite list features what used to be the game's worst ship. Ready for lots of explosions?
When I was making preparations for 2.0, I noted that
Deathrain was likely to be a fun ship to fly
. Not only that, many players were terrified of the damage swarms might be able to inflict. Some had posited Trajectory Simulator bombs as a potential counter to swarms. The counter-argument: *one* bomb was not going to cripple a swarm… what if they just ate the damage, soared through, and reamed the Punisher? So I thought, well, what if we used
two
Punishers? That was the germ of an idea that eventually became my new favorite list. Behold…
Carpet Bombing
Deathrain: Proton Torpedoes, Concussion Missiles, Proton Bombs, Seismic Charges, Tragedy Simulator, Ablative Plating, Skilled Bombardier
Redline: Proton Torpedoes, Concussion Missiles, Proton Bombs, Tragedy Simulator, Ablative Plating, Skilled Bombardier
Vizier: Ablative Plating, Tactical Officer

198/200
Yes, I know I spelled it "Tragedy Simulator." Tell me that's an inaccurate characterization.
Wow, what an absolutely 1.0-ish stack of upgrade cards! Let's take a closer look…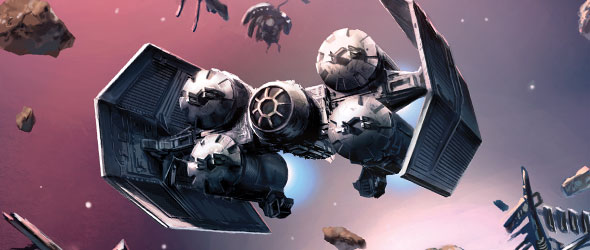 There are few lists that would dare approach these guys head-on. Both Redline and Deathrain can get double-modified ProTorp shots from their pilot abilities, and that's after a round of bombs, meaning the crits from the ProTorps will stick. These guys have more than just firepower, though. They're shockingly nimble. Both of them can get pre-maneuver repositioning with either boosts or barrel rolls-Deathrain via his ability, Redline with some help from Vizier. Those boosts and barrel rolls can throw them around on those medium bases, and don't limit their ability to get the locks they need to let fly.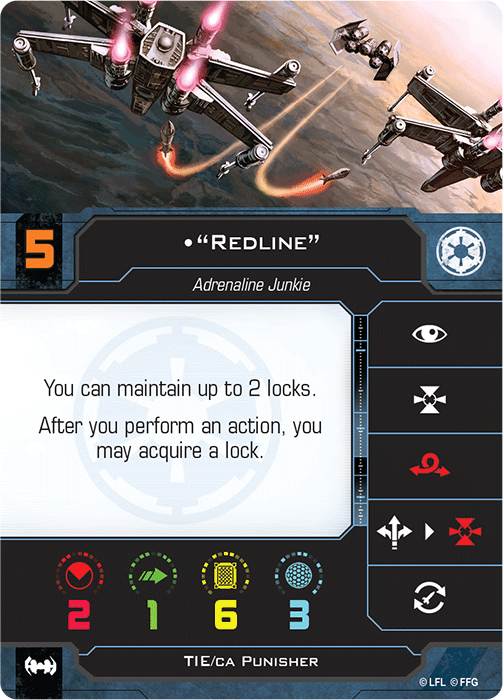 Concussion Missiles are the fallback ordnance, the missiles I shoot after I expend my ProTorps. As a three-dice attack, though, the missiles aren't as scary as the ProTorps, and this is a list that wants to deliver knockout blows. As there aren't any better missile options, we make do. There is a modest amount of synergy there. If Proton Bombs or torps deliver crits, the missiles can expose those crits again, potentially crippling the target. (You can even kill a ship you didn't shoot, with a little luck.)
Tragedy Simulated Proton Bombs are a known Good Thing. Just the threat of them can scare enemies off course. While the Punisher can stall to avoid running into its own bombs, I find this only rarely useful; I'd rather just take the hit on Ablative Plating or use my pre-maneuver repositioning to offset.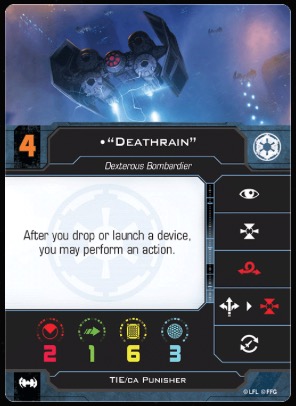 Deathrain gets an extra load of Seismics compared to Redline. Seismics don't deal crits as Proton Bombs do, but their threat radius is much larger, and they crimp the style of ships and pilots with obstacle synergies. This is a three-medium-ship list, as well, with a very large footprint; making myself more room on the board is greatly to my benefit. Finally, Deathrain needs to have lots of bombs so he can keep taking bonus actions when it counts. I find Deathrain uses the white reload action fairly often to ensure he can keep the bombs flying. First round, for example, you can clear out an obstacle and reload the Seismic with no consequence, so you still have four turns of double actions.
Ablative Plating is there because I'm chucking bombs everywhere, and I fly into them fairly often; I'd rather not care about them. Skilled Bombardier is a toss-in, but with only a few points left, why not? They're occasionally useful. I can pull Tragedy Simulator bombs in to catch people who rush me, or I can drop the bombs further behind me to discourage chasers.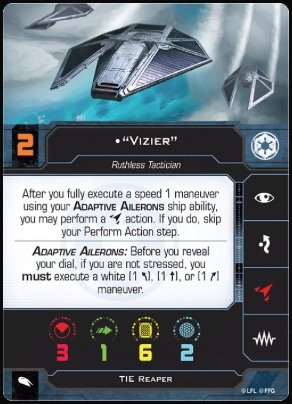 Vizier seems the odd man out. He doesn't have the firepower of the Punishers, and he's far from an end-game ship (which is what I'd most consider swapping him for). He has his virtues, though. His medium base and pre-maneuver repositioning give symmetry with the Punishers. He can keep formation with the Punishers, even when they're slow rolling – alternate ailerons-ahead-into-stall with no-ailerons-(stress)-into-one-ahead. He can white coordinate off his Ailerons move or his activation, and do it before his wingmen activate. Against PS2 swarms (which, in my original conception, I had pegged as my biggest danger) I can take Player Order and interpose Vizier between the swarm and my Punishers to maintain range. He's tricky to keep in the right places after the initial break, but there's surely an "I need to fly better" component to that. Most importantly, those Coordinate actions (on yet another beefy chassis) unlock some of my best shenanigans.
The list has tricks galore. For as clumsy as the Punisher can seem at times, this list helps them sing. Example of fun play that happens frequently: Redline flings a bomb forward against an enemy straight ahead, Vizier coordinates Redline to boost left (gaining a lock), enemy zooms forward to close range, Redline 4Ks and gets a free ProTorp shot. It is fun.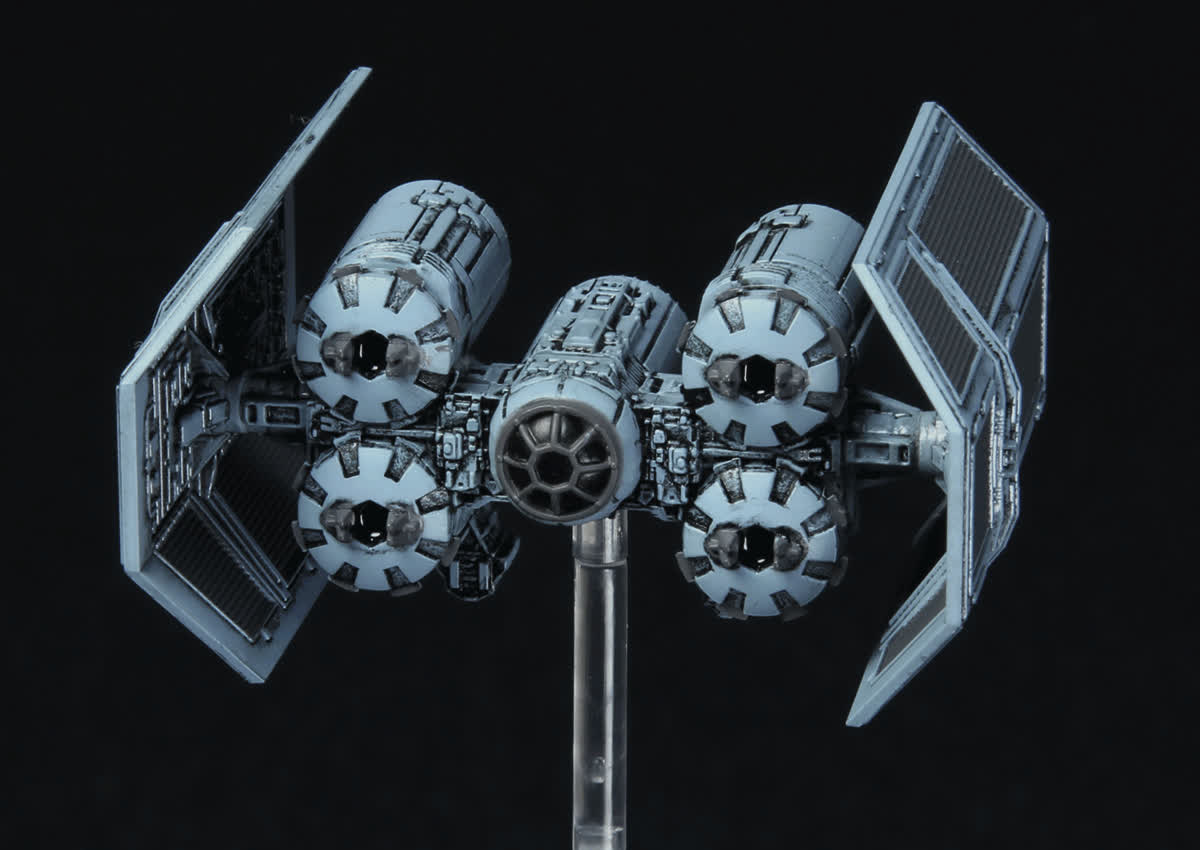 For all its virtues (which are many), the list has some significant weaknesses. The biggest is that the list takes damage in chunks and doesn't have much it can do to mitigate it. It's a trio of medium-base, one-agility ships with no appreciable defenses. If it wants to protect itself, it has to make magnificent use of its maneuvering tricks and/or kill the other guy first. Timing your K-turns is absolutely critical. Punishers have big flanks and, even with their boosts and barrel rolls, have to turn around eventually to get ordnance on target. K-turn too early and you get eaten alive.
If you get bogged down in a close-range furball you will lose, often in a way that makes you feel powerless. Getting blocked is ruinous.
There are too many bombs flying around to swap Vizier for a pocket ace. His points would be fine to slot in, say, Soontir, but Soontir wants no part of all those Proton Bombs and Seismic Charges. The lack of a genuine closer also emphasizes just how front-end-loaded the list is. Once the ProTorps and Proton Bombs are gone, I'm either taking Concussion Missile shots (which aren't nearly as dangerous) or disengaging to reload. Either option can let the enemy get back in the game.
Even with those weaknesses, I love this list. It's great fun to fly and can do some serious damage. It always has some trick available to it, some clever move that ends with someone eating four double-modified dice. It's… ahem… a blast.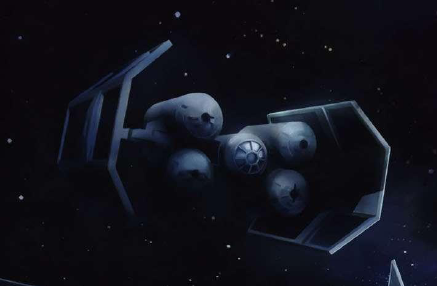 Possible variations:
Change missiles. Barrage Rockets seem superficially good against lists like triple aces that are hard for Deathrain to lock down. Maybe; those lists also go after your focus tokens. I would only go with Clusters if I had to save points. Neither has the crit synergy of the Concs.
Drop the Skilled Bombardiers, give Vizier Agent Kallus. Vizier rarely gets to mod his own attacks because he spends so much time coordinating. Agent Kallus would give him more teeth, screwing up my opponent's target priority and helping me finish off wounded enemies. Not sold on this; not sure if it's better than the Bombardiers and a bid (the bid has been very significant in several of my games).
Put the Punishers on a diet: what if we strip the Punishers of some of their extra goodies? Take away the Bombardiers and missiles, and we save 16 points; drop Ablative, and it's 24. The first option would let us upgrade Vizier into, say, Vermeil and some crew, so he's a genuine third banana; the second would be enough to trade the Punisher for a powerful flanker. Maybe. Not sure I like the idea of being *compelled* to disengage and reload, and without missiles that'd be the case.
What do you think of "Carpet Bombing"? Think you know the perfect tweak to this list? Let us know in the comments below.