Are you looking for some inspiration for the Grimdark? Perhaps you just want to get in the right head-space before you play your next game of Warhammer 40k. Or maybe you're just looking for a movie to watch while you thematically hobby. Well we've got some suggestions for you!
When I think of the Grimdark and specifically about the Imperium of Man, I have a particular idea in my head based on the lore, background, and media I've consumed. Here at BoLS we've gotten together and brainstormed a list of movies we think of when ever we think of "The Imperium" – these aren't direct translations, but rather movies that match the themes and ideas of the setting.
Sometimes, it's a particular scene. Sometimes it's a tone or attitude or even a particular character in the movie that we gravitate towards. But whatever the reason, these are the movies that spring to our minds and we think best represent The Imperium of Man.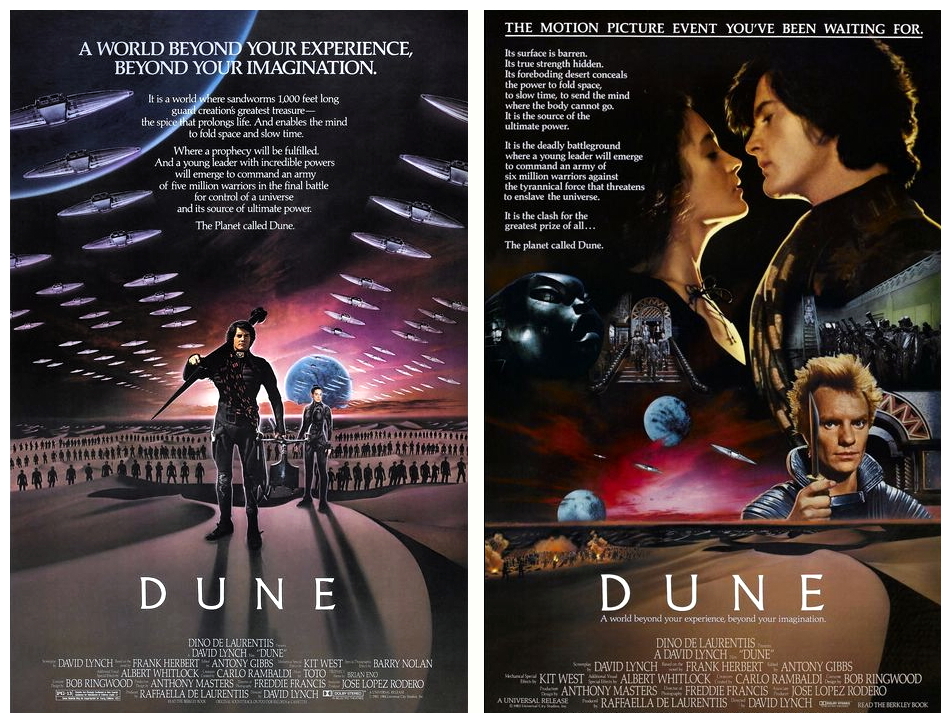 David Lynch's Dune adaptation is inspiring. It's a little cheesy at times, it's also got some disturbing scenes, but this was at the top of our lists for many reasons. It's a massive Sci-Fi epic that has many things in common with the Imperium. There is a Navigator Guild full of Mutants that can fold space. There are the Bene Gesserits who are Psychic (to a degree). There's political power plays and warring houses. There an Emperor and his elite Sardaukar Shock Troops. And then there are the costumes: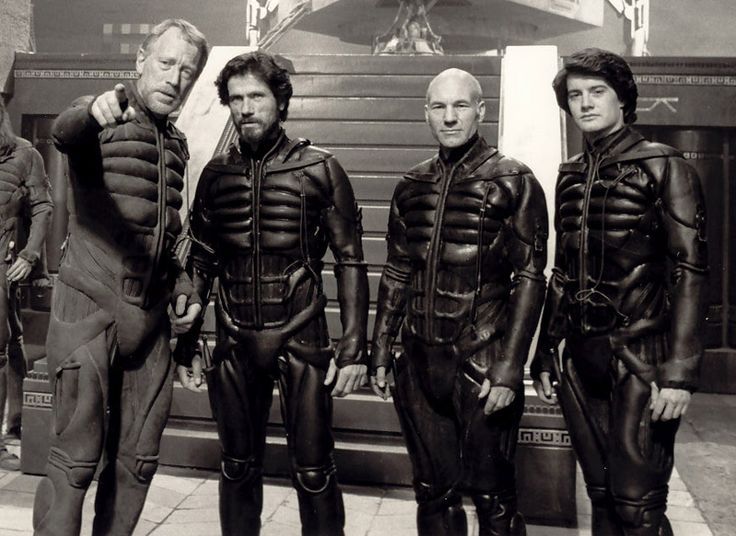 Did you know that Captain Picard was a member of House Van Saar? You do now!
If you've never seen this particular version of the movie and your a fan of Warhammer 40,000 you really should give it a go – The Emperor demands it!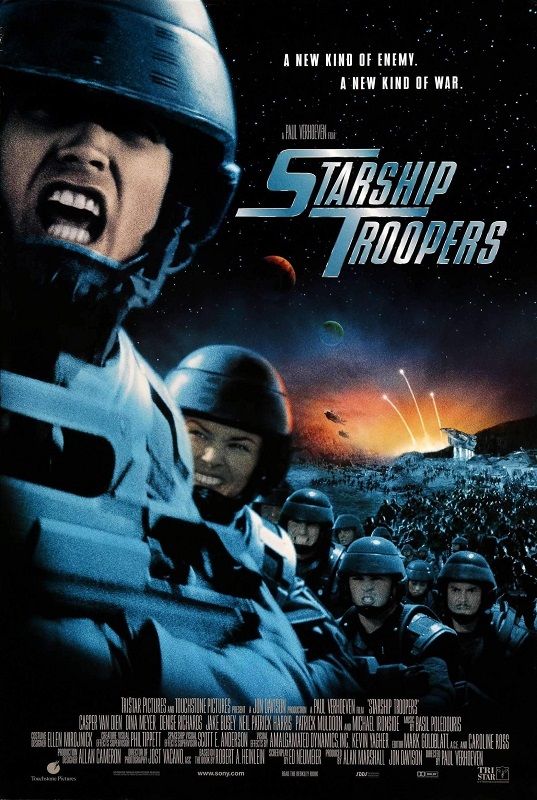 Ever wonder what life is like as a member of the Astra Militarum? Well Starship Troopers is a pretty good example in our book. This movie does more than capture the gore and the loss in war – it's also got some very strong other themes that scream "The Imperium" to us. First off the idea of "citizenship through service" has a lot of implications. The government is obviously very fascist and the propaganda in this movie is spot-on. If you've ever read one of the Regimental Standards from the Warhammer Community, then you've got an idea of what this movie did 20 years before those were a thing.
This movie even has Psykers and one of my favorite all-time characters in a movie: Commissar Doogie Howser! Sure, he's telepathic…so maybe he's a Sanctioned Psyker who is also a Commissar? Whatever… just do you part for the war effort and watch this movie!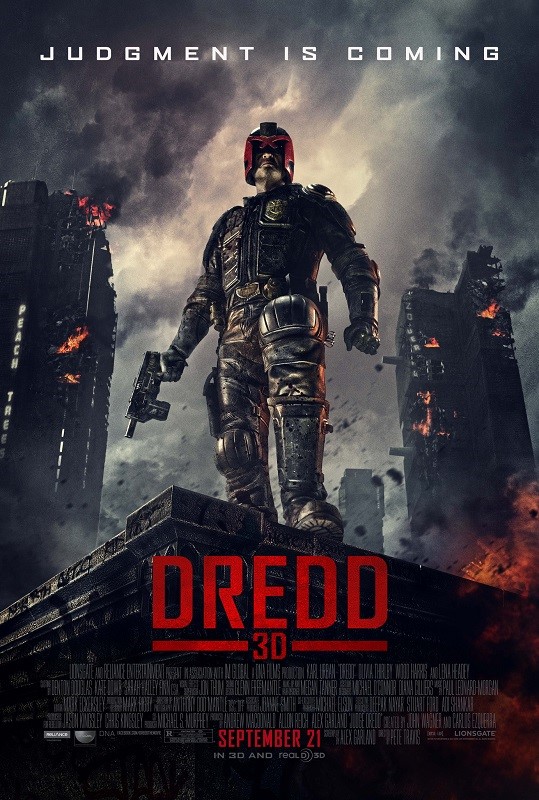 Holy Crap – Dredd (the Karl Urban movie, not the Stallone version) is amazing. This movie captures the grim, crime, and grit of the Grimdark so well and it doesn't even know it. The feeling of oppression and scale as the movie pans over the Megacity. The concept of massive 'vertical' housing. The gang-turf wars. The authoritarian law-bringers known as Judges. Heck, this movie even has a Psyker running around! Heck, is a fan of the Adeptus Arbites?! Those guys are basically Judges: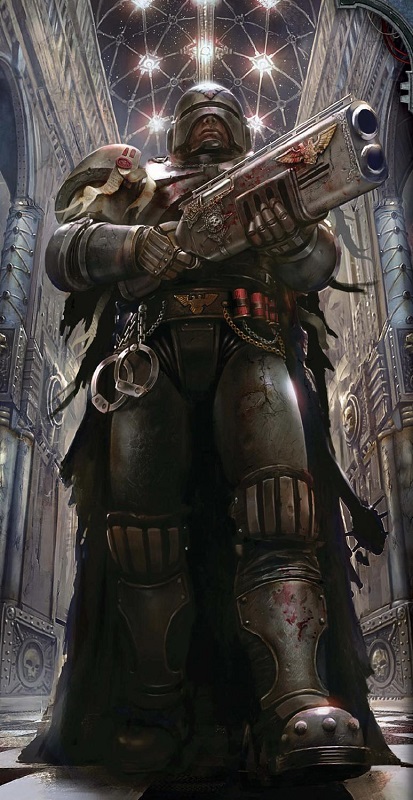 Arbitrator Drekk? Yeah…that won't get us sued.
While Dredd is set in a bleak near-future, it's easy to see that world become the Grimdark on a long enough timeline. It's not only a good source of "inspiration" for the Imperium of Man, it's also just a good action movie, too. Go watch it – you don't want Judge Dredd knocking on your door!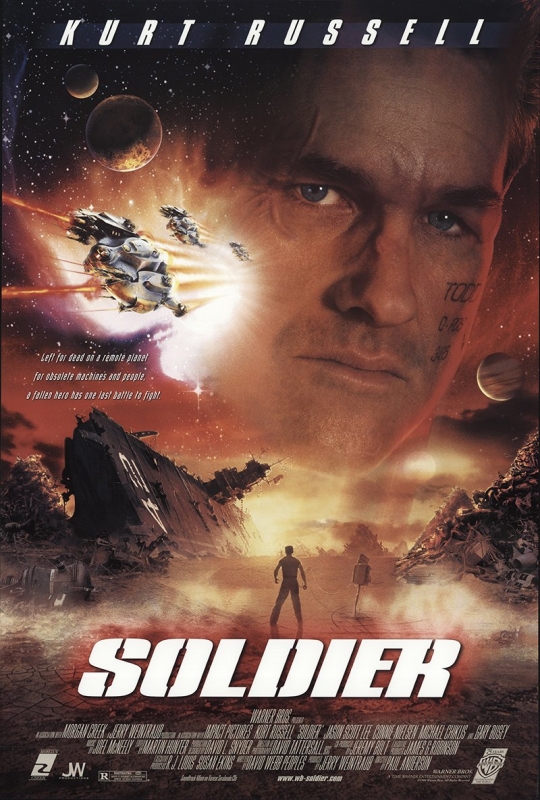 If you've never seen Soldier, I wouldn't be entire shocked (just disappointed). This movie is very, very timely for the things that are happening in the current 40k timeline regarding the introduction of the Primaris Space Marines. Let me just set this up for you:
A boy is conscripted by the oppressive government at a very young age. He is raised to become a Soldier. They train him physically, mentally, and emotionally to become a weapon of war. He grows up and goes on countless campaigns fighting for this faceless government. His fellow Soldiers (the closet thing he's got to family) are slowly killed off over time and somehow he's managed to survive. Now, a veteran of wars beyond count, a new batch of Soldiers is brought in as replacements. They are stronger, tougher, and just plan better in a lot of ways…and so he is discarded.
Folks, that's just the first 20 minutes of this movie! But that pretty much sums up the life of a Space Marine (short of the genetic and biological modifications). And now that the Primaris are here, what's going to happen to those old Soldiers? Now THAT is Grimdark, baby!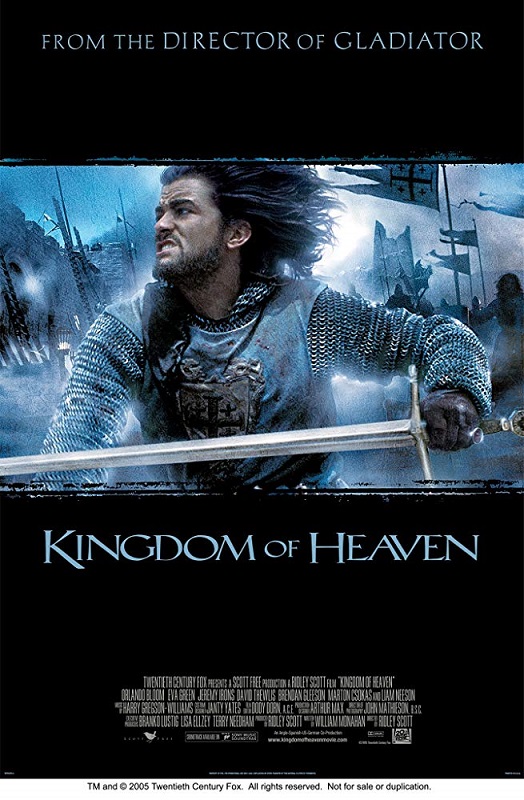 "Wait, what?! This ain't Sci-fi?" No, it's not! But thematically it's spot of for life in the Imperium. A man is plucked from his life and conscripted into military service for a "Great Crusade" and ends up in a far away land. Now he's got to learn to fight and ultimately win an unwinnable war. Now, if you seen the movie then you know that he does and gets to go home, only to get approached to do it all over again.
This movie might be set in the middle ages, but the undertones of this movie, specifically the concept of fighting for religion and "holy war" scream Grimdark. If this movie was re-shot with the setting 40,000 years in the future (or during the Heresy Era) and everyone was wearing Power Armor or Astra Militarum Gear, it would absolutely work. That's why it's on our list.
There are TONS of movies out there that could influence your vision of the Imperium of Man – what movies would be on your list?