There are two new characters coming to 40k courtesy of the new Kill Team Warbands – and you better believe they are getting matched play points and rules! Come take a look at what they are bringing to the larger battles on the tabletop.
With the arrival of Theta-7 Acquisitus and Starn's Disciples, the Skirmish-sized Kill Team is getting two more warbands which is exciting stuff. But also included in those Kill Teams, aside from the new miniatures, are rules for using those new Characters in larger games of 40k – Datasheets and Matched Play points included! Today we're getting a look at what each character can do to help their respective armies out.
Tech-Priest Manipulus
Coming in as an HQ choice for Adeptus Mechanicus Armies, the Tech-Priest Manipulus has a pretty solid stat line as well as a 5+ invulnerable save to help keep him in the fight against tougher shots.

He's also packing an Omnissian Staff so he can handle himself in close-combat if it comes down to it. Hitting at Str 6 with 3 attacks and 2 Damage, he won't be a whirling ball of death but this Tech-Priest will do in a pinch. And according to this Tech-Priest will also have mechadendrites which will net your D6 additional attacks, too!

One of the cool tricks this model will bring with it is the Galvanic Field ability. It can up the speed of units or it can make their weapons get more range: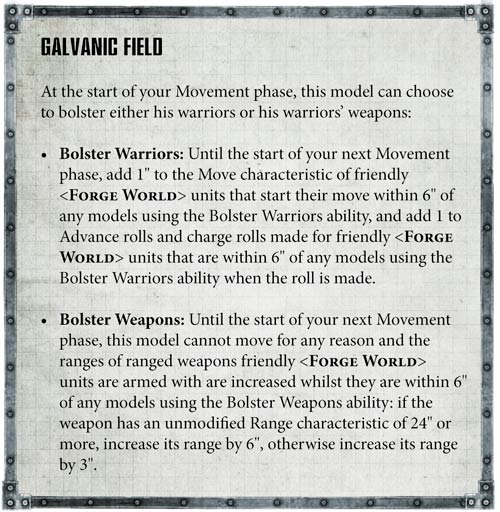 And extra inch to movement, advance and charge rolls could be great to close some gaps and surprise an opponent. On the flip side the Bolter Weapons ability will bump the range of weapons by either 6″ or 3″ depending on their base range.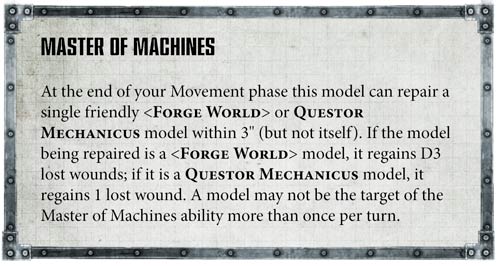 Finally, this character also comes with the Master of Machines rule which will allow it to heal friendly Forge World units OR Questor Mechanicus models within 3″ of it. Friendly Forge World models will gain back D3 wounds while Questor Mechanicus models will get 1 wound back.
Kelermorph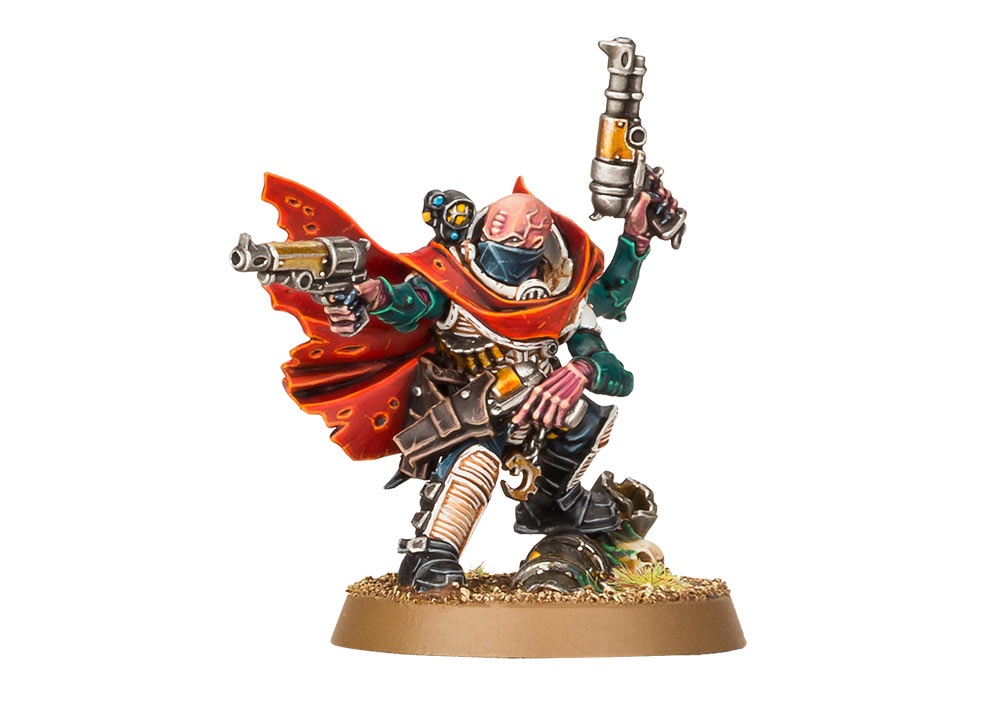 This pistol-packing gunslinger has got three-guns and knows how to use them! Hitting on BS 2+, he's going to be a stampede of bullets that his stat-line alone doesn't highlight:

He's not particularly tough, but check out this little note from GW:
The quicksilver reflexes that make a Kelermorph such a deadly marksman also help to keep them alive, granting a 5+ invulnerable save, and enable them to pick out enemy leaders even amid the carnage of battle.
Bad news for any characters that get into this hombre's sights. He's wielding three Liberator autostubs and they are pretty nasty…

…But when you combine them with his Gunslinger ability, it gets down right cruel: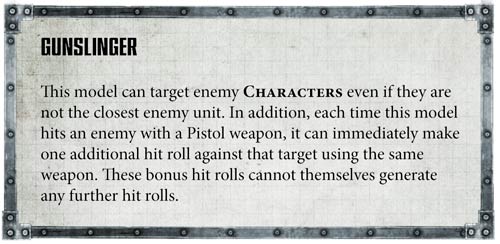 Yes – you read that right. The Kelermorph will be able to pump out up to a whopping 12 shots a turn! That's the potential for 24 damage – enough to drop a Knight! It's highly unlikely, but it's fun to think about. Regardless, that should give most other Characters a pause.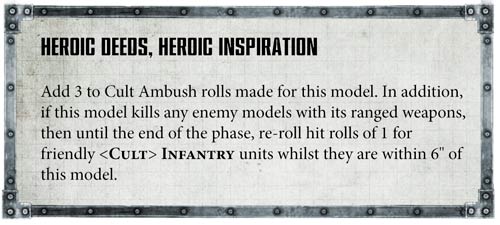 This model also has an innate 3+ to Cult Ambush rolls so the Kelermorph should show-up when you need it. Plus, if this model kills any enemy models (pretty likely with all those shots) then friendly Cult Infantry units get to re-roll hit rolls of 1 while they are within 6″ of this model. Not too shabby!
Both of these models are going to be first available in their respective Kill Team boxes – so snag for Pre-Order this weekend!