With the loyal troops of Theta-7 Acquisitus taking the battlefields of the Imperium by storm, Loremasters, we sit down to discuss what precisely a Tech-priest does.
Gather 'round Loremasters and Loremaster-initiates. It has come to our attention that some of you do not know the myriad functions of the Tech-priests of the Adeptus Mechanicus. Before word of this can spread further, and we receive another visit from the 'Lectro-Priests, we are complying with the Administratum-mandated "Tech-Priest Compulsory Education" program, which means that Brother Archeus will now commence his lecture. Loremasters are advised to activate any noise-cancelling aural devices they possess, for Brother Archeus' binharic vocoder is still experiencing the occasional malfunction.
Tech-priests are the adepts of the Adeptus Mechanicus. Each of them belongs to the Cult Mechanicus, a priesthood which forms a hierarchy of technicians, scientists, and religious leaders. The Tech-priests provide the rest of the Imperium with its technicians and engineers.
The premiere engineers and technological specialists in the Imperium, they accompany nearly every branch of the Imperium to maintain machinery. Tech-Priests will provide religious rites, anti-corruption wards, and repairs to Machine Spirits to any machine they are qualified to oversee.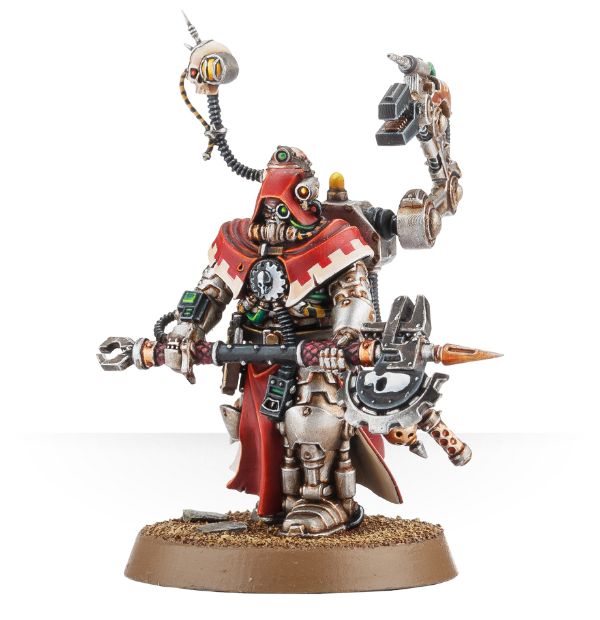 The term 'Tech-Priest' covers a thousand different roles. Genetors probe the mysteries of the biological, creating ever stranger cyborgs and slaughtering xenos by the thousand in order to excise yet more secrets. Artisans create and restore truly wondrous weapons of war, from ornate gamma pistols to the mind-boggling immensity of the Ark Mechanicus. Magi of all stripes pursue esoteric agendas as likely to end in triumph as they are disaster.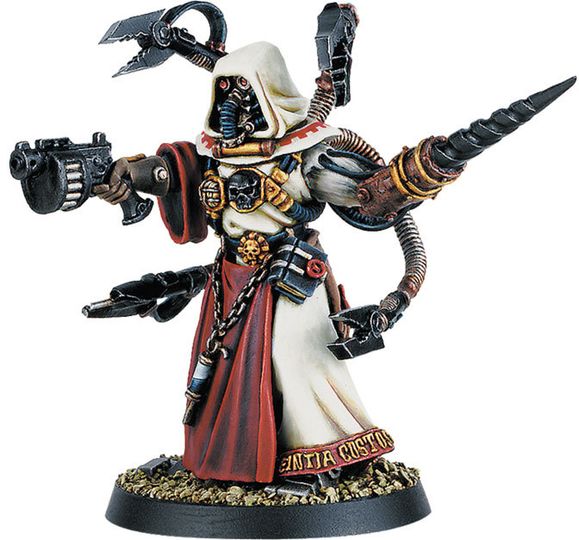 Across the galaxy Transmechanics, Lexmechanics, Enginseers, Secutors, Trifactors, Myrmidons and Technoshamans labor alongside the wider Imperium to bolster Humanity's war machine. Within the Adeptus Mechanicus the ranks become even more esoteric. Each Fabricator Locum can call upon Magi Technicus, Metallurgicus, Alchemys, Cogitatrices, Pedanticum, Tech-assassins, hive monitors and Holy Requisitioners, who in turn can command a body of fabricators minoris, Fulgurites, Corpuscarii, overseers, underseers, stasis clerks, and techno-dervishes. To even begin to comprehend the towering edifice of the Cult Mechanicus takes far more processing power than the human brain can provide.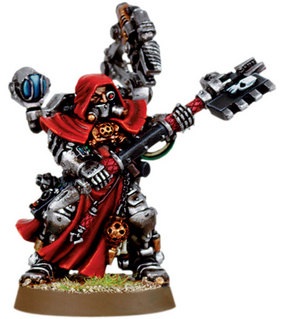 And as the Tech-priests are legion, so too are the tools at their disposal–and nothing is more ubiquitous or iconic to the Tech-priests as the humble Mechadendrite.
This is a catchall name that covers a variety of tendril-like prosthetics used by Enginseers and other members of the Adeptus Mechanicus. It assists in manipulation of objects, micro-construction, maintenance, research and defence. It is connected to the central nervous system of the Techpriest, and so is controlled through thought just like a biological limb.
Mechadendrites are constructed from metallic alloys and have small motors and actuators within their armoured structures. They are usually longer than the Techpriest's natural limbs and are with multiple joints (simulating mechanical tentacles) to allow maximum reach and flexibility. Members of the Adeptus Mechanicus from the Enginseer rank and above are known to have mechadendrites, and although they may often only have one fitted, one could have as many mechadendrites as the body will support.
Servitors can also have mechadendrites to assist the enginseer they are assigned to.
So there you have it–Tech-priests and their tools are definitively human, and among the Adeptus Mechanicus' best and brightest. So bear that in mind as we hear more and more news of Kill Teams like Theta-7 Acquisitus. This concludes our lecture, please fill out your completion surveys that we might avoid an Administratum review.
And remember, Knowledge is Power, if you find yourself in possession of unauthorized knowledge please tell someone at your earliest convenience….