I've been having a blast playing casual games with my Blood Angels and discovered to my surprise – this army is SOLID! Let's talk playing a Death Company army.

I have been playing narrative games as of late and use this as an opportunity to break out some of my old Blood Angels units I haven't used since all the way back to 5th Edition. Blood Angels are by far my favorite faction, and I played them exclusively for close to a decade. I have found that a Death Company themed army is stronger than I first imagined.
I think the developers did a fantastic job with this codex and it has a lot of flavor for me. The keyword FLY is a really big deal this edition, and Blood Angels have access to some powerful jump infantry units that are very strong in melee. This is one of the best editions for melee as well since it's very tactical and there aren't the penalties we used to see such as Disordered Charges in the previous two editions. Melee can be just as strong as shooting now.

Blood Angel Scout Basics
There's a lot of topics I want to discuss in this tactical series, but first I'm going to start with the basics. I like to run my Blood Angels as a battalion for the flexibility that comes with this detachment and the 5 CP. Scouts are an essential unit for every Space Marine faction that accesses to them because they can do some powerful things for you such as the following:
Board Control
Scouts can infiltrate grabbing objectives early in the game to get some points for progressively scored missions forcing your opponent to react. They can also act as screens versus armies such as Daemon-Bombs and absorbs the mortal wounds from Smite-Bombs keeping your best units intact.
Safeguard Characters
Deploying your Scouts in hiding inside buildings and ruins via infiltration allows your characters to move freely about as long as the Scouts are closer to enemy units. This is very powerful granting your characters free reign again forcing your opponent to react. This tactic works in tandem with the next one…
Baiting
If your opponent reacts by going after your hidden Scouts, drawing them in close, it can leave them exposed so you can attack them with your more powerful units. It's important to deploy your strong units close enough to your Scouts so they can counter charge incoming enemy units.
I always take three five-man squads of Scouts armed with bolt pistols and close combat weapons. They rarely do anything other than what I've listed above and tend to die, however, if scoring objectives is critical you can use them more conservatively to score later in the game once you have neutered your opponent's army and it is then safer for them to move about the battlefield. Keep your Scouts cheap… they are not there to wreck face destroying enemy units.

Meet the Death Company
Now I'll discuss the basic concepts behind using Blood Angels Death Company units such as Death Company squads and Death Company dreadnaughts.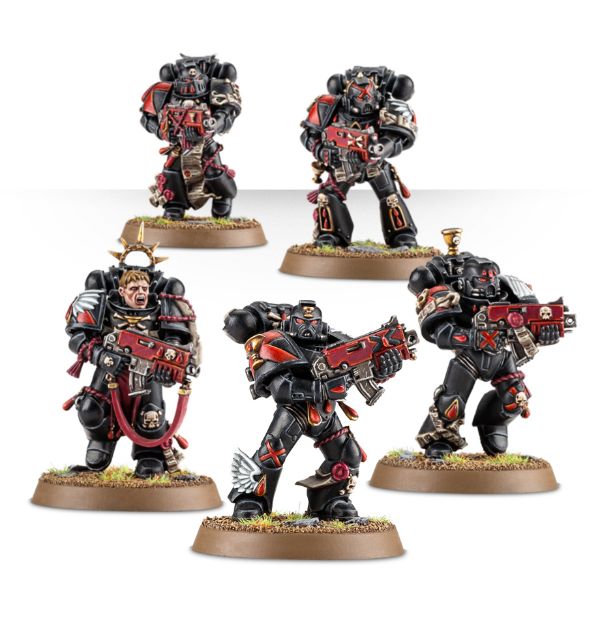 Death Company Squads
These nutters are not very resilient but pack a mean punch if they can get in the charge. Blood Angels have access to some fantastic stratagems such as Forlorn Fury and Upon Wings of Fire which help to ensure they can charge enemy units while still intact. They are great at quickly clearing out enemy chaff such as cultists, grots, and guardsmen so that your more powerful units (e.g., Sanguinary Guard and Vanguard Veterans) can make full contact head-on with your opponent's powerful units. Your opponents will have to react to them if they are charged which can pull their units out of position again putting them in an awkward position.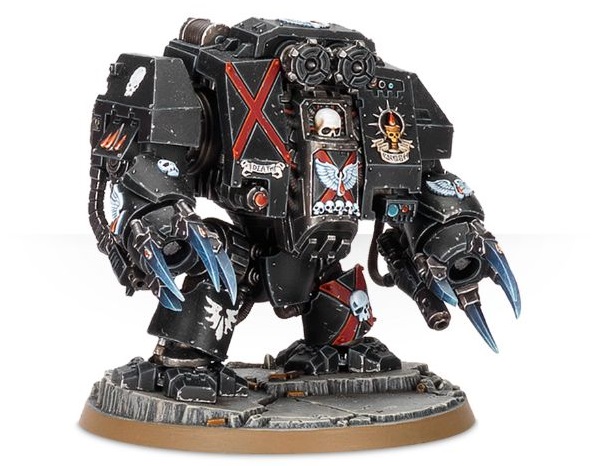 Death Company Dreadnoughts
On the other hand these are surprisingly fast (for example their normal movement is 8″ plus they can consolidate up to 6″ after destroying an enemy unit in melee) and are fairly resilient. Death Company dreadnaughts armed with Furioso Fists wound enemy T8 units on a 2+ when charging and are an excellent deterrent acting as a counter assault unit versus units such as Gallants. Blood Talons allow the dreadnaught to reroll both hits and wounds in melee. I prefer to Furioso Fists (note they reroll hits) and arm mine with twin heavy flamers.
In conclusion, I've covered some basics such as using Scouts effectively to protect your characters and some of the strengths of a Death Company themed army. If you like melee this is a fun army to play. I will cover in-depth how to use Death Company squads effectively in the next article.
~ Who's running Death Company armies out there and how are you doing?