Come take a look at some of the new campaign rules included in the upcoming Urban Conquest boxed set. The Imperium is full of cityscapes and pitched battles in close quarters, come find out what Urban Conquest can do for you.
Urban Conquest is the campaign resource of your dreams, as long as your dreams are about running a campaign in Warhammer 40K, and specifically one set in the myriad cities of the grim darkness of the 41st millennium. More power to you if those are your dreams–that sounds a sight nicer than standing on a pyramid in sort of sun god robes while thousands of women throw little pickles at you.
What exactly do the Urban Conquest rules do, though? Well I'm glad you asked, let's dive in and check them out.
via Warhammer Community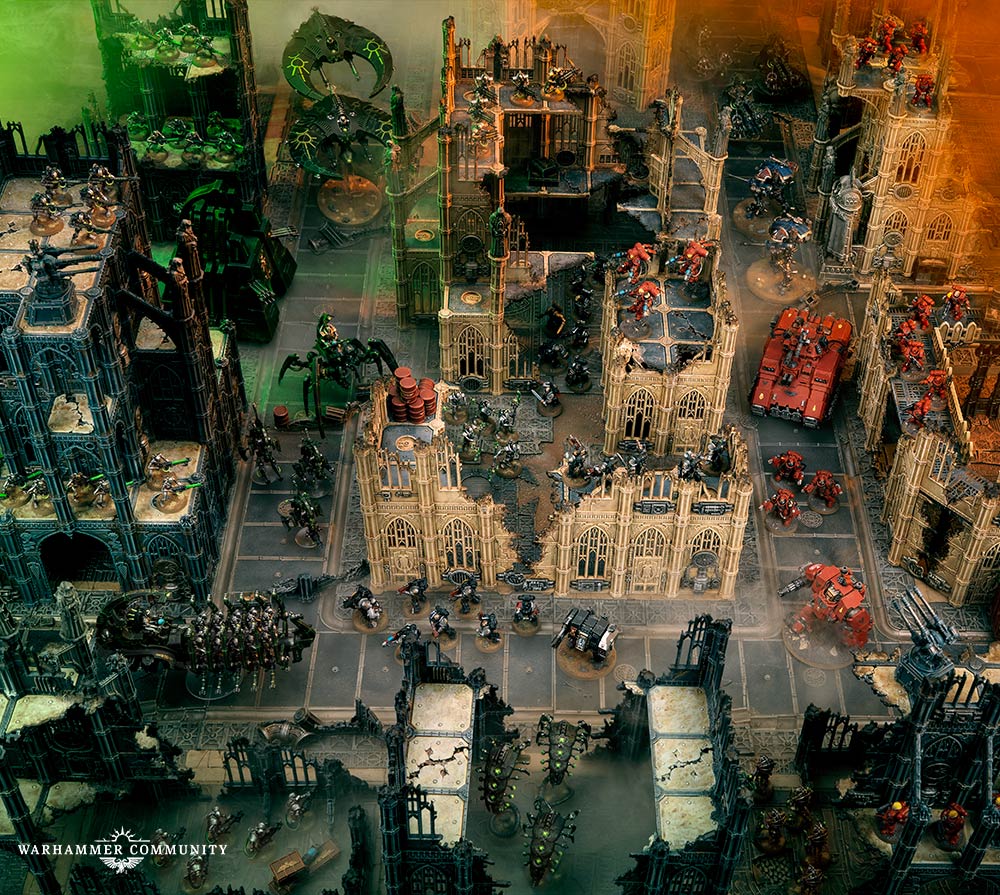 As the name suggests, Urban Conquest is all about fighting in the cities of the 41st Millennium, which you'll set up using the included Cityscape Map.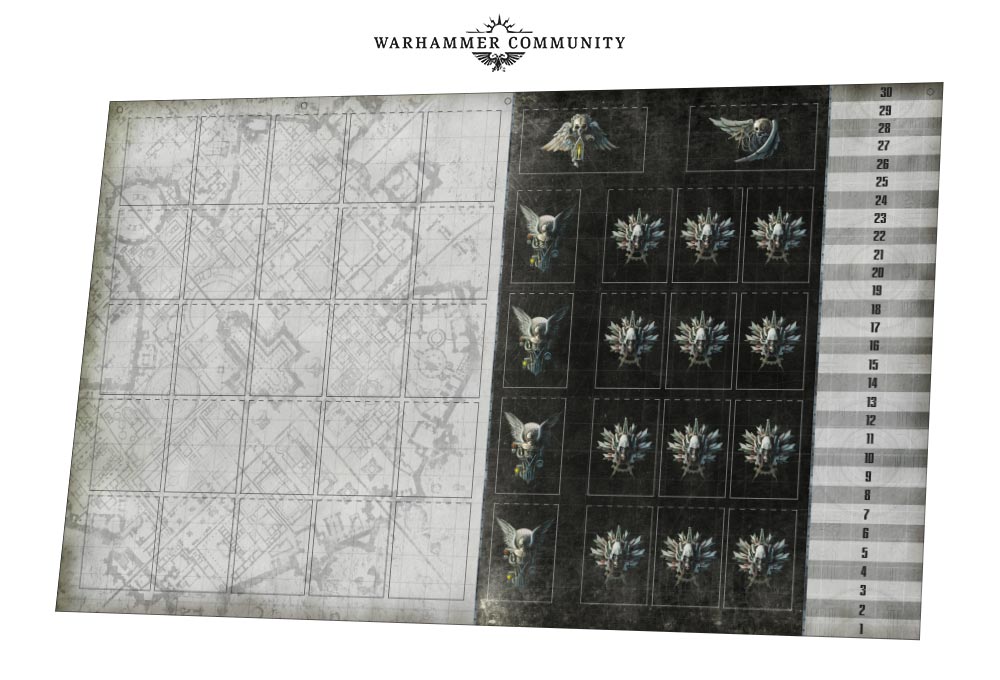 This map serves as your campaign hub, combining a locational display (left) as well as campaign information (middle) and leaderboard (right) all in one! Not only that, but it can be pinned to a wall or conveniently folded away after each campaign session.

At the start of a new campaign, you generate the Cityscape you'll be fighting over by populating the map's 25 Location slots. You can do this either by randomly drawing from the deck of 57 Location cards or by hand-picking each Location to create your Cityscape of choice. In this way, you can build unique urban war zones of your own devising, or recreate an existing one, such as the hivesprawls of Vigilus.
Six of the location cards in that deck, specifically the Sniper's Alley, Saint's Basilicanum, Promethium Reactor Complex, Orbital Shuttleport, Fortified Palace, and Aegis City-shield Generator, have special mission rules associated with them, that allow you to set your battles up over these key zones of tactical interest.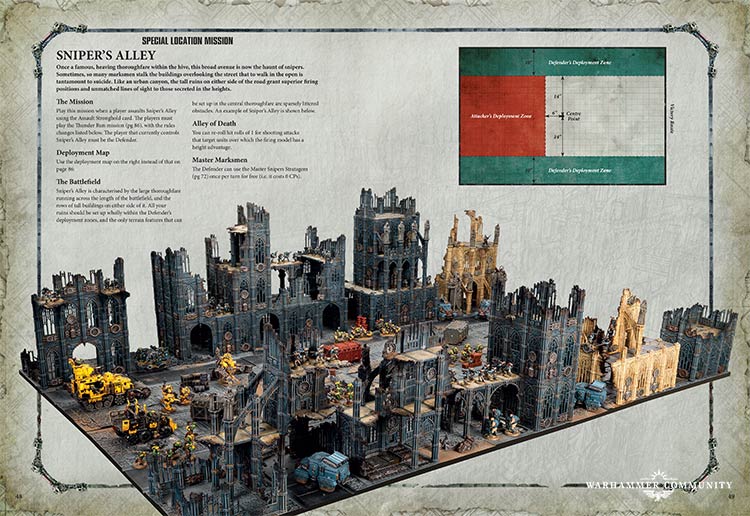 Then you'll set up your starting areas and begin the battle! The Cityscape map has myriad resources to help you track the campaign as well. On the right side of the map, you'll see a place for the Strategic Goal which represents the overall victory conditions of the campaign.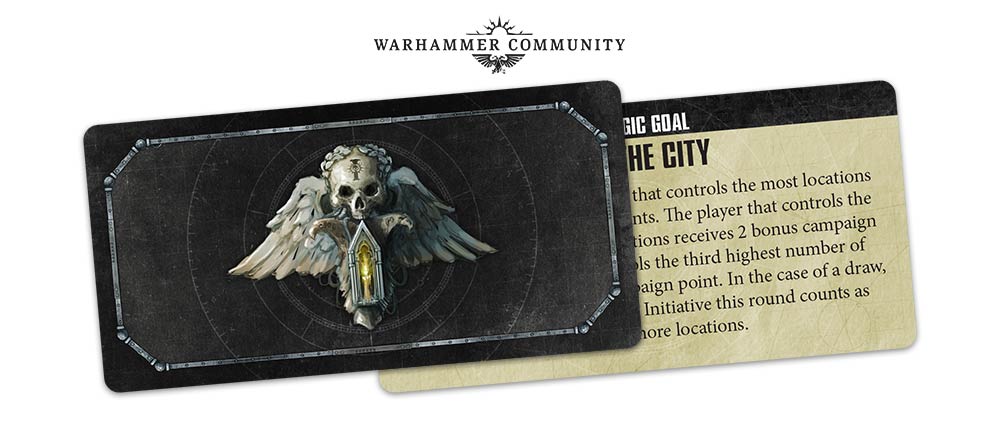 Then there are spaces for random events (also in a deck in the box) that you'll slot in every round to determine what fresh nonsense your armies will have to deal with while trying to kill each other.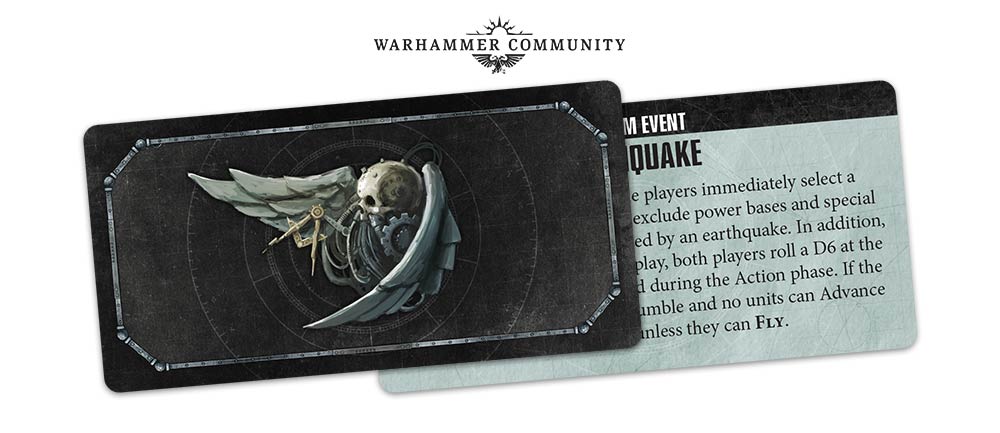 And then of course you've got a space for strategic resource cards, which are upgrades that you can grab and reflect your success in battle.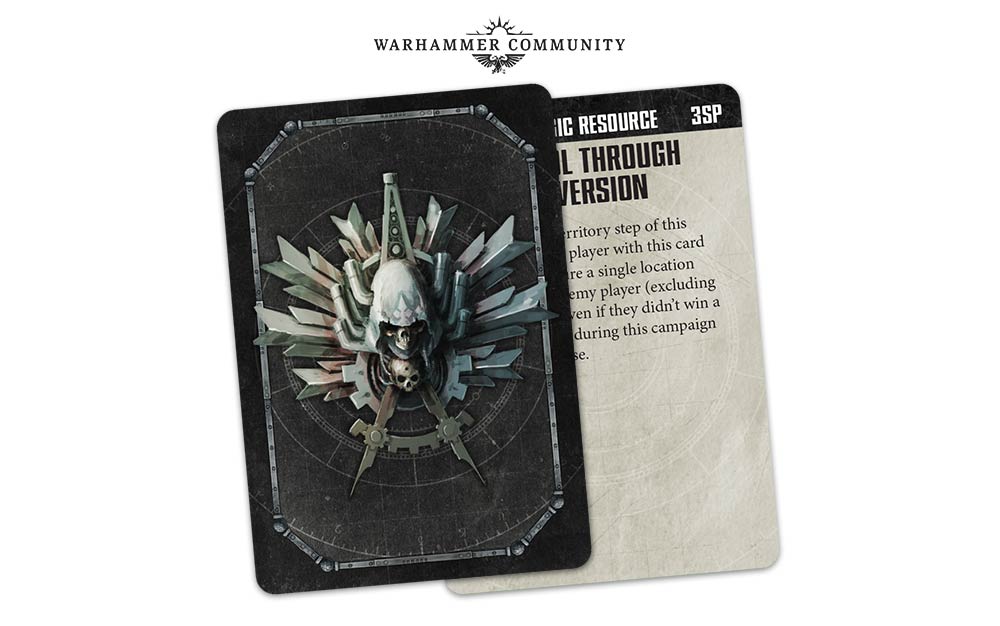 That's all just a taste of what awaits you inside Urban Conquest. There are more Stratagems, Buildings, Objectives, and Battlezone rules yet to come–so be on the look out tomorrow for Urban Conquest.
Meanwhile we'll be here wondering if there are any cities in 40K that aren't of death.