Games Workshop has tipped their hand and shown off some previews of what you can expect with Adeptus Titanicus' first expansion Titandeath. The War for Beta-Garmon is heating up with new legions, new maniples and much more!
Adeptus Titanicus is in a pretty good spot balance wise now that all the Titan-classes are out. The addition of the new knights also helped add some more tactical depth to the game as well. This weekend Games Workshop will be releasing Titandeath for pre-order and it's looking to add a ton of new options for your legions of titans!
 The first expansion for Adeptus Titanicus: The Horus Heresy – Titandeath – will be available to pre-order tomorrow, and in it, you'll find no fewer than eight new sets of rules for different Titan Legions.
The Loyalist Legions
There will be 4 loyalist legions covered and each legion is getting it's own set of rules including: Legion Traits, Stratagems, Wargear and a Personal Trait. These abilities and rules will help to shape what makes each of these legions different on the tabletop. We got a glimpse of what this could be in the core book and now we're getting a much clearer idea thanks to the new previews from Games Workshop.
Legio Astorum – " Legio Traits that allow Astorum Titans to move faster in the first two rounds of the game, and re-rolls to repair dice."
 Legio Defensor – Blessings of the Emperor: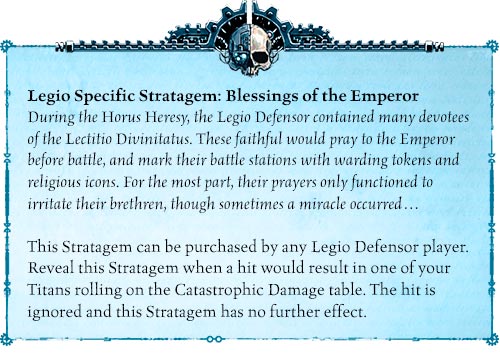 Legio Atarus – "…infernus missiles that can continue to cause damage as they set enemies aflame, and destroy terrain…"
Legio Solaria – A "Warhound squadron can contain additional Titans." Can replace "Reavers with Warhounds in any maniple" and they have the Spear of Tigrus Personal Trait: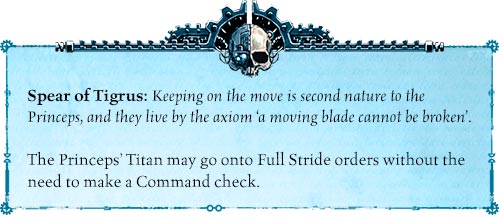 The Traitor Legions
There will be 4 Traitor Legions also included in this book as well – and they are looking just as mean as their opponents.
 Legio Mortis – Legio Trait: Reaper's Tally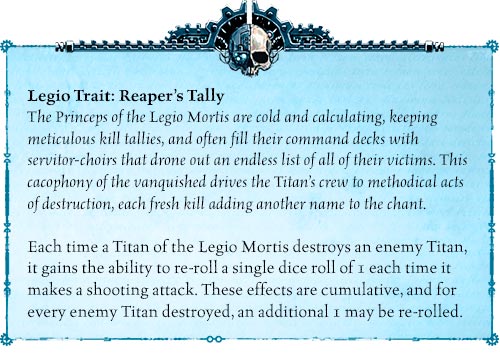 Legio Krytos – Legio Specific Wargear: Earthbreaker Missiles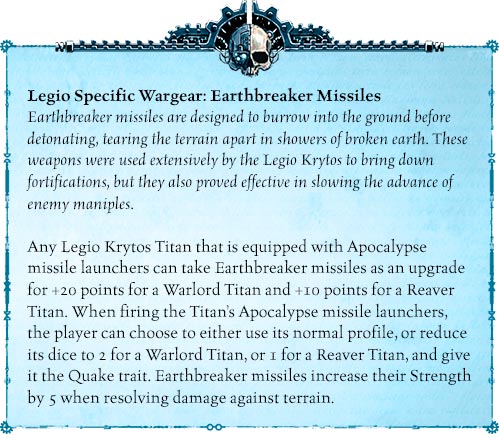 Legio Fureans – "Personal Trait that lets a Titan add 1 to armour rolls when attacking Titans of an equal or greater size within 12"."
Legio Vulpa – Legio Trait: Honour and Blood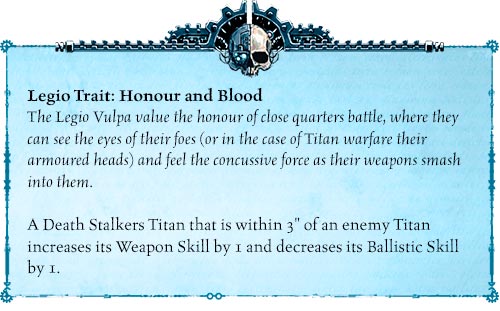 New Titan Maniples
GW also previewed one of the four new maniples that will be added to the game as well. Meet the Lupercal Light Maniple: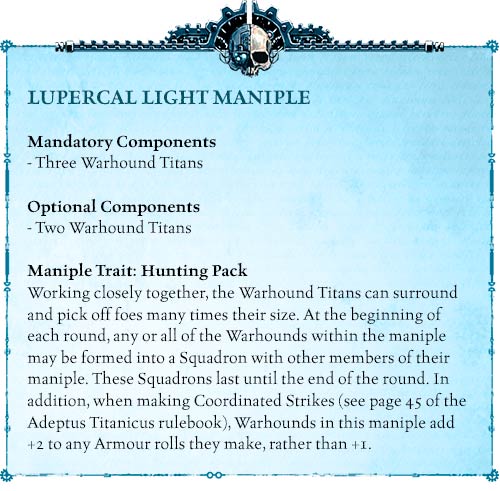 If you haven't messed around with a Warhound Squadron you're really missing out! This new maniple allows for some dirty tricks and specifically adds +2 to any Armor rolls instead of the normal +1.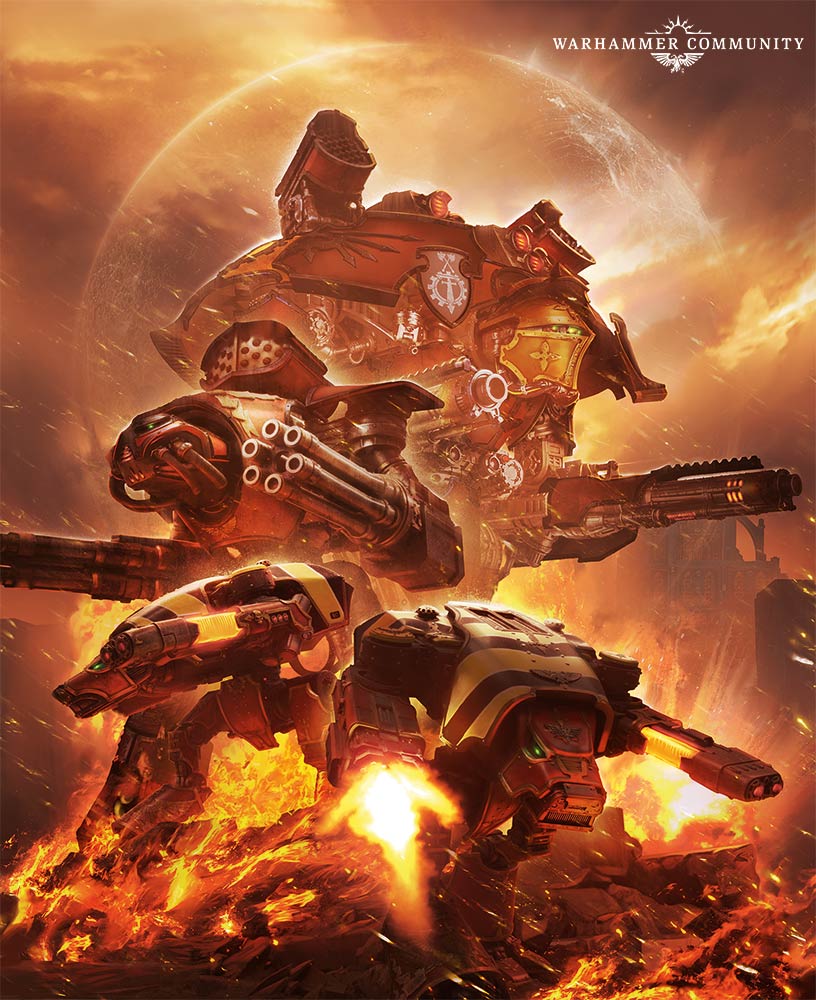 Titandeath is going live for Pre-Order this weekend – get ready to bring your Legions to Beta-Garmon and battle to the death!