These are some of our favorites from this week's Miniature Monday and WIP Wednesday on Twitter and Instagram. Come take a look at what the community is working on!

Thousand Sons Kill Team ready for tonight! #40k #Chaos #KillTeam #PaintingWarhammer #ThousandSons #Tzeentch #Warmongers pic.twitter.com/ebnq142QTk

— Kevin (@Subtle_Brush716) January 2, 2019
High elf freehand standard 🧝‍♂️ pic.twitter.com/Za4HCFP6ip

— ZamPainting (@ZamPainting) January 8, 2019
Just posted a gallery of pics for my finished Warscryer Citadel:https://t.co/EvU1GKcFFR#WarscryerCitadel #WargameTerrain #AoS #AgeofSigmar #GamesWorkshop #GW #MalignPortents #Nighthaunt #GADeath #9thAge #KingsofWar #LegionsofNagash #Soulblight #ResinScenery pic.twitter.com/ay6MAcUH3p

— Rob Hawkins (@RobHawkinsHobby) January 6, 2019
Updating this classic Space Marine Librarian Terminator pic.twitter.com/cAxfGCqYnk

— Dan Donovan (@Brawlerguts) January 5, 2019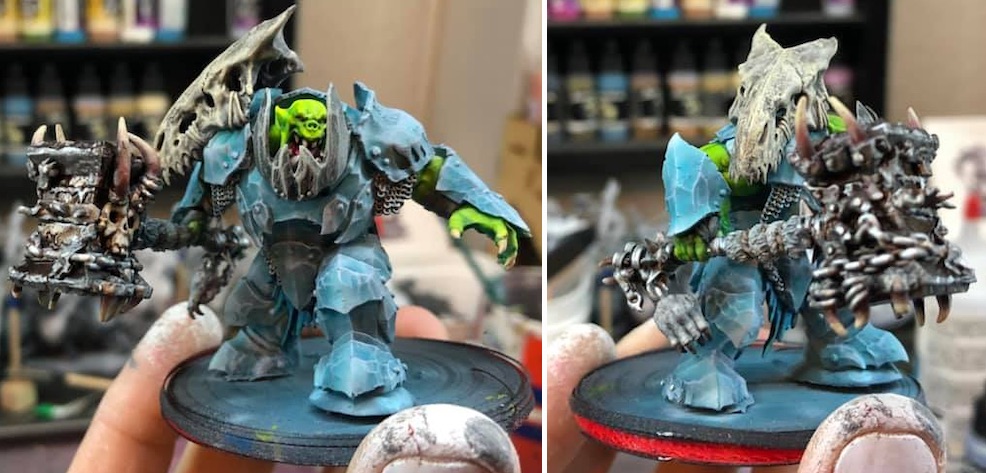 Iron Jaws painted/converted by Bryan-Harrington (found on FB, shared with permission)
Want to share what you're working on? Drop it in the comments – we'd love to see what you're creating!