The new series is in production now, and there are more photos from the set making their way onto the net. The latest includes 2 droids – because what's a Star War story without the diverse mech residents of the galaxy?
The Mandalorian is one of the two live action series – the other is a Cassian Andor series with Deigo Luna – streaming exclusively on Disney+. The story possibilities here are pretty open. It's rumored that the series is set not too long after Return Of The Jedi, and takes place in an area of the galaxy where knowledge of the Empire's fall is either unknown or isn't cared about. Officially…
After the stories of Jango and Boba Fett, another warrior emerges in the Star Wars universe. The Mandalorian is set after the fall of the Empire and before the emergence of the First Order. We follow the travails of a lone gunfighter in the outer reaches of the galaxy far from the authority of the New Republic.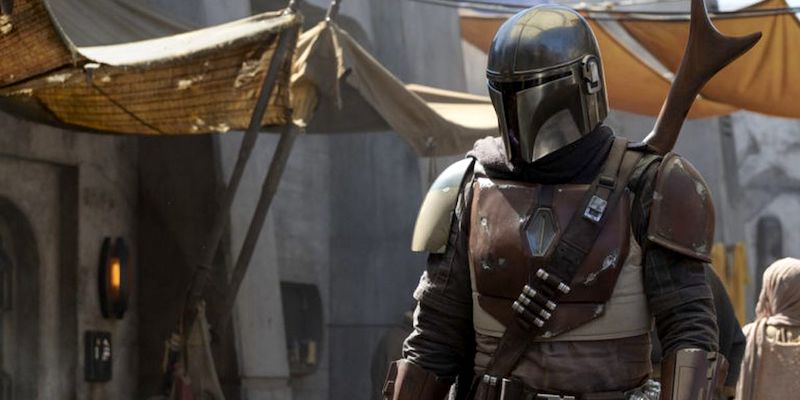 The showrunner – Jon Favreau – has been dropping hints on his Instagram since filming started. This preview shot of an IG-88 showed up last month. This droid was made by Holowan Laboratories, and is an independently programmed assassin that commonly worked as a bounty hunter. He has been known to carry a number of weapons – from blasters to dart guns to flame throwers. He was famously used by Darth Vader to track down the Millennium Falcon.
View this post on Instagram
And the latest shot of an R5-D4 on set. This astromech droid was first seen on Tattooine in A New Hope. He purposefully broke his motivator – and famously blew up – so that Owen Lars would buy R2-D2 from the Jawas. He went on to serve in the rebellion in various capacities.
View this post on Instagram
The series is pulling characters and inspiration from across the galaxy and canon. These two are in addition to a canister that led to a character being nicknamed 'the ice cream maker guy' after his appearance in The Empire Strikes Back, and a weapon found only in the Star Wars Christmas Special.
View this post on Instagram
ILM has opened an entirely new division to work on the new TV projects; and with Jon Favreau as showrunner and episodes directed by the likes of Taika Waititi, Dave Filoni, and Deborah Chow this is a promising project. The human cast includes Pedro Pascal in the lead role as well as Gina Carano, Nick Nolte, Werner Herzog, Giancarlo Esposito, Emily Swallow, Carl Weathers, and Omid Abtahi.
No release date has been set, but word has it it'll be out on Disney+ this year. Based on the announcements and photos we have so far, the series looks like it'll be worth subscribing to Disney's streaming service for. I'm already sold.