This new look includes the best look at Carol Danvers' human side yet, and the first steps that led to the creation of S.H.I.E.L.D. as we know it. This is going to be a movie MCU fans won't want to miss.

Captain Marvel's arrival is bound to bring a lot of changes to the MCU – according to studio head Kevin Feige her combination of human and Kree genetics make her most powerful being in the movie universe. She gets to show her powers in this introduction, which drops audiences into the middle of the galactic war against the shape shifting Skrulls – who have just started invading Earth. It looks like we'll be getting a lot of S.H.I.E.L.D. and Marvel Space history in this movie, as well.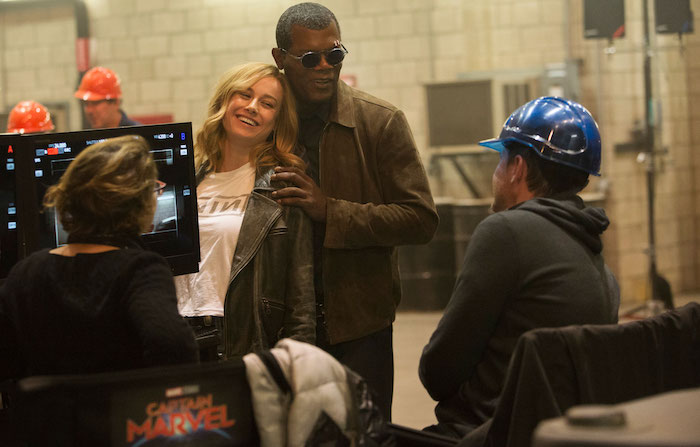 Samuel L. Jackson got into more about Nick Fury and some more of Captain Marvel's powers – his full interview with EW is worth reading if you're an MCU fan. He expanded on her importance in the MCU:
She's pretty much the strongest character — in terms of someone with powers are able to do things — in the Marvel universe. So, for Carol Danvers to be that person and for Brie to become that person, it's gonna be a dynamite thing. I mean, [the Avengers] are up against some really, really tough odds right now — we saw throughout Infinity War — so now we know that we need something that's as powerful as Thanos. And at some point, we'll find out how powerful she is and all the things that she's capable of. She's one of the few people in the Marvel universe that can time travel, so…
You read that right – she can time travel.
Take a look at the latest clip kicks off with an Elastica track from 1995…
Both Coulson and Fury look great after their bath in ILM's digital fountain of youth, and I'm really digging the huge nod to Kelly Sue DeConnick and Jamie McKelvie run with the character. Jude Law's Mar-Vell looks better the more glimpses Marvel offers. I've been excited about this since it was announced – I bought my ticket for opening night the instant they went on sale, and I'll likely see it more than once.
The big questions now: how does this her story fit into the established MCU, and how does this movie tie into End Game?
Captain Marvel debuts in Theaters March 8th – tickets are on sale now.