Legend of the Five Rings' next expansion includes a cast of neutral characters for any faction – and The Son of Heaven himself, Emperor Hantei XXXVIII, is among them! Time to meet the man behind the throne with this new preview from Fantasy Flight Games!
Things are about to get even more interesting in the land of Rokugan with the arrival of the new Premium Expansion for Legend of the Five Rings. Children of the Empire brings a plethora of new cards for all the Clans to use and a whole batch of neutral cards that can side with any of them. Today, we're getting a look at a handful of the neutral cards and characters that will be added to the game – including the Emperor himself!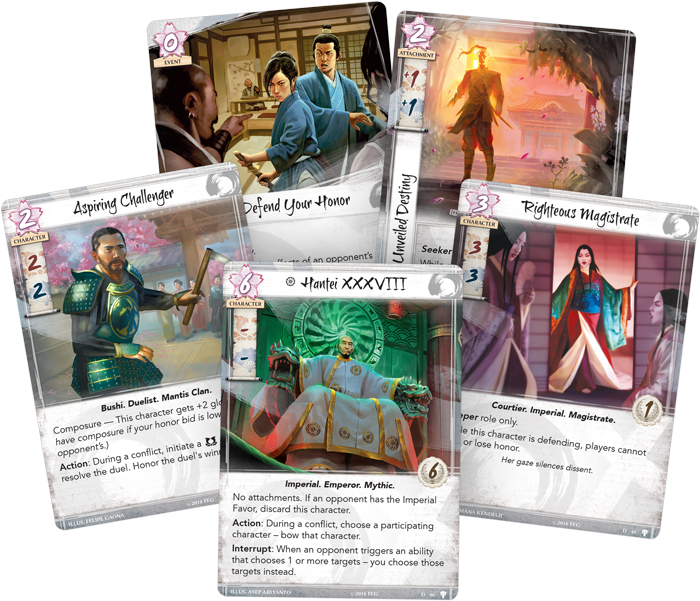 Children of the Empire is the first Legend of the Five Rings: The Card GamePremium Expansion, featuring a massive influx of 234 cards (three copies each of 76 cards and one copy each of six cards) spread across all seven Great Clans, making Children of the Empire the perfect next-step for new players and veterans alike. The neutral cards included in this expansion can be used by any clan, and can completely change how conflicts play out.
The Emperor Arrives
He's kind of a big deal. Hantei XXXVIII has made his debut in the game and he's packing some interesting mechanics. First off, he's 6 fate to play – he's really expensive! And both his military and political skills are "-" which means he cannot participate in conflicts. "So he's really expensive and can't do anything?" Yes and no. He's got a two pretty neat abilities – first, he has an Action that allows you to bow a participating character. And he's got an Interrupt that lets you choose the targets of an opponent's triggered abilities. Not too shabby! On top of that, he's 6 standing glory which will help you keep the Imperial Favor (important to keep him on the board). And finally, because he has "No Attachments" he can't be the target of cards like Cloud The Mind which would "blank" his text box.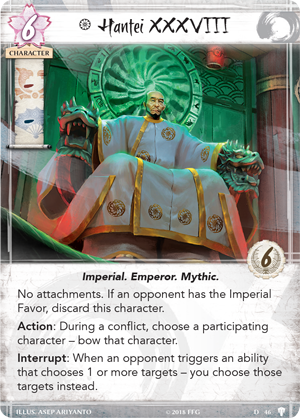 He's the thing – that 6 cost price tag is really steep. Plus, if you want to keep him on the table you're going to want to already have the Imperial Favor. So it's going to take a bit of planning to make him truly effective. I wouldn't build a deck around him – but if you have him in your hand, you can try to plan to get him out and use him to really slow down your opponent. My friend called him a "Win-more" card. Essentially, if you can afford to get him on the table, you're probably already doing well.
Keepers And Seekers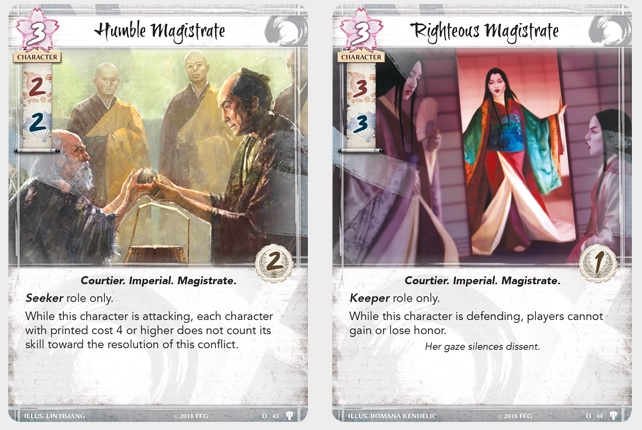 The expansion also includes two new Magistrates you can add to your deck – depending on the role you choose. Seekers get the Humble Magistrate which prevents characters with a printed cost 4 or higher from adding their skill toward a conflict when he's attacking. And then the Keepers have Righteous Magistrate who prevent players from gaining or losing honor while his character defends.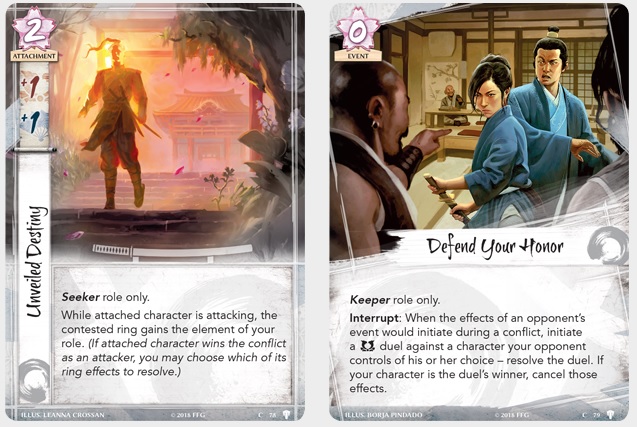 Seekers and Keepers are also getting some new attachment and event cards. Seekers are getting Unveiled Destiny which adds +1 military and political strength to the character. On top of that it allows you to mess with the rings and the ring effects when you win a conflict. The Keepers are getting Defend Your Honor – a new event that allows you to initiate a Military duel in the middle of a conflict, and if you win that duel, you get to cancel the effect that an opponent tried to trigger.
Minor Clans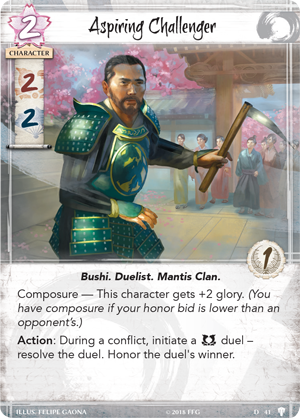 Rokugan is an empire with many smaller clans as well as the great clans. The Mantis Clan has been getting more and more support as the game has gone on and within the new expansion, you'll get a new Aspiring Challenger character. He's find addition to any deck as a 2/2 that start a duel during a conflict. He's also got the potential to gain a nice boost if you can get Composure to trigger and honor this character.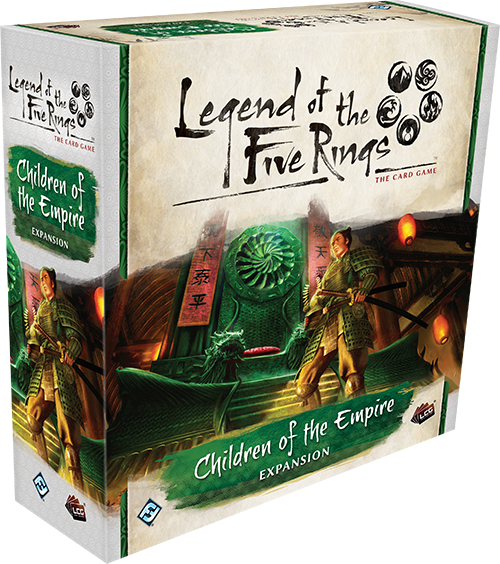 Children of the Empire also provides a snapshot of characters and events in the Legend of the Five Rings story as they are today. Look for cards that represent some of the biggest moments from Legend of the Five Rings fiction, and an updated version of an iconic character whose role in the celestial order has shifted.

With 234 new cards covering every clan and dedicated themes, Children of the Empire is the perfect companion to the Legend of the Five Rings: The Card Game Core Set!
Bow before the Emperor!