How many Unicorns does Drizzt need to cross the desert between Iyanden and the Keebler Tree? Read to find out!
Elfenland is a route planning game with card and tile management mechanics. The players take the role of elves trekking across the wilds and visiting the many cities which dot the landscape. The goal of each player is to be the player who visits the most number of cities over the course of the 4 rounds of play.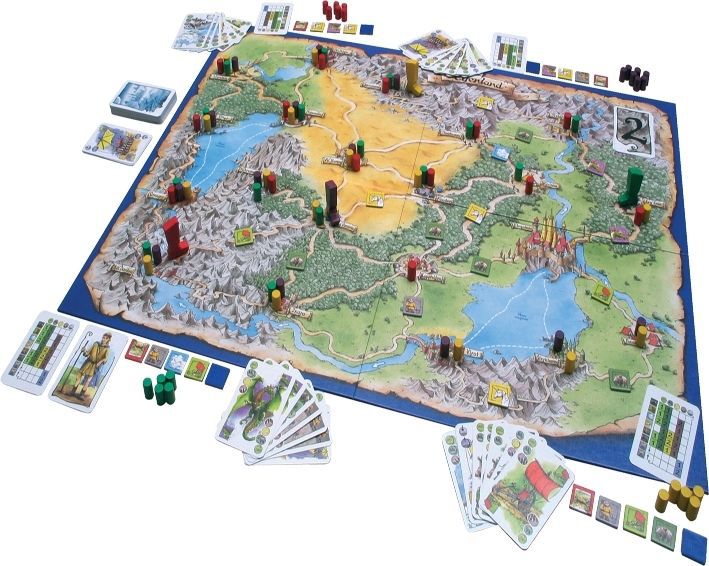 Bit o' History
The game was originally released under the title Elfenroads, published by White Wind in 1992. After that, the game got a reimplementation which was titled Elfinland in 1998, under various different publishers depending on language of the print. Most namely Rio Grande Games did the English print. You might know them from such games as Ricochet Robots, Witch's Brew, and Aladdin's Dragons. What's fun though is the game has gotten a reprint in 2015. However, they decided to go with the original title of Elfinroads instead of the second title of Elfinland.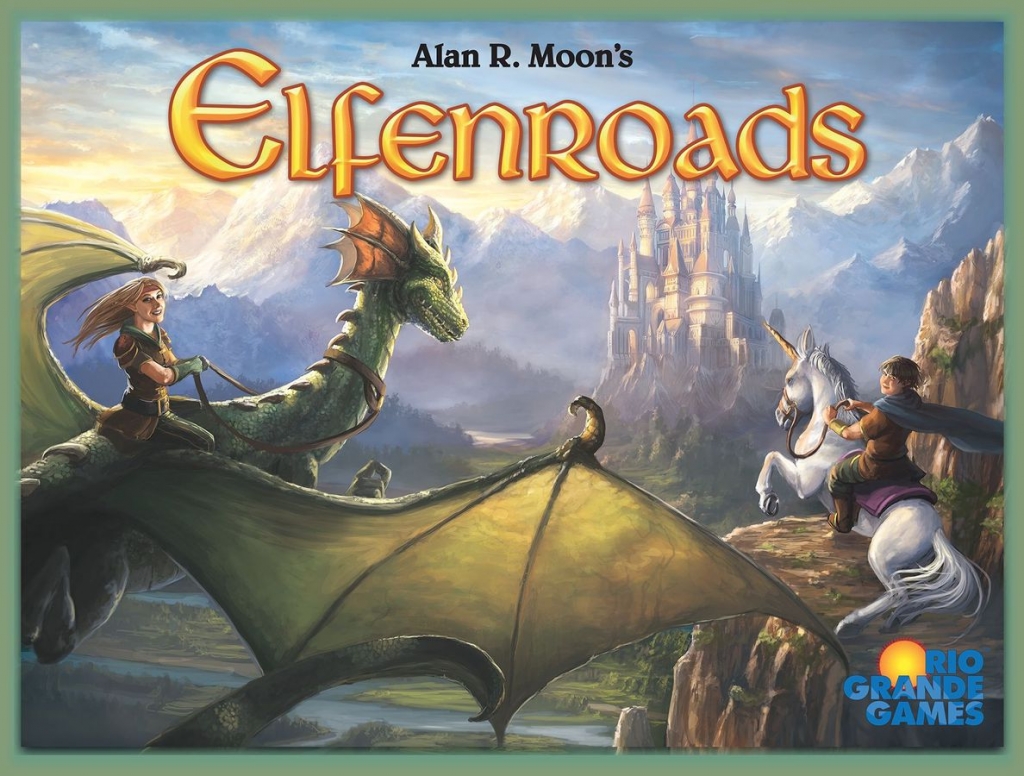 If you're as big a geek as I am, you'll recognize that name up top. Alan R. Moon is a fairly popular designer who made, most famously, Ticket to Ride. If you've played Ticket to Ride, then Elfenland (which is the title I'll be using since I just like the title and art better), will feel very familiar.
Gameplay
The goal of each player in Elfenland is to collect the most of their Town Pieces, which are distributed among the towns during setup and collected once a player reaches that town during the game. The game takes place over 4 rounds and whichever player has collected the most of their color's Town Pieces is the winner!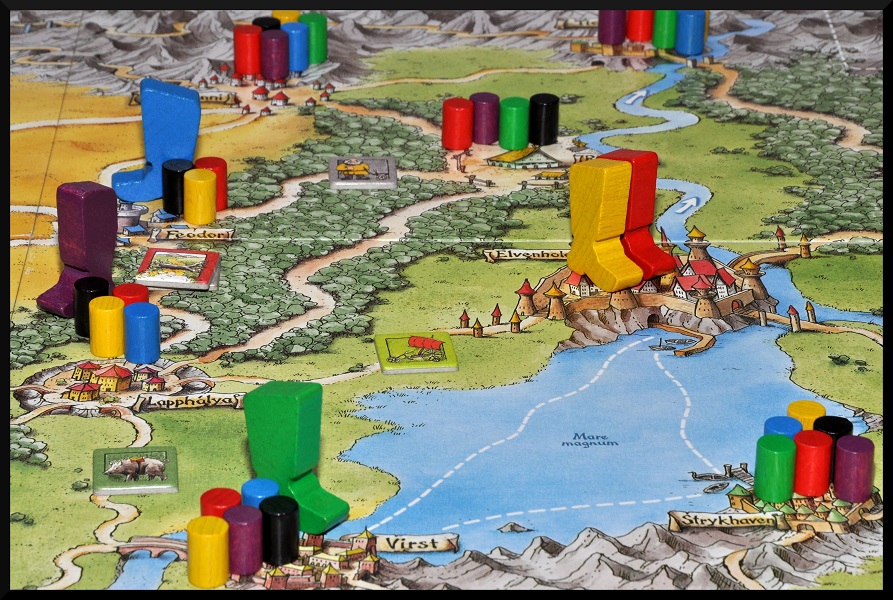 During setup, each player puts 1 of their Town Pieces on each town. Then they create a pool of facedown Transportation Tokens. Each player begins at the town of Elvenhold and the game begins!
At the start of each round, players will draw Travel Cards until they have a hand of 8 cards. The travel cards will be used as "payment" to move throughout the land, and along the various routes therein.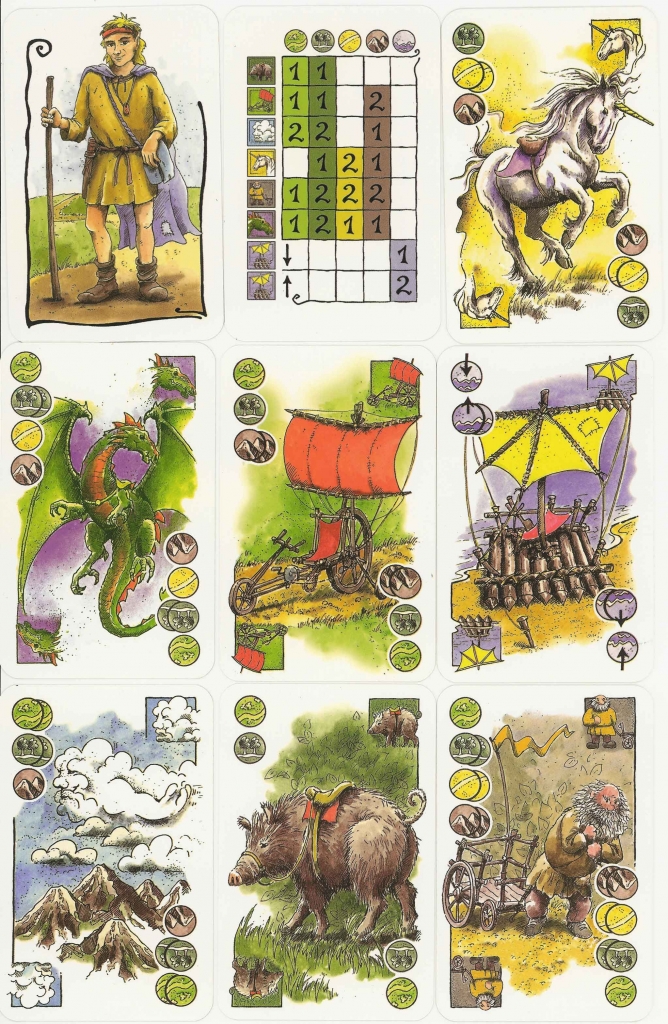 Then (through a slightly more complicated process that I'm skipping over) players will gain 4 Transportation Tokens. The transportation tokens will be used to designate which methods of travel will be required by players to move across that route during that round.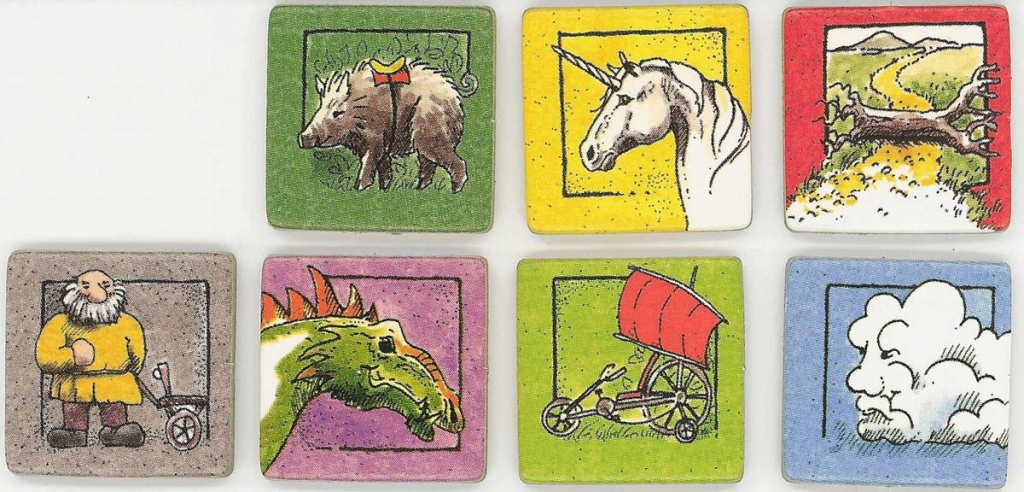 In turn order, players begin placing their Transportation Tokens on any land route they wish. Continuing until every player has placed their Tokens or all players have passed. There can only be 1 Token on each route since that will determine which cards and how many of those cards must be paid for any player to move across that route this round.
For example, Legolas places a Unicorn token on the road between the Keebler Tree and Iyanden, which is a desert path. So when Drizzt wants to move from the Iyanden to the Keebler Tree, he's going to have to spend 2 Unicorn Travel Cards to do so. This is because if we look at the Unicorn card or the reminder card, it notes that 2 Unicorn cards are required to travel a desert route.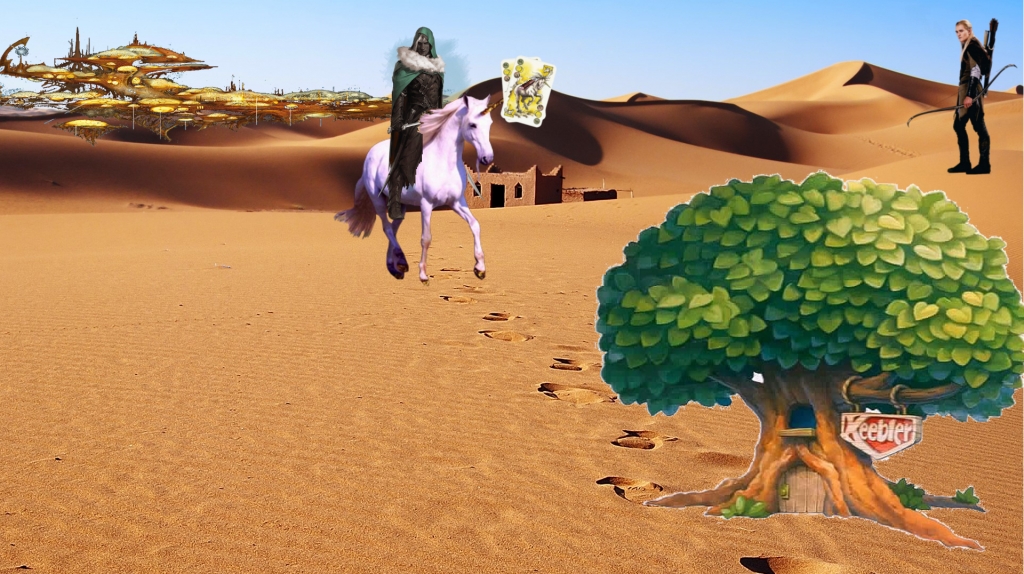 If you ever have to teach someone to play Elfenlands, just show them this image. They'll figure it out.
Each time a player enters a city with one of their Town Pieces, they collect it. Once each player has moved, the round is over and the board is cleared of all Transport Tokens and the next round begins anew!
At the end of the 4th round, whichever player has collected the most Town Pieces wins! There are alternative rules which have players lose points he further they are away from a specific city, which can add an additional layer of planning to the game.
Final Thoughts
Elfenland definitely has a fair amount of randomness and Take-That mechanics to it, as well as pretty major bonuses for being first player. Having your plans all fall apart because you don't have the proper travel cards for the token someone else placed in front of you can be a real bummer.
Still though, the counterpoint to that being a skilled player will have a Plan B ready to go. Being flexible and prepared in planning your route is going to be the main difference between a good player and a bad one.
If you're a fan of route planning style games with a fun, pleasant theme, check out Elfenland or Elfenroads. Plus it's got a really gorgeous art style by Doris Matthäus and it's very accessible to younger players too.
Thanks for reading!